INTELLIGENCE AND SURVEILLANCE
Laser Range Finder Added to Popular Surveillance Camera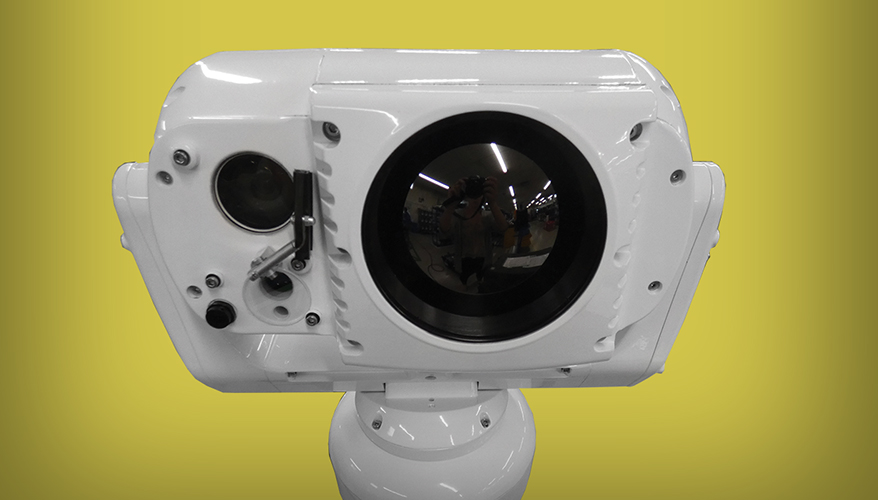 Silent Sentinel photo
LONDON — Silent Sentinel, a United Kingdom-based manufacturer of high-end surveillance cameras, has integrated a laser range finder into its series of popular sensors.
The British company — with a U.S. office in St. Petersburg, Florida — launched its Aeron Laser Range Finder camera at the Defense and Security Equipment International conference in London in September.
The system contains a continual rotation pan-tilt-zoom camera featuring an uncooled longwave infrared thermal sensor with a range of zoom lenses, an HD-visible sensor with 30x zoom and the new laser range finder.
The integrated laser range finder allows for target ranging upon electro-optical detection up to five miles.
Rapid pan and tilt speeds reach up to 160 degrees per second, the company said in a statement.
The three sensors are contained within a ruggedized housing which is tested to a standard level of environmental protection, providing optimum performance in harsh environments along with weight and space savings.
The 30x zoom high-definition visible sensor comes with a lens wiper, which helps to enhance visibility in poor weather conditions, according to a company fact sheet. Additionally, the uncooled longwave infared thermal sensors offer zoom lens options up to 25-150mm, with a 640x480 resolution and the option of image stabilization.
The system can be used as a maritime or border security camera and can be mounted on vehicles.
The company also introduced its new Jaegar Sonus, a new acoustic hailing device that has been integrated into a camera and radar suite, during the conference.
The system will be capable of advanced target detection and deterrence, using built-in systems to illuminate the target and emit focused long-range audio such as verbal warnings or a siren to act as a deterrent.
"We're particularly looking at the maritime market — things like unmanned oil rigs," said James Longcroft, the company's sales director.
Customers in need of perimeter defense have told the company that they have several different sensors to detect intruders, including loudspeakers, but wanted to have them integrated, Longcroft said.
The loudspeaker is supplied by German audio specialists VocCom and can produce up to 152 decibels of sound pressure which delivers clear and intelligible speech at ranges of up to 1.25 miles.
Topics: Intelligence and Surveillance