I/ITSEC NEWS: Services Target Interoperable Training Capabilities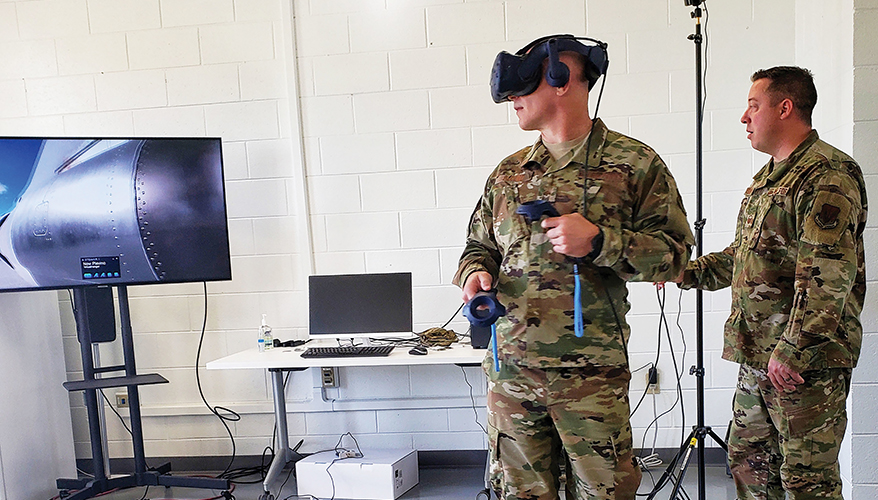 Air Force photo by Joseph Mather
ORLANDO, Fla. — Military leaders want to ensure that the various simulation training environments each service employs can work together to better prepare warfighters for future fights, officials said Nov. 30.

Training and simulation officials from both the Air Force and Marine Corps are evaluating how technology utilized by other branches of the military could benefit their own training and education programs, they said during a panel discussion at the National Training and Simulation Association's annual Interservice/Industry Training, Simulation and Education Conference in Orlando, Florida. NTSA is an affiliate of the National Defense Industrial Association.

Air Force Maj. Gen. Albert Miller, director of training and readiness, deputy chief of staff for operations, said the service is considering how to incorporate Navy-developed capabilities into its own training solutions.

For example, the Navy-led F-35 simulator effort — the Joint Simulation Environment — could be a part of into the Air Force's newest training and simulation program.

The "Air Force Life Cycle Management Center, Architecture and Integration Directorate is looking at that very closely, to see if JSE or elements of JSE might be part of the solution for the Air Force's Common Simulation Training Environment," he said.

The service kicked off its effort to find industry partners for the CSTE this summer. A request for information for a synthetic environment data architecture consortium was released in June. The environment aims to make it easier for Air Force simulators to share information and work together.

One of the challenges for creating a "joint solution" to training is working around multiple levels of security, Miller added. Each of the services have sensitive information that they want to protect, which can be a barrier to developing systems that work well together, he said.

"It's a tough problem, but it's one that's part of the CSTE … as well," he said.

Lt. Gen. Kevin Iiams, commanding general of the Marine Corps' Training and Education Command, said ensuring training simulations have open standards across the services will be key to the Marine Corps' strategy for modernized training.

"We intend to exploit the Army and our sister services in their research into synthetic training and capabilities," he said. "Our common live, virtual, constructive capabilities for the future are going to be built on the foundations that our sister services are developing at this time."

The Live, Virtual, Constructive Training Environment, or LVC-TE, is the way the Marine Corps will step up its training for a modernized force, he said. The environment will be the "underpinning of our Marine Corps training program for the future," he said.
The service will start utilizing the LVC-TE training framework sometime in the 2024 timeframe, he said.

Last year, Marine Corps Commandant Gen. David Berger released "Force Design 2030," a strategy for prepping the Marines to meet emerging threats from adversaries. The plan calls for divesting some of the service's legacy capabilities and reducing infantry battalions and tanks to make way for new systems.

If the services can work on training jointly, leaders will be able to identify the capabilities that work the best and build off them, he explained. A joint training solution allows the Marine Corps and other services to look even further into the future, he said.

"We're got to remember that 2030 is not the end state, so we don't want to pick out something that is just going to work for 2030," he said.
Topics: Training and Simulation