I/ITSEC NEWS: Navy, Marine Corps Making Training an 'Absolute Priority'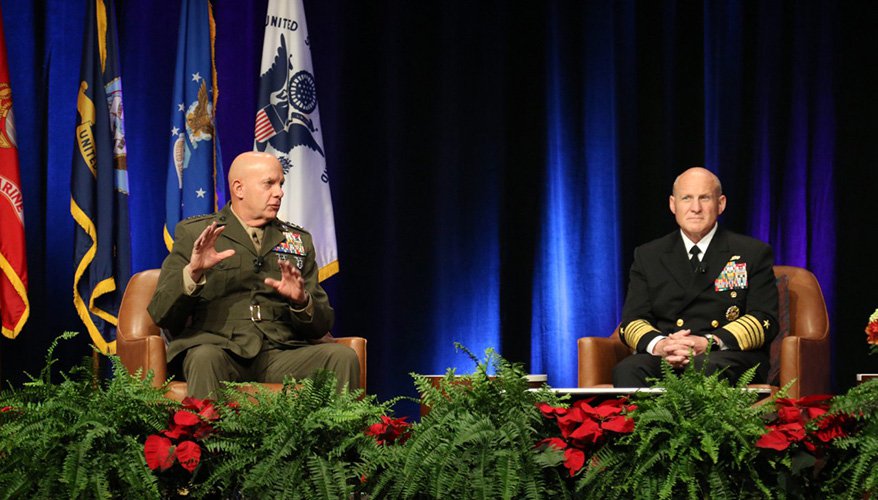 Gen. David Berger, left. Adm. Michael Gilday, right.
Photo by NDIA/Melanie Yu
Orlando, Fla. — The heads of both the Navy and Marine Corps agree that training has been placed too low on the services' priorities for too long — and now is the time for change.

Training systems need to be at the forefront of the mind as the services acquire new platforms, Commandant of the Marine Corps Gen. David Berger said Nov. 30.
"We have, I think unintentionally, put training third or fourth in sequence of our priorities. We go after a capability, we figure out how we're going to structure the force, we buy platforms, and then we turn to the training guy and say: 'We need a way to train,'" Berger said. "That's not going to work going forward."

Berger spoke alongside Adm. Michael Gilday, chief of naval operations during a fireside chat at the National Training and Simulation Association's annual Interservice/Industry Training, Simulation and Education Conference in Orlando, Florida. NTSA is an affiliate of the National Defense Industrial Association.
Berger agreed that training should be a higher priority. The pair outlined a number of areas they hope to collaborate with industry and academia as they work to improve the services' training and readiness.
"We've both made training and readiness an absolute priority," Gilday said. The Navy and Marine Corps will pursue a "training continuum" that will more closely tie together their training.

Future systems will need to be as realistic as possible, he noted.

"They need to be based on physics, based on performance aspects of not only our forces but of potential adversaries," he said.

Future simulations must replicate how U.S. adversaries fight, Berger said. There is a strong sense of urgency to quickly develop systems that can respond to growing threats from adversarial nations. The Pentagon has noted that China is America's pacing threat.

Better communication with industry will be critical. Real-time feedback as platforms are developed and fielded will be particularly important, Gilday added.

Industry needs to simultaneously communicate the capabilities it can offer today as well as those that are in the realm of the possible further down the line, Berger said.

"We need people in this room to hold two different flashlights," he said. "One is kind of a headband flashlight that sees things that are possible right in front of you… and we need their headlights down the road to tell us what's in the art of the possible 18, 24, 36 months from now."
Topics: Training and Simulation