ROBOTICS AND AUTONOMOUS SYSTEMS
DIU Investing in Universal Remote for Autonomous Systems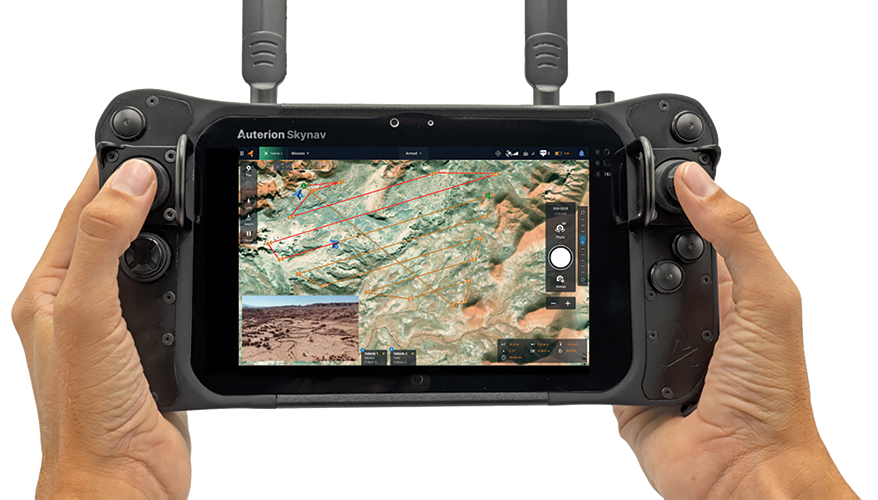 A SkyNav controller
Auterion Government Solutions photo
The Pentagon's Defense Innovation Unit wants war­fighters to be able to control all of their autonomous systems from the palm of their hands with a single device.
DIU — which was created in 2015 to connect the Defense Department to commercial technology hubs — announced in October the selection of six companies to participate in its Soldier Robotic Controller, or SRoC, program.
One of the selectees was California-based unmanned aerial vehicle operator Auterion Government Solutions. CEO David Sharpin said the company will build a controller based on its SkyNav capability. The system can control any type of small unmanned aerial system — including quad, multi-rotor, vertical take-off and landing and fixed-wing — all from the same unit, according to the company.
The DIU award includes three categories — light tactical handheld, "bring your own device" and wearable — with two companies per category building a prototype. There will be a downselect in each category by October 2022, and the winners could potentially have the opportunity to build thousands of controllers for the military.
Currently, the Pentagon's paradigm for unmanned aerial vehicle remote control systems is each contractor builds their own device. However, this is inefficient and costs the Defense Department valuable resources, Sharpin said.
"They have to train people on different systems. They have to basically pay for this again and again and again, and they want to have their own control," he said on the sidelines of the Association of the United States Army's annual conference in Washington, D.C.
After Auterion showed off its controller to soldiers at Fort Benning, Georgia, the company received feedback that the military was interested in swappable radio modules, he noted. The modules — which will be built with the help of radio manufacturer Doodle Labs over the next 16 months — will allow the controllers to utilize external and embedded radio integration.
The device — which is water- and dust-resistant — meets military requirements for ruggedness, he said.
The system offers warfighters increased reconnaissance capabilities to bolster survivability and lethality, he added.
Topics: Robotics and Autonomous Systems