JUST IN: China's Space Tech Rapidly Catching Up with U.S.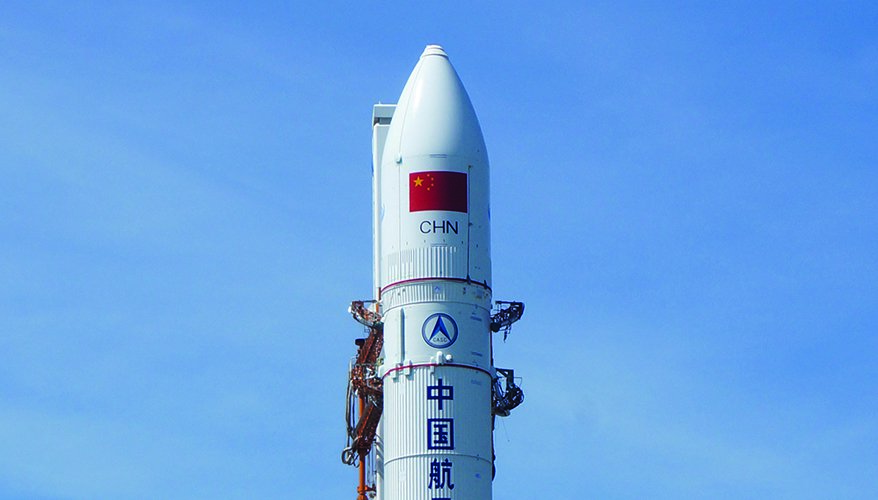 China's Long March 5 rocket
Wiki Commons photo
HALIFAX, Nova Scotia — China has already surpassed the United States in hypersonics technology, and is now rapidly catching up in space capabilities. It could one day take the lead, a senior Space Force leader said Nov. 20.
If China's space technology development continues on its current trajectory, it's "likely to exceed us in terms of our capability," Gen. David Thompson, vice chief of space operations, said at the Halifax International Security Forum.
China is able to cycle through new space technology at twice the pace of the United States, meaning it can can take an idea, develop it, then field it faster, he said in a talk at the forum. Meanwhile, the U.S. military's acquisition system is slowed down by bureaucracy, he added.
"I would argue that we — both the United States and our close partners and allies — are still the best in the world in that technology. But they [the Chinese] have come very close very quickly," Thompson said.
Along with its own version of GPS, China has sophisticated communications spacecraft and some 200 spy satellites in orbit, he said.
"They intend to use space the way they have watched us use it for decades, in addition to building a whole suite of counter-space weapons to deny us. They have come a long way very quickly. They are close to being an equal and if they continue at their pace, they could surpass us in the next several generations," Thompson said.
As for U.S. shortcomings, Thompson said part of the problem is the "bureaucracy that we've built into our defense and acquisition enterprise, not just in space, but in other areas, and that has slowed us down in many areas."
"We've really adopted an extreme risk averse posture in terms of development and fielding these things because they're so incredibly expensive and claim so much of the national treasure. We talk about satellites in terms of hundreds of millions [of dollars] and $1 billion. We've been very careful to make sure that we deliver effectively," he said.
"We need to accelerate cycle times. We need to create a different sort of approach to acquiring and building and operating these systems, and probably need to again be in a position where we're ready to accept a little more risk — a little more risk of failure — so that we can speed up our processes," he added.
Meanwhile, both China and Russia have surpassed the United States in hypersonics technology, which are missiles or aircraft that can travel at speeds of Mach 5 or faster and also be highly maneuverable.
China in July launched a hypersonic missile that circled the Earth before landing at hypersonic speed. Just how important that breakthrough was has been debated since, with some calling it a "Sputnik moment," and former Vice Chairman of the Joint Chiefs of Staff Gen. John. Hyten, who recently retired, saying it resembled a "first strike weapon."
Thompson said it's the maneuverability of hypersonic weapons that is so concerning. They upend traditional ballistic missile defense because it is so hard to predict where they are heading. A conventional missile once launched is fairly easy to track, but a hypersonic missile travels at high speeds and is able to change its trajectory.
"You don't know if you can't track that maneuvering weapon. And even if you can track that maneuvering weapon, you don't know until very late in the flight because it's maneuvering the entire time," he said. "That changes the strategic warning game."
Thompson also addressed the Russian anti-satellite test earlier in the week, criticizing the Russian government for creating a large debris field that could threaten other spacecraft.
China in 2007 shot down one of its own satellites and created 3,600 pieces of trackable space debris, of which 3,000 pieces are still in orbit today, he said. Trackable objects are about the size of a fist, he noted.
The United States the following year shot down one of its own satellites, but all of the pieces fell into the Earth's atmosphere. In 2019, India conduced an anti-satellite test, but only one piece of that remains in orbit, Thompson said.
The Russian test left about 1,500 trackable objects in orbit about 480 kilometers above the Earth. "Those will be there a long time," Thompson said.
Topics: International, Space