ALGORITHMIC WARFARE ROBOTICS AND AUTONOMOUS SYSTEMS
Air Force Flexing Cyber, Info-Warfare Muscles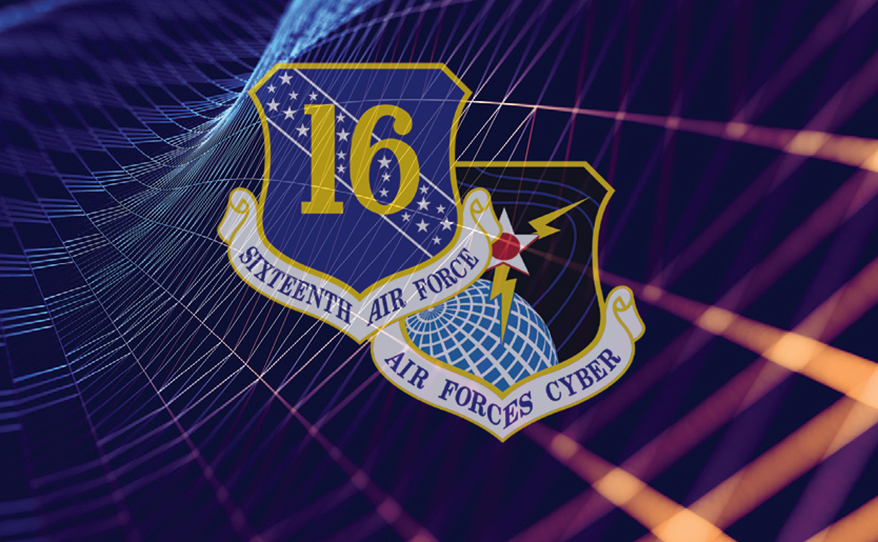 iStock illustration
Two years after its redesignation, the Air Force's cyber component is making headway thwarting digital adversaries.
Located at Joint Base San Antonio-Lackland Air Force Base, Texas, the 16th Air Force — which was redesignated as Air Forces Cyber in October 2019 — focuses on cyber and electronic warfare, signals intelligence, information operations, intelligence, surveillance and reconnaissance.
"When we stood up 16th Air Force, … [we wanted] to bring together all of the different elements of information warfare — ISR, SIGNT, cyber, electronic warfare, IO," Air Forces Cyber Commander Lt. Gen. Timothy Haugh told National Defense at the Air Force Association's annual confab in October.
The organization has now reached full operational capability and has created airmen with the necessary expertise to compete in cyberspace, he said.
"They are the experts that are called upon, and they're really able to leverage the total talents and skills that we have got in our staff, in our wings, and all the way down to our squadrons that are producing outcomes every day," he said.
The organization — which operates globally and features nine wings and one center — works closely with U.S. Cyber Command and the cyber components of the other services, including the Coast Guard, he noted.
"For every activity that we do, we have relationships where one of us is the supportive element and the others are supporting," he said. "If we are doing something as Air Forces Cyber in support of Gen. [Ted] Wolters as the commander of [European Command], I know that we can also draw upon the talents and capabilities of all the other component commanders to be able to deliver capability."
A major cyber threat is coming from China. The nation was a hot topic during the Air Force Association's conference where officials issued warnings about Beijing's growing capabilities.
"China has a sustained campaign to be able to take intellectual property from our defense industrial base and from other sectors of our economy, to be able to create advantage for their businesses and their economy," Haugh said. "That's coming at the expense of our ability to really continue to innovate in key areas."
Air Forces Cyber not only protects the service's assets but assists government agencies in securing other U.S. networks. The military is cognizant of the growing threat to U.S. companies and organizations, he noted.
If "China or Russia are attempting to attack our network, they know we have defense in depth, so they will approach that from a different perspective," he said. "They will … go after those areas where they can easily create advantage, which could be a small company, but that small company might have critical intellectual property."
As Air Forces Cyber tackles new threats, it is employing technologies such as artificial intelligence. Applying algorithms to its data has so far proven to be successful, Haugh said.
For example, the Air Force and the Massachusetts Institute of Technology are collaborating on the Artificial Intelligence Accelerator.
"The AI Accelerator conducts fundamental research to enable rapid prototyping, scaling and the ethical application of AI algorithms and systems to advance both the Department of the Air Force and society in general," according to the organization's website. "A multidisciplinary team of embedded officers and enlisted airmen join MIT faculty, researchers and students to tackle some of the most difficult challenges facing our nation and the Department of the Air Force, ranging from the technical to the humanitarian."
When airmen have a problem, the service can connect them with the expertise and tools at the accelerator to help solve tough issues, Haugh said during a panel discussion at the conference.
AI technologies have also enabled the organization to better utilize its data, he noted.
"If we have a weapon system, … we want to be able to get that data so that we can use that to be able to understand what's happening in the environment, identify adversary weapon systems and be able to do rapid" information warfare, he said.
However, that can be challenging because many of the service's weapon platforms were not built to easily remove data, he noted.
They were built "to operate and enable a pilot and aircraft commander to rapidly respond to threats, but that data is now valuable to us," he said.
The 16th Air Force also wants to maximize the use of its cyber defense data. Significant progress has been made so far, Haugh noted.
By employing a big data platform, the organization has better visibility of what is happening inside its own network, enabling airmen to quickly identify and respond to threats within their systems or weapons, he said.
Moving forward, the Air Force needs more sensor technology from industry, Haugh said.
Many U.S. weapon systems were built at a time when there was less focus on the China threat, he noted.
"Some of these platforms are critical for how we would approach operations in a contested environment," he said. "We need to ensure that they have the right sensors on them to be able to pull that data back to our big data platform to ensure they are defended."