Robots Speed Up Chemical Weapon Disposal Process (UPDATED)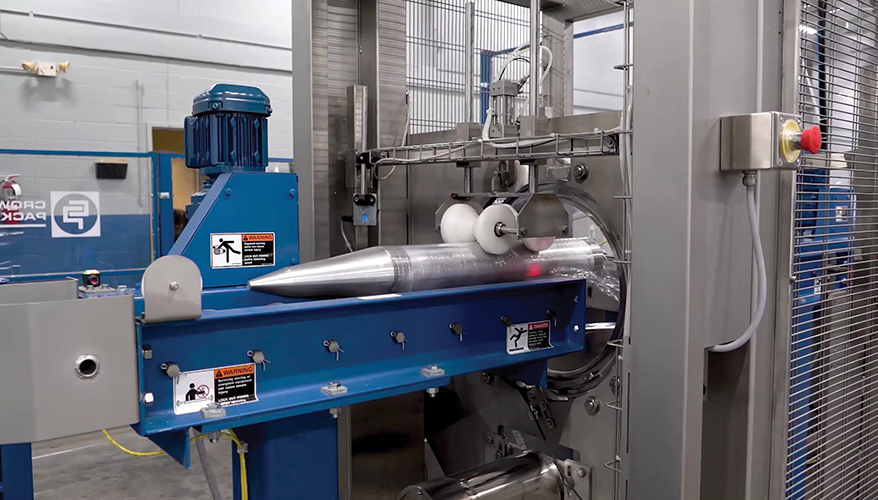 An M55 Rocket being destroyed with the help of CRG Automation robots.
As a 2023 deadline for chemical weapon destruction looms, the U.S. government has turned to robotic technology to speed up the handling of hazardous materials.
The program executive office for assembled chemical weapons alternatives has contracted a number of companies to use robots and automation to destroy around 70,000 M55 rockets stored at the Blue Grass Army Depot in Kentucky. These include CRG Automation, Amentum, Bechtel Parsons Blue Grass and additional partners, according to a CRG Automation news release.
A team of experts spent 18 months reworking how the rockets were demilitarized.
Under the Chemical Weapons Convention international treaty, the United States must destroy chemical weapons such as the M55 rocket by 2023.
With the new automated destruction process now in full swing, James DeSmet, president and CEO of CRG Automation, said he's confident the remaining rockets will be destroyed on time.
"We're all working together to make this whole thing work for the [Defense Department] so we can help them meet their international treaty deadlines and dispose of these weapons," DeSmet said.
The new destruction process was redesigned "to make it a cleaner, safer environment and more efficient," DeSmet said. The chemical-filled warhead has to be removed from the rocket by cuttingthe rocket into two parts, he noted, adding thata portion of the rockets have warped over time and, in some cases, the chemical agent inside is leaking. Now, the process is divided into three steps.
First, the rockets are scanned by an X-ray machine to identify any munitions that are leaking chemical agents so they can be disposed of separately, DeSmet explained.
Next, to prevent chemical leaks, the company developed a method in whichrobots position the rockets vertically rather than horizontally, allowing for any residual chemical agent to pool at the bottom of the containment device.
Finally, the warhead is moved into a different room where the chemicals are drained and sent to be neutralized. After being wrapped in plastic to ensure any residual agents are contained, the warhead is then put into a CRG Automation-designed container. The company's robots close the container using a "hydraulic crimping action," DeSmet said, making an airtight seal by folding the metal into small ridges. The steel container is moved into a detonation chamber on a skid for destruction using ultra-high heat.
The new process not only is more efficient, it requires less disruptive in-person maintenance and does not pose a threat to workers.
"When we can take a person out of handling a weapon, we've increased safety by magnitudes," said Terry Staggs, a technical manager at Amentum, a subcontractor that runs the Blue Grass Chemical Agent-Destruction Pilot Plant.
Update: This story has been updated to clarify aspects of the disposal process.
Topics: Chem Bio Protection