ROBOTICS AND AUTONOMOUS SYSTEMS
DUBAI AIRSHOW NEWS: New Tech Enables Defeat of Larger Drones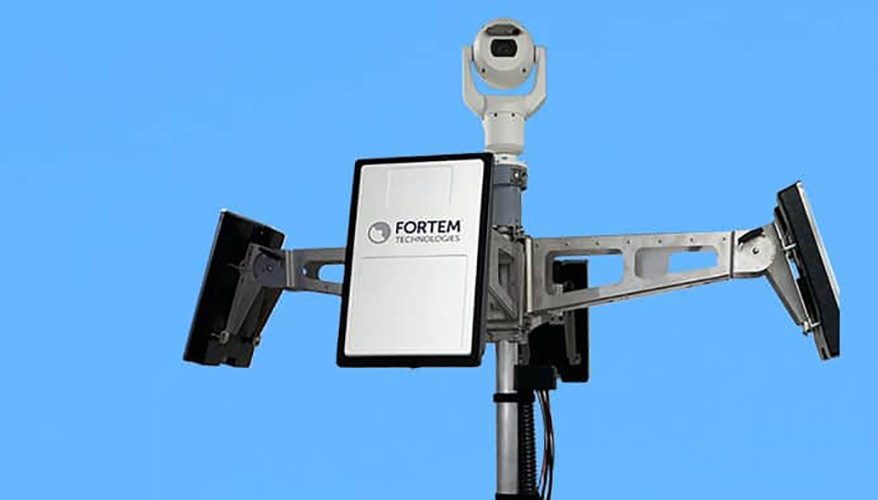 The TrueView radar, shown here, is part of the SkyDome System.
Fortem Technologies photo
DUBAI, United Arab Emirates — The American maker of counter-unmanned aerial systems capabilities unveiled new drone-catching upgrades to its systems during the Dubai Airshow.

The SkyDome System 3.7 made its debut at the international gathering, and could help countries in the Persian Gulf handle the proliferation of cheap, accessible drones, CEO of Fortem Technologies Tim Bean said Nov. 18.

"We're now going after bigger, larger [platforms], and those are the drones that are coming in from Yemen, in the oil fields and different places around there," he said.

The previous version of the drone hunter could trap and tow small drones to take them out of commission. Now, users can arm themselves against UAS that are too big to tow.

Once ground-based, artificial intelligence-enabled sensors detect a large incoming enemy drone, the SkyDome system flies in front of it to launch a net to defeat it.

"These are the kind of threats that we're seeing in the region," he said. "This is what's attacking people here in the Middle East, and we can stop that now," he said.

Bean said the company reached agreements on several sales during the show but declined to reveal the customers.

"If you're in a city environment, you don't want to shoot a missile," he said. "Laser systems are very expensive, and this [SkyDome] is a reasonable platform to remove large drones from the sky coming from long distance."

The United States is one of many nations recognizing the looming drone threat. In 2019, the U.S. Army established the Joint Counter-Small Unmanned Aircraft Systems Office to identify solutions for the problem. The office has since released the first Defense Department-wide framework for counter-small UAS technology.

One of the main challenges in taking down the kind of inexpensive, customizable drones that are widely available online is those systems don't emit the radio frequencies that allow the platforms to be easily tracked, Bean said. The SkyDome addresses this by embedding a powerful radar and chip with artificial intelligence.

"You've heard the saying 'flying below the radar.' We're the radar below the radar," he said.

Additionally, having a fleet of these systems allows users to expand the field of vision and have more data with which to track drones, he said.
Topics: Robotics and Autonomous Systems