JUST IN: AUKUS Seeks 'Rules-Based Order' with China (UPDATED)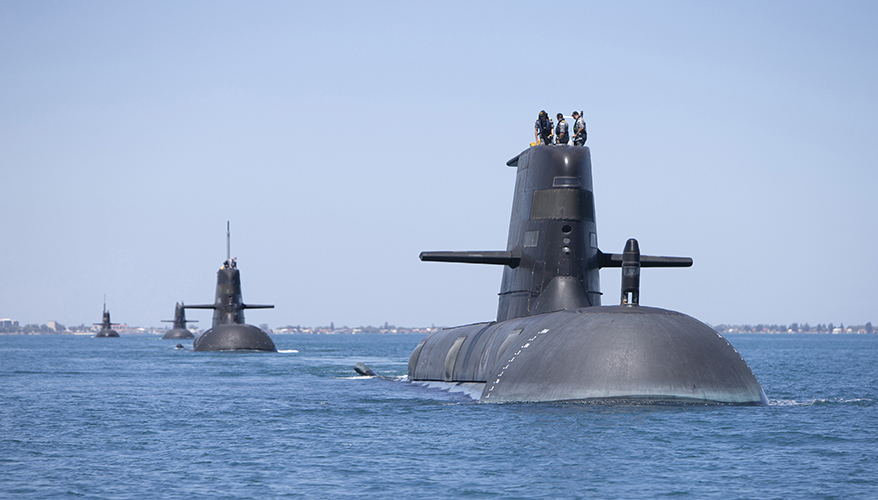 Australian Collins Class Submarines, HMAS Collins, HMAS Farncomb, HMAS Dechaineux and HMAS Sheean in formation while transiting through Cockburn Sound, Western Australia.
Commonwealth of Australia photo
As the technology sharing deal between the United States, Australia and the United Kingdom develops over the coming months, the three countries will aim to redefine standards for operations in the Indo-Pacific, the Australian ambassador to the United States said Nov. 16.

The trilateral partnership — known as AUKUS — was announced in September and will establish ways for the three nations to team up against China's rising capabilities in the Indo-Pacific. A key element of the agreement is military technology transfers between the three countries, including eight nuclear-powered submarines for the Australian Royal Navy.

But Ambassador Arther Sinodinos said the deal will not only address China's recent military developments, but will establish a "global, rules-based order" as geopolitics shifts focus to the Indo-Pacific.

"The aspiration that we have … is to have a global, rules-based order that applies to all countries big and small," Sinodinos told the Defense Writers Group. "And our aspiration is for China to be very much a part of that order."

Sinodinos emphasized that AUKUS is "country-agnostic," but rather addresses the Indo-Pacific region's growing importance in geopolitics as a whole.

"If it has the effect of convincing other countries in the region to cooperate and be a part of the rules-based order, then it's had the right sort of impact," he said.

Australia will work with the United States and United Kingdom over the next 18 months to discern what the best pathway will be to develop the nuclear-powered submarine technologies. This includes the submarine's design, as well as decisions related to workforce development and construction, Sinodinos added.

"We want to build a mature design, not spend the next few years redesigning submarines or whatever," Sinodinos said. In the meantime, he said Australia will be extending the life of the country's fleet of Collins-class submarines to fill any gaps.

Along with the submarines, the three AUKUS members will also share technology on a number of other areas such as artificial intelligence, quantum computing, cybersecurity and underwater technologies, Sinodinos said. Australia has identified over 60 critical technologies the country believes "are critical to national security going forward" and will be investing in, including those under the AUKUS partnership, he added.

Australian Prime Minister Scott Morrison will announce those technologies Nov. 17, Sinodinos said.

Meanwhile, Australia continues to collaborate with the United States on other areas of military modernization. The two countries continue to work closely on developing air-launched hypersonic cruise missiles and "how they can be integrated into what we're doing already," he said.
Correction: A previous version of this story misquoted Sinodinos on AUKUS being "country-agnostic." It has been corrected.
Topics: Global Defense Market