DUBAI AIRSHOW NEWS: Saab on Track For Delivery of Airborne Early Warning Systems (Updated)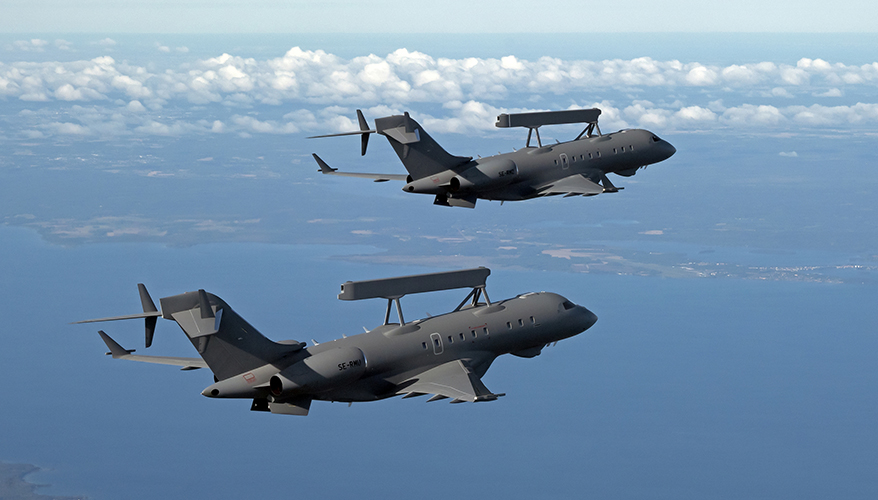 Saab photo
DUBAI, United Arab Emirates — Two additional airborne early warning systems that the Emirati Ministry of Defense purchased from Saab earlier this year have entered the production phase, according to the company.

Saab began production on the GlobalEye platforms — an airborne early warning and control system that was first purchased by the UAE in 2015 — in Sweden earlier this year, head of marketing and sales Tomas Lundin said Nov. 15 during a press conference at the Dubai Airshow.

He declined to comment on the estimated delivery date for the remaining two systems, though the contract gives Saab until 2025.

"I cannot comment on the exact deliveries," he said. "I can say that we have the aircrafts in Sweden, and we are doing the production work now on those."

The platform is capable of tracking objects such as cruise missiles and hypersonic weapons using a combination of passive and active sensors. It operates using jamming-resistant radar that is able to surveil a greater area than ground-based systems, he said.

"You can operate in a heavy jamming environment, and we see that as extremely important progress," he said.

The first three GlobalEye systems were delivered in 10 months during the height of the COVID-19 pandemic, he noted, calling it a "record-breaking" feat for Saab.

The system is installed in the Bombardier Global 6000 business jet, and it will later be integrated with the Global 6500.

Lundin declined to say when Saab will make a complete transition to the newer model, but said making adjustments for integration with the new aircraft will not be difficult.

The contract for the systems is worth more than $1 billion over the contract period of 2020 to 2025, according to Saab.

Sweden also agreed to start acquisition for the GlobalEye earlier this month to replace its aging Saab 340 early warning system, which is also produced by Saab, Lundin noted.

Saab is still pursuing business from South Korea. Seoul announced its intent to purchase two additional early warning systems last year. The customer has indicated they will move forward with the procurement and release a request for proposal sometime next year, according to Lundin.

"Normally, for such a big contract, finalizing things takes another year, so I think that would be the timeframe," he said.
This story has been updated to correctly identify Sweden's early warning system and to clarify the status of Sweden's acquisition.
Topics: Global Defense Market