Experimental ARTEMIS Aircraft Used in 'Real-World' Operations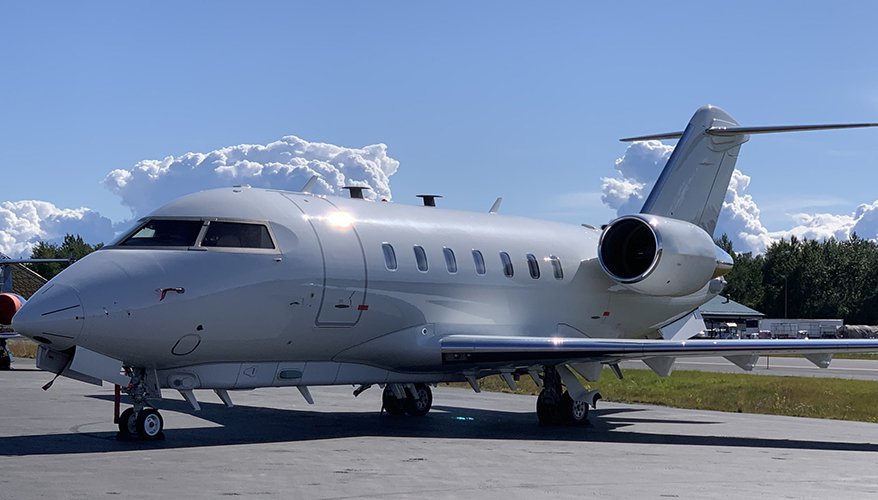 Army Photo
YUMA PROVING GROUND, Ariz. —
The Army's experimental ARTEMIS jet-powered surveillance aircraft was recently pulled out of a major exercise to monitor Russian troop movements near the Ukraine border, a service official confirmed.
ARTEMIS, the airborne reconnaissance and target exploitation multi-mission system, is a contractor-owned sensor platform housed in a Bombardier Challenger 650 business jet. The Army's Intelligence, Surveillance and Reconnaissance Task Force is flying the system as a "campaign of learning," but more often than not, the military is using it in "real-world" operations, task force member Andrew Evans said during a Project Convergence 2.0 media day Nov. 9.
ARTEMIS was recently pulled out of the Project Convergence experiments in Yuma Proving Grounds, Arizona, to help U.S. European Command keep tabs on a reported buildup of Russian troops on the Ukrainian border, Evans said.
"It was supposed to be here all through the end of last week. We terminated support to PC '21. We put it back in Europe to cover Ukraine," Evans said.
Project Convergence is the Army's version of the Pentagon's joint all-domain command and control concept, which calls for a seamless mesh of sensors and shooters connected to a network, all working at computational speeds. ARTEMIS was one of some 100 technologies the Army tested during the months-long experiments.
ARTEMIS, meanwhile, was conceived as an experimental aircraft, but over its first year took part in a number of operations in the Indo-Pacific and Europe," Evans said.
As a jet-powered aircraft, it can fly faster and higher — and at stand-off distances
—
than legacy airborne sensor platforms it may one day replace such as the propeller-driven RC-12 Guardrail.
It's a "campaign of learning for the Army to help define what it needs in the future and what's the right system, what's the right payload configuration, and how do we work this in terms of the joint fight," Evans said.
Defense contractor Leidos integrated the jet and the sensors, which includes the high accuracy detection and exploitation system, or HADES, which has multiple eavesdropping sensors. L-3 Communications Integrated Systems and Raytheon Applied Signal Technology have provided prototype sensors for the program, which is intended to replace legacy fixed-wing sensor platforms such as the Guardrail.
But the prototypes, along with the aircraft, are being put to good use, Evans said.
"ARTEMIS is ... more than an idea. It's a real-world combat system," he said.
Yet, "it is still an experiment of sorts. We don't have the central configuration nailed down completely right. But we're getting close," he added.
Topics: Air Power