EXCLUSIVE: Q&A with Gen. Murray, Leader of Army Futures Command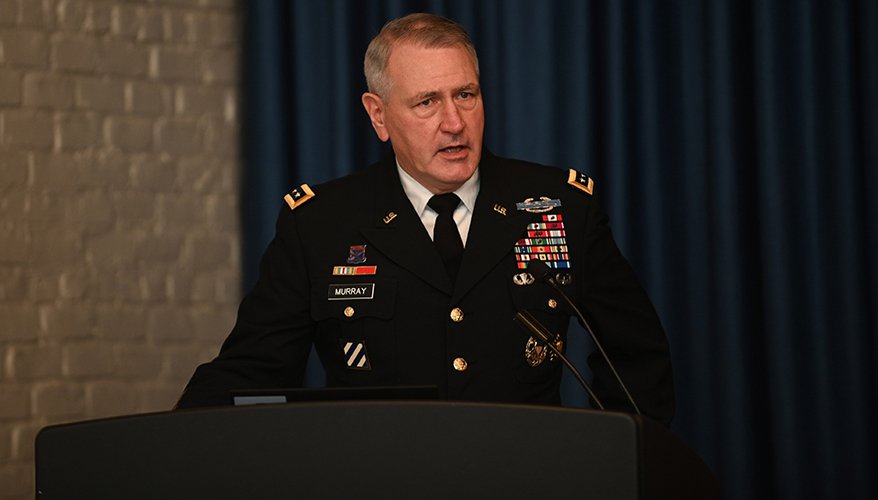 Army photo
Gen. John "Mike" Murray is the commanding general of Army Futures Command, which was established three years ago to spearhead the service's effort to modernize the force. On Sept. 10, in the run-up to the annual AUSA show in Washington, D.C., Murray spoke with National Defense Managing Editor Jon Harper about how the command's work is progressing, and the way ahead. The following Q&A has been lightly edited for length and clarity.
Taking a big picture view, how would you assess Army Futures Command's efforts so far in terms of shepherding the service's modernization? And are there areas where you are further ahead or further behind than you expected to be by this point?
If you go back four or five years and where we were with modernization, and you look at where we are today, I think we've made great progress. … You've got a requirements process that used to take three to five years just to write the requirement, and we've gotten that down to well under a year, in a lot of cases three to five months, for our signature programs. We've got efforts that, from the identification of a need to the delivery of the capability to our soldiers, in one case [it took just] 23 months, which is significantly different and faster than we've done in the past.
We have several efforts that faltered. And I think it's a tribute to the Army senior leadership and the Army writ large, [that a decision was made] to step back and admit that we may not have this right before we get into a program that costs us billions of dollars or tens of billions of dollars before we decide that we can't execute.
So, I think we are progressing. … We're about where I thought we would be.

You mentioned there have been efforts that have faltered. Were you referring to the Optionally Manned Fighting Vehicle initiative?
OMFV is the one that stands out. You know, we set expectations pretty high for industry. … We got one vendor that did a phenomenal job and delivered a prototype. But the senior leaders in the Army — the decision was we needed competition in the eventual program. And so we reset, but we did that early in the process.

In the past, some major Army modernization efforts, such as Future Combat Systems, could be considered a debacle if you look at how much money was invested and what the ultimate return was before the program was cancelled. To what extent are you incorporating lessons learned from that, and what's your approach to keeping things from really going off the rails for Army Futures Command?
I have personally read at least two of the studies on what led FCS to failure, and so I know specifically how we are accounting for things. We're using a threat-based capability development model. … In some cases, that is a specific country that we look very closely at in terms of the scenario and looking at scenarios that a proposed materiel solution would address.
Then secondly, I think with the concept we call soldier-centered design and getting soldiers involved early in the process we can understand [needs] from the ultimate user standpoint. … That's all the way from the soldier that will use the materiel all the way to the commanders who will have to figure out how to employ it. That is another way we get the entire community involved at the beginning of the requirements process so … what we're putting in that requirements document is going to be feasible from a technology standpoint. The PMs and PEOs play a critical role in the requirements process, which they never were involved in before. … So you're accounting for technology risk, integration risk, manufacturing risk. We get the testing community involved early, get leadership at ASAALT [the office of the assistant secretary of the Army for acquisition, logistics and technology] involved early in the requirements process, so it becomes a team sport to develop a requirement.
And then lastly what I'd say is we've adopted [an approach of], let's do some early experimentation with the technologies to make sure that we fully understand what is feasible from a technology standpoint. So early technology experimentation to buy, try, decide, if you will.

People are anxious to see these if these systems you're working on are able to bridge the Valley of Death and get fielded. Are there some specific examples of major systems that you think are on track to be fielded in the next two or three years?
We already have [fielded some of these capabilities]: enhanced night vision goggles-binoculars; IM-SHORAD [for air defense], the replacement for the Avenger, we've already delivered a platoon worth of vehicles. We'll complete the fielding for a total of four battalions, and I think that's by 2023, so the next couple of years.
We're in the process of fielding [Capability] Set 21, which is the network [cross-functional team] effort. And it's a different approach to how we keep the network up to date.
ERCA, the extended range cannon artillery, by '23. PrSM [missile] in '23. … A long-range hypersonics battery with mid-range capability will be fielded in '23. Next-gen squad weapons, both a rifle and automatic rifle.
We'll see where we go with [initial operational test and evaluation] on IVAS [integrated visual augmentation system]. That's possibly fielding by '23.
I could go on and on. If I remember right, it's 22 systems by '23 or earlier.

Is there any consideration being given to changing the modernization priorities or the rank ordering of those?
We still think that the priorities make sense. … They are based primarily on how we see operational utility and, in some cases, things that we know we have to do.
We'll look at the priorities. … A [new] national defense strategy will be out at some point and defense planning guidance. It's a new administration. They're going to rightfully have different priorities for us, and so I'm not saying we won't ever change them. But what I am saying is we will be flexible enough to adjust to the guidance we're given.

Army Futures Command is headquartered in Austin, Texas, a major commercial technology hub that the Defense Department wants to partner with. A few years ago, tech giant Google pulled out of a Pentagon project after employees voiced objections to aiding warfighting. Has Army Futures Command encountered any objections like that from companies in Austin?
Absolutely not. … There might be some that I'm not aware of, but I can't think of a single instance that we've approached somebody with an interest to work with them that they've said, "We're not interested in working with DoD … to get involved in warfare and enabling that."

Are you finding that some innovative companies don't want to work with the Army because they don't want to deal with slow-moving bureaucracy?
If I go over to the Army Applications Lab which is two blocks from here — we have a room of 200 small businesses, entrepreneurs and startup companies— and I want to clear the room immediately, all I've got to do is say, "Just wait two years and I'll get you in the POM [program objective memorandum]."
A small business or a startup really needs that capital infusion, not [just] to expand infrastructure or to sustain a workforce — they need that capital infusion to fund not only what we're asking them to do, but also to feed their family and pay their mortgage. And so it's just a different model. So, I think one of the things being in Austin has helped us to do is understand that ecosystem and begin to find ways to work with them — the SBIR [Small Business Innovation Research] dollars, for instance.
Small business initiative dollars are very flexible. Before we started using them … the average time from contract to award was about 240 days. In most cases we've gotten that below 30. We can get money on a contract pretty quickly using SBIR dollars.

To what extent are you able to leverage other transaction authority agreements or other kinds of rapid acquisition authorities to work with some of these nontraditional vendors? And are there any new authorities that you'd like from Congress to facilitate that?
Our acquisition community has done a phenomenal job of taking advantage of the authorities we have — OTAs, MTAs [middle-tier acquisition authorities] — and the ability for them to rapidly prototype as we begin to figure out what it is we want in a system, and we complete the experimentation with the technologies. … I think we're very happy with the authorities we have from Congress.

A major ongoing Army initiative is Project Convergence, which is intended to contribute to joint all-domain command and control, or JADC2. From an Army Futures Command perspective, how is that effort informing what you're doing and what you're planning to do?
The key thing about the overall concept of Project Convergence is really how things work together. … If you look at the 31-plus-four [high priority programs], we're not where we've got all of them [working] together yet.
How do you start looking at things as a … systems of systems and not individual pieces to enable a future warfighter or a future commander?
It also ties back into other things that AFC has been asked to do, which is actually to begin to look at what a future battlefield or a future operational environment could look like.
Specifically in Project Convergence 21 [we plan to] start helping the Joint Staff figure out the JADC2 concept with the services, and in this case, all five services to include the Space Force really coming together to start to figure out how we do two things: make legacy systems work together … and then as we begin to look to the future, how do we help the Joint Staff develop that overall architecture that we can make sure as we go into service development we're not building stovepiped systems; we're building stuff that's built to work together from the very beginning, from the data and the ability to pass data seamlessly amongst the services.

There's a lot of focus and interest in hardware. But to what extent does software underpin what you're trying to do with modernization?
I firmly believe we're going to have to have the ability to write code to take advantage of the data available to a commander, to organize it in ways to sift through massive amounts of information to present recommended or potential courses of action … to streamline the decision-making process for future commanders just based upon the vast amounts of data that are going to be available as AI matures, as machine learning matures, as quantum comes on.
Our ability to have organic to the Army young men and women — both civilians and in uniform — to perform that function for us is going to be a key enabler to getting to that better decision faster than any future opponent.
We stuck a banner on our website that said if you're currently wearing a uniform and you're interested in coding, we'd like to talk to you. Within two weeks we had well over 2,000 young soldiers reach out. … Six months later we had 25 of them here in Austin, and I would just tell you they are incredibly talented.
Cohort two is 25 soldiers and five civilians.
Right now, we've got a small team of them from both the Software Factory [in Austin] and the Army Artificial Intelligence Integration Center at Carnegie Mellon, forming teams focused on … solving problems.
The challenge in the long run is we're going to have to figure out how to retain and utilize the talent, because with the skill sets these kids have, if we don't figure this out pretty quickly they're going to get snapped up by commercial industry.

How confident are you that Army Futures Command's initiatives will be protected if there are constraints on the Army's topline, or perhaps even some budget cuts?
We have managed to protect them so far.
I don't know what the budget is going to look like in '23, '24, '25, '26. Defense budgets go up, defense budgets go down.
When the Reagan budget came [in the 1980s] and it increased, we could go into production [of new systems] fairly rapidly. I'm not saying that's what we're going to do, I'm just saying that's a possibility. Could the 31-plus-four become something less than that [if budgets are cut]? Yes, but so far that has not happened. We've been able to protect everything. But you know, there's 1,000 "ifs" out there.

At some point in the future, you'll be passing the baton to your successor. Based on your experience as commander of Army Futures Command and your vision for the future, what advice would you give to your successor?
No. 1, it's all about the people. … It's the quality of the people that are doing the work that have enabled all that [the command has achieved].
Stay focused on getting the right people in the right places to drive this. Stay focused on … the increased transparency we've established with industry and being able to have conversations that for whatever reason we were fearful of having in the past now. … From a requirements standpoint, I don't think [at Army Futures Command] we've been bashful about sharing with industry what it is we think we need.
The relationship and partnership with ASAALT and the PMs and PEOs — you've got to stay focused on that because … the materiel development piece of it has to be through that partnership with ASAALT. The focus the cross-functional teams bring over to the Army's most important efforts, and in some cases now programs, I think is critical.
It's a learning experience every day, so just embrace the learning and stay focused.
Making sure that … [future generations of soldiers] enjoy the same overmatch in terms of capability, training, leadership, etc., that I've enjoyed for over 39 years now, is what keeps me motivated and focused on doing this each and every day. And I don't think you can afford to lose that focus.
Topics: Army News