JUST IN: Changing Threat Environments Could Alter Civilian Aircraft Operations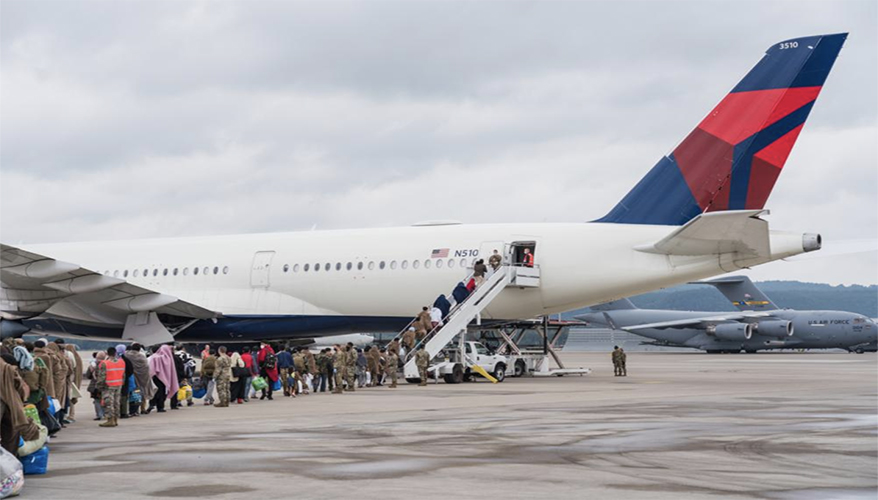 Evacuees from Afghanistan board a Delta Airlines flight, part of the Civil Reserve Air Fleet, at Ramstein Air Base, Germany, Aug. 30, 2021.
Where commercial airlines are sent to assist the United States military in operations are likely to change, an official with the U.S. Transportation Command told reporters Oct. 7.
The Civil Reserve Air Fleet, or CRAF, is a program that allows aircraft from U.S. airlines to contractually work with the Department of Defense in boosting its airlift capabilities by using commercial aircraft when the need for airlift exceeds the military's capability. As of August 2021, there were 450 aircraft from 24 different airlines that made up CRAF, according to an Air Force fact sheet.
But as the U.S. pivots its attention to threat environments outside of the Middle East, Maj. Gen. Corey Martin, the director of operations of U.S. Transportation Command, said where the military sends commercial airliners will also be different.
"It's not really a change in the relationships as much as the threat levels dictate on the locations that commercial airliners can go," he said during a Defense Writers Group event.
Martin emphasized that, despite the operation it is assisting in, CRAF will always be working in low-threat areas. He said the decision of where to send commercial aircraft will be based on questions of how far from the U.S. can they operate and what locations can they best conduct operations without the defensive advantages military aircraft have.
Martin also added that the final decision of where commercial aircraft are sent lies with the airlines themselves, and carriers have the ability to decline an operation if they deem it unsafe.
In August, CRAF was activated to assist the Department of State in evacuating U.S. citizens, personnel and other at-risk individuals from Afghanistan — an operation that Martin hailed as "an extension of a robust relationship" with the military's commercial partners. During the operation, 18 commercial aircraft assisted U.S. Transportation Command in moving passengers out of Kabul.
Topics: Air Power, Defense Contracting, Civilian Workforce, Transportation