Marines to Deploy New Water Purifiers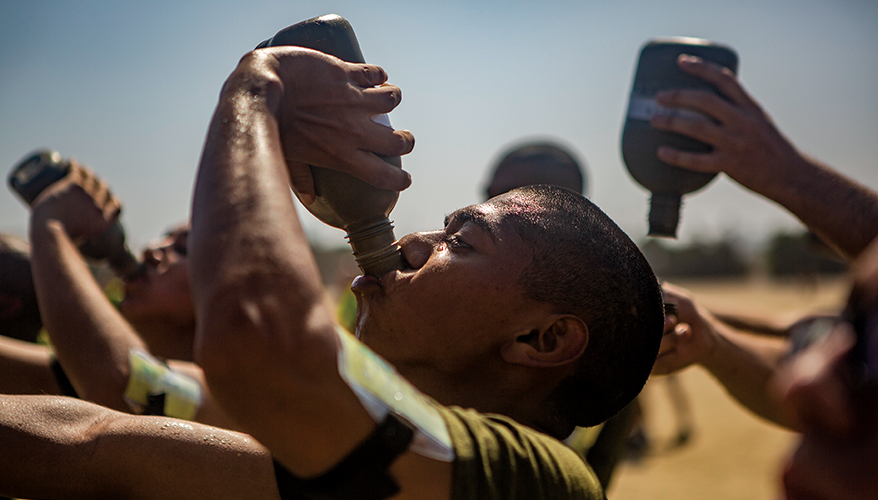 Marine Corps photo by Cpl. Jesula Jeanlouis
To quench Marines' thirst, an Ohio-based engineering company is delivering a high-speed water purifier that will not only provide fresh water to troops, but also shrink the Marine Corps' carbon footprint.
Parker Hannifin has delivered 70 of its water purifier systems, the H20 Pro, to the service so far this year to help the military hydrate in austere environments. Just one purifier — which is smaller than many other available reverse-osmosis filtration systems — could replace 107,000 plastic water bottles a month, according to company executives.
"You want to get people out and mobile," said Kelly Sullivan, engineering manager at the water purification branch of the company. "This really lends itself to that because it's a very mobile piece of equipment, whereas the other ones — they're huge."
The unit weighs about 130 pounds and has wheels like a suitcase. It can easily be stored in the back of a truck or aircraft, unlike other systems that are so large they require a separate transport platform, he noted.
Additionally, the company kept ease of use at the forefront of the system, Sullivan said.
"One thing we really strove for with this system in the design was absolute simplicity of operation and simplicity of maintenance," said Andrew McClelland, defense industry market manager at Parker Hannifin.
Marines are often accustomed to drinking from water bottles to hydrate on missions, and it can be difficult for them to trust the efficacy of a purifier that resembles "a chemistry set" and requires specialized training to operate, he said.
First, water flows through a high pressure pump, then through an energy recovery device that pushes the liquid through a 3-pound motor — lighter than a traditional water filtration motor, according to McClelland. The final step involves sending the water through a filter to eliminate contaminants before it's ready to be consumed.
Only a few switches need to be turned on to operate the system, and the gauges to monitor the purifier's pressure are color-coded, which eliminates the need for specialized training, he noted. The filter can be cleaned instead of replaced, and there are no speciality tools required for maintenance.
"[We're] really trying to incorporate that initial feedback that we had received into the design to make it as user friendly as possible," McClelland said.
The Marine Corps awarded Parker Hannifin a $6 million contract in 2020 for 600 systems over a three-year time period. The company expects to deliver 160 systems by the end of 2023.
Topics: Marine Corps News