Army Investing in Hybrid Power Microgrids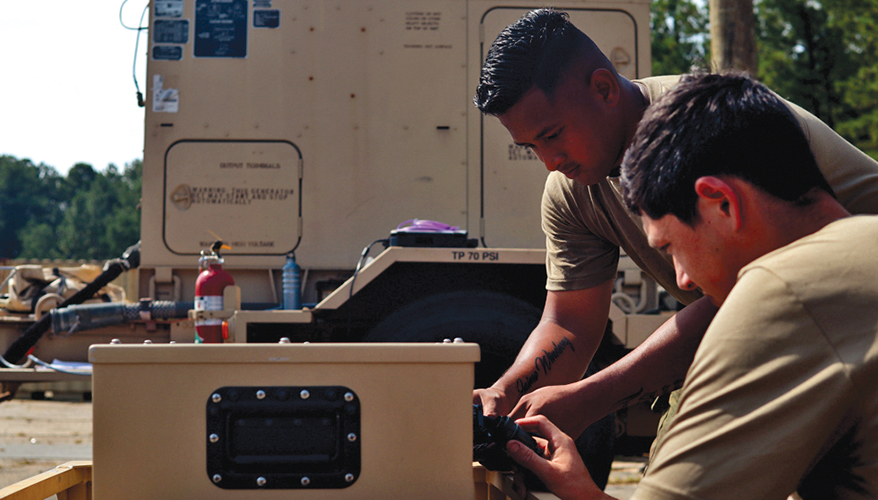 Soldiers test the hybrid power system microgrid at Fort Bragg, North Carolina.
Army photo
The Army is looking at new technology, such as microgrids, that can more efficiently power command posts and division tactical operations centers.
These systems can be in the 10s to 100s of kilowatts range, said Frank Bohn, an electronics engineer at the the Army's Command, Control, Communications, Computers, Cyber, Intelligence, Surveillance and Reconnaissance — or C5ISR — Center. The center falls under the Army's Combat Capabilities Development Command.
"What we're doing in this space is looking at not necessarily how to standardize a specific component, but how do we standardize the components that are being developed?" he said. "How do we standardize the communications between these systems? And how do we standardize the data so that way we can enable these things … to work together to share power, optimize for fuel efficiency and resiliency, and how do we control that?"
The backbone of the concept is the tactical microgrid standard, or TMS, Bohn said. TMS is a data and communications standard that categorizes the various power devices that are located on a microgrid. These include different groups of systems such as equipment that produces power — like generators or solar panels — and items that consume power or store energy.
"Through the TMS, we're enabling these systems to communicate with one another, and then we're enabling microgrid controllers to come in [and] understand immediately and autonomously what these different systems are on the microgrid," Bohn said. "Then it's able to smartly, or intelligently, decide, 'This is how I'm going to use this system and optimize my microgrid.'"
The center is developing a hybrid power system, or HPS, microgrid, which it has been working on for about two and a half years, he said. It offers increased resiliency compared to the way that command posts and division tactical operations centers are traditionally powered, he noted.
"Right now, what they're using is primarily what they call spot generation," Bohn said. "This is a single generator or generators running in parallel to service a load."
These are typically oversized, and they have a second generator for redundancy in case a generator fails.
"What we're looking at doing with microgrids, and particularly hybrid microgrids, is increasing that resiliency so that way you don't have to run generators in parallel and you're immediately reducing … fuel consumption, but still maintaining that resiliency," he said.
Joseph Vitale, an electronics engineer at the C5ISR Center, said the HPS — which features an inverter battery system, which can be thought of as an energy storage system — can give an entire microgrid an interoperable power supply.
"If a generator goes down, the inverter system will catch the grid," he said.
Other benefits include the option to run silent watch operations and increased fuel efficiency, he added. Based on simulations, Vitale estimated there could be fuel savings of more than 30 percent, and that is expected to increase over time.
HPS also offers a hands-off, plug-and-play capability because of its use of the tactical microgrid standard, he said. "Soldiers really just have to plug it in and turn it on, and as long as it speaks TMS, a microgrid controller can utilize it," he said.
While the HPS is more complex, it can be compared to the popular Nest smart thermostat that monitors users' homes, Bohn noted.
"Our microgrid controller is doing a very similar thing," he said. "It's watching what the load is on the microgrid, how much power is actually being drawn from all your different components that are requiring this power, and it's trying to understand what do I need to do to make the microgrid more effective, more resilient and more energy efficient."
The Army Corps of Engineers' Construction Engineering Research Laboratory originated the hybrid power system, Bohn said.
"CERL identified the need to introduce energy storage into Army power systems for increased fuel savings and has been working over the past few years to develop the capability," he said. "The CERL work created a standalone hybrid system with the energy storage unit paired with a generator."
In parallel, the C5ISR Center had been developing microgrid capabilities with the tactical microgrid standards.
"The partnership between CERL and C5ISR Center has furthered the HPS capabilities and allows it to connect with a microgrid of generators for increased fuel savings and power resilience," Bohn said. "Working together has combined the capabilities for improved power system capabilities for the warfighter."
The HPS underwent testing with the Army's 82nd Airborne Division over the summer and is slated to be demonstrated during Project Convergence '21 in the fall, he added. Project Convergence is the Army's annual "campaign of learning" event where new technologies are put through their paces.
"We're going to demonstrate all the benefits that it has," Bohn said.
Topics: Army News