VIEWPOINT EMERGING TECHNOLOGIES
Transforming Our Systems Engineering Approach Using Digital Technology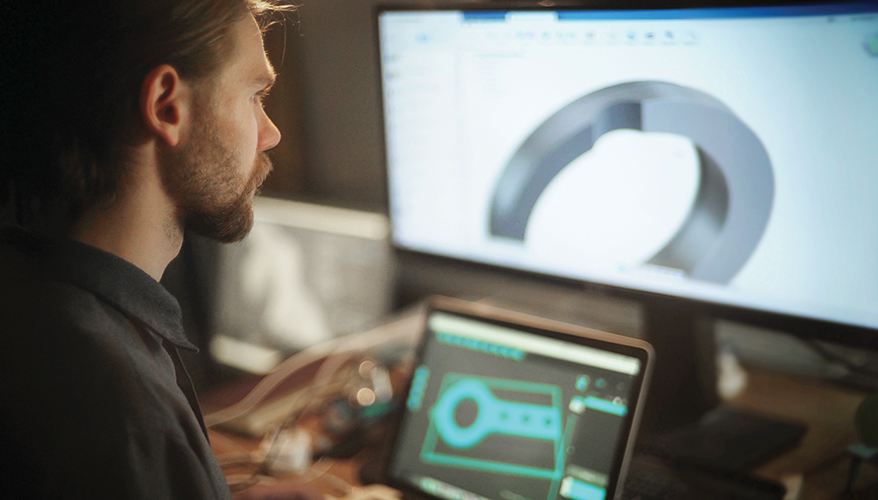 iStock photo
Digital transformation is pervasive in our daily lives. Seemingly limitless and lightning quick access to people, information and services has the world thinking differently, getting more done and moving faster than ever before.
But how are we using the power of digital technology in our work to advance our national defense posture and accelerate the development and delivery of superior capabilities to the U.S. military and its allies?
For decades, the U.S. military has enjoyed technological superiority over potential adversaries. Now, the global dynamics of modern technology and their applications in military systems development are working to diminish this advantage. Maintaining this technological superiority while continuing to provide capabilities to our forces that are more advanced than those of our adversaries — who are unencumbered by the rules of our acquisition system — requires us to accelerate acquisition processes all together.
One of those key tenets is systems engineering, an inter-disciplinary process which, at its end, delivers a fully functioning system that meets customers' requirements. In addition, the emphasis now is on increasing flexibility, innovation and rapid capability development as well. The challenge is doing them all while remaining true to the fundamental acquisition principles of quality, timeliness and accountability.
One very concrete and clear response is the revised 5000 series Adaptive Acquisition Pathways policies which provide a new set of key tenets for the defense acquisition system that are intended to increase flexibility and enable innovation. But this alone is not enough.
Modern technology is shifting the systems engineering landscape. Today, the systems engineering "V" model is still relied upon, but in shorter increments and in a more collaborative, integrated manner with a view toward a broader understanding of the system mission and lifecycle. It is being imbued with the agility to iteratively leverage new technological advances and capabilities as they are developed. Technology is providing the answer and is partially driving the change as modern engineering practices have outpaced current policy and process.
Industry is rising to the challenge.
"In our industry, success isn't just about speed on the battlefield, but speed to the battlefield. Working with data from all different formats and linking high-fidelity models together allows us to be faster and more predictive in our execution," said Wes Kremer, president of Raytheon Missiles & Defense. "Our investments in digital design allow us to connect a mechanical model and a thermal model to a performance model and a cost model. We're creating a digital thread throughout the product lifecycle, and we're already seeing the benefits of this approach. It's exciting because we're only scratching the surface of what this technology can do."
For years, engineers have relied on digital technology for important analyses (finite element analysis, for example). These tools provide an understanding of a specific aspect of a design (i.e., stress and strain under various load conditions). But these are static analyses. Modern practices simulate the attributes of a full system in dynamic conditions, a much more daunting challenge that integrates various areas into a whole.
Modern engineering practices evolving within the defense community include, among other things, mission engineering, modeling and simulation, digital engineering, modular open systems approach, system security engineering, and agile software development. Indeed, there are initiatives within the Defense Department addressing each of these. The real challenge is integrating them into a systems engineering model, one that overcomes the built-in resistance of the Federal Acquisition Regulation-based acquisition process and that spans the entire system lifecycle with a "digital thread."
NDIA is deeply engaged in the modernization of systems engineering and transformation of Pentagon acquisition through its NDIA Systems Engineering Division and industry-led committees.
The system-of-systems (SoS) committee works with the Office of the Undersecretary of Defense for Research and Engineering on its mission engineering initiative to bring an industry perspective to the process — this includes not only building things right, but also building the right things. Judith Dahmann of MITRE leads the division initiative working with the department's R&E mission engineering team.
The committee supports biweekly webinars on system-of-systems as well as mission engineering webinars through the SoS Engineering Collaborators Information Exchange (SoSECIE@mitre.org). The division's mission engineering task team which includes the modeling and simulation and architecture committees, is supporting the continued development and application of the DoD Mission Engineering Guide which provides practitioners within the Defense Department and the industrial base a firm understanding of the main attributes, methodology and lexicon associated with mission engineering.
The Division's architecture committee is hard at work on two transformative areas — digital engineering and the modular open systems approach, or MOSA.
Digital engineering facilitates automation and encoding of systems engineering and the resultant process outputs in a digital environment, updating traditional practices to take advantage of modern computational technology, modeling and simulation, analytics and data sciences.
The Division committee working in this area is led by Robert Scheurer of Boeing. It supports the assessment, implementation in the industrial base and increased use of digital engineering as a member of the OUSD (R&E) Digital Engineering Working Group.
The committee provides industry sector advice and advocacy on challenges in using digital artifacts across the government-industry boundary. Critical issues being assessed include model interoperability in acquisition processes, identifying and maintaining authoritative data sources throughout the acquisition lifecycle, and measuring results and outcomes. A key challenge is consistency across programs and services of the resultant engineering products, or digital artifacts, which are produced via digital engineering. Another is how digital engineering will change acquisition milestones and engagements that have traditionally been multi-day meetings with large quantities of drawings and documents.
Making sure that the digital artifacts are accessible, managed, and provide enduring value over the long term is a critical attribute in this new environment.
The architecture committee also provides industry inputs to the collaborative Modular Open Systems Working Group, which promotes modular open engineering principles and representative solutions through the military services and other agencies. It contributes actively to the Modular Open Systems Community of Practice website, hosted by the Defense Acquisition University. The modular open systems approach is an integrated business/technical architectural approach to achieve competitive and affordable acquisition and sustainment over the system lifecycle. Benefits from MOSA are enhanced competition, facilitating technology refresh, providing a framework for innovation, increasing opportunities for cost savings and cost avoidance, and improving interoperability.
As digital transformation progresses, the security of our engineered systems must be assured. Cory Ocker of Raytheon leads the system security engineering committee which partnered with the Air Force Cyber Resiliency Office of Weapon Systems to provide an industry perspective during the development of the Air Force CROWS System Security Engineering Cyber Guidebook. The guidebook was recognized with accolades in the latest Government Accountability Office report on "Weapon Systems Cybersecurity: Guidance Would Help DoD Programs Better Communicate Requirements to Contractors," which was released in March.
The committee also reviews and provides industry subject matter expert and practitioner feedback on system security engineering-related industry standards such as NIST SP 800-37, NIST SP 800-160, NIST SP 800-161, and has a continuous partnership with OUSD (R&E) for strategic technology protection and exploitation, Joint Staff J-6 for cyber survivability, and OSD DTE&A for cybersecurity.
Tying it all together is the R&E Systems Engineering Modernization initiative, which is developing a plan to update the Defense Department's systems engineering guidance. NDIA is supporting the initiative to establish, maintain and propagate state-of-the-art systems engineering practices, policy and guidance, and workforce development. The objectives are processes that maintain the essential rigor inherent in the systems engineering discipline while improving the speed-to-solution for systems capabilities, which will allow fielding of the newest technology as quickly as possible. The approach is evolutionary, considering the complexity of the challenges and the need to change a culture rooted in a traditional approach.
The education and training committee, led by Dr. Robert Raygan of the Defense Acquisition University, is addressing the workforce and training issues with respect to systems engineering modernization.
The committee is working with seven Defense Department and industry organizations to develop a course on transforming the workforce and will host a two-hour panel discussion on workforce issues at the full Mission Engineering Conference in Orlando.
Update on the 24th Annual Systems and Mission Engineering Conference
The Systems and Mission Engineering conference is now going to be held virtually. The rise in COVID cases coupled with associated travel restrictions have resulted in moving the conference to a virtual platform. The theme of this year's conference revolves around the modernization of systems engineering. The Keynote speakers, Raytheon Missiles & Defense President Wes Kremer and U.S. Air Force Lieutenant General Eric Fick, program executive officer for the F-35 Lightning II Joint Program Office are adjusting their calendars to participate virtually. The new dates for the virtual conference are December 6 through the 9th.
Also new this year, the NDIA Integrated Program Management and Test & Evaluation divisions will join the event to cover a broader spectrum of the disciplines necessary for effective systems acquisition and development.

Holly Dunlap is a senior principal systems engineer at Raytheon, and Dave Chesebrough is vice president of divisions at NDIA.
Topics: Emerging Technologies