EDITOR'S NOTES DEFENSE DEPARTMENT
In-Person Conferences Make a Comeback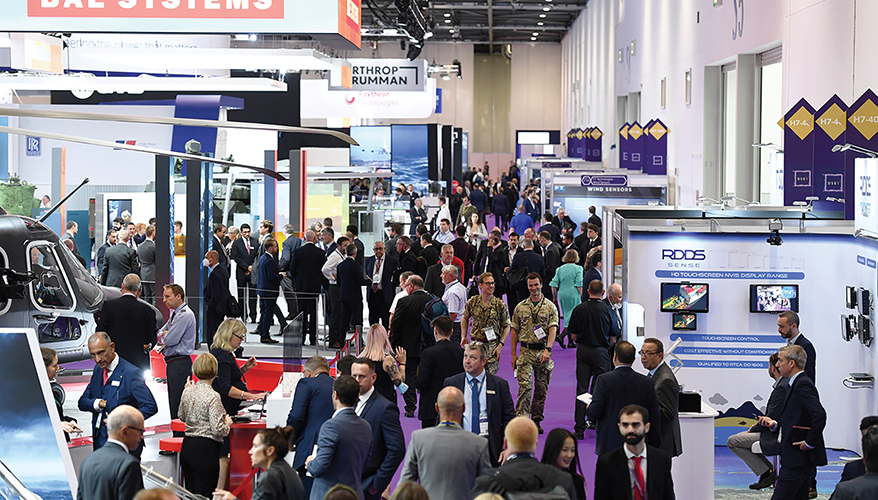 DSEI 2021
DSEI photo
LONDON — What a pleasure it was wandering up and down the half-mile long exhibit hall at the ExCel Center in London, while checking out the newest defense technology.
I never thought I would miss it so much.
For journalists and many members of industry — particularly those in business development, senior executives and media relations — time was marked by the major defense industry conferences: spring meant the Space Symposium in Colorado Springs and the Navy League's Sea-Air-Space just outside Washington, D.C.; summer kicked off with the Special Operations Forces Industry Conference in Tampa, followed by the major air shows — Paris and Farnborough — and in the fall, the Air Force Association's big show near D.C., with the Association of the United States Army confab a few weeks later. The year wrapped up with the National Training and Simulation Association's I/ITSEC show in Orlando.
In between are dozens of niche conferences catering to those in specialty fields: robotics, geospatial intelligence; cybersecurity, and so on.
And then it all came to an end with the COVID-19 lockdowns.
The National Defense Industrial Association was the pioneer in virtual shows, holding the 2020 SOFIC show completely online. Other associations and organizers followed suit.
Not that there weren't advantages to sitting in the mancave covering a trade show while wearing shorts and a ratty 10-year-old Washington Nationals t-shirt my wife has insisted numerous times should be tossed out.
Virtual conferences were necessary and a good stopgap. There are certainly homebodies out there who might prefer them. But I suspect they are in the minority.
The first indication that in-person confabs were sorely missed was NTSA's Training & Simulation Industry Symposium in June.
This was one of the first industry conferences to go "hybrid." Attendees could travel to Orlando in person or watch online. Needless to say, the association was anxious to see how this would turn out. Would anyone bother traveling in person when they could stay home and watch it from their computer?
The answer was clear by the end of the show: the previous in-person TSIS in 2019 had some 500 attendees. The one held this summer had 800 in-person attendees.
Humans generally crave the company of other humans.
However, those were the "golden" three months — back when everyone who wanted a vaccine had received it and no one had heard of the D-variant of COVID-19. Masks were off and the two vaccine jabs felt like a suit of armor.
For reporters, these conferences are vital for gathering information for readers. Senior Defense Department leaders — who are normally hard to get ahold of — are there, often holding media availabilities, and sometimes can be tracked down after a speech for an exclusive quote.
Conferences are where members of industry interact with government officials in an ethical way. Conferences are where officials can clearly communicate their needs and requirements to industry — and the media — which can give them an even wider audience.
Confabs with exhibits are a bonus: this is where we can walk the floor and come across something unexpected — a new innovative product perhaps deserving of more attention.
But as the summer progressed, the news trickled in about the D-variant and uncertainty reigned.
The Space Symposium — a conference National Defense always attends — had been pushed back to August. That was by no means a guarantee. Many in-person conferences had been rescheduled to later in the year, only to be canceled or remain virtual.
But it did go on as planned, and our staff writer who covered it reported large crowds.
However, the next big question was the Defense and Security Equipment International show, better known as DSEI, in London.
Traveling overseas in the time of COVID is a whole different ballgame. The DSEI organizers were in some respects lucky. It is a biennial conference, meaning they didn't have to cancel a 2020 show. But whether they would proceed with the September conference, or not, was the topic of several conversations in the office. This is one of the world's largest defense trade shows and one we haven't missed in at least a decade.
Finally, I decided to give the green light.
But things have changed.
The United States in the eyes of the international community is a "code amber" country, meaning it hasn't managed to get the pandemic under reasonable control. That meant a negative COVID test prior to departing the United States and one to return, and an eight-hour flight wearing a mask.
The conference at the massive ExCel Center in London required everyone to show either a vaccine card or a recent negative test to enter.
Once inside, the majority of attendees did not wear masks.
It was obvious DSEI did not have the number of attendees as in years past, and parts of the once full exhibit hall were curtained off. But the show went on.
Interestingly, one Europe-based exhibitor that had to ship its booth and materials to London said COVID protocols weren't the issue, but rather red tape brought on by Brexit.
There was hardly time to recover from jetlag when the AFA conference kicked off the following Monday at National Harbor, Maryland. There, vaccine cards were required and mask-wearing taken seriously.
No, things are not back to normal. Wearing a mask all day is a pain — as are all the other hoops to jump through to travel — but the chance to interact with humans again and bring back information for our readers is worth the trouble.
Topics: Defense Department, Defense Contracting, Defense Innovation