Pentagon Reexamining How It Addresses Chem-Bio Threats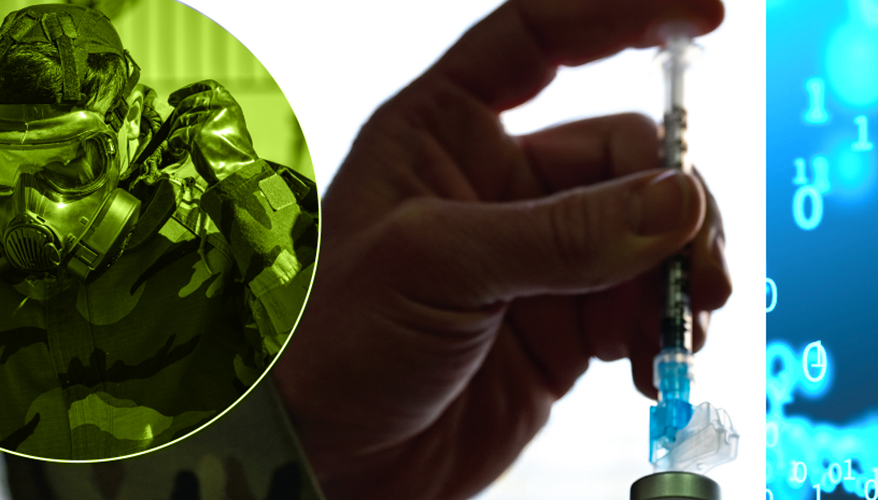 Photo-illustration - iStock, Defense Dept. photos
BALTIMORE — The ongoing COVID-19 pandemic — which has killed more than 700,000 Americans — quickly and ferociously brought home the dangers and perils posed by biological threats and has prompted the Defense Department to bolster its ability to combat them in the future.
While not new — history books remind readers of the Plague and Spanish influenza — bio threats, along with chemical, radiological and nuclear hazards, have been thrust into the spotlight due to the crisis.
To address these evolving perils, the Pentagon is revamping how it tackles CBRN defense and is working to inject new technologies — such as artificial intelligence and machine learning — into its portfolio. Officials hope the move will put the United States in a better position should the unthinkable happen — again.
Those working in the CBRN field find themselves in a unique time, said Army Col. Chris Hoffman, principal director in the office of the deputy assistant secretary of defense for chemical and biological defense.
"We've seen smaller pieces of this in 2001 in the wake of the anthrax mailings and in 2014 and 2015 with the Ebola outbreak in West Africa," he said in August during the National Defense Industrial Association's Chemical, Biological, Radiological and Nuclear Defense Conference and Exhibition in Baltimore. "However, we've never found ourselves with the audience that we currently have."
"We're seizing that opportunity," he added.
Officials must execute necessary changes to honor the hundreds of thousands of Americans who have died of COVID-19, he said. "We can honor that sacrifice and that loss by ensuring that their descendants don't suffer the same fate," he said.
The pandemic has revealed gaps in the nation's information-sharing processes when it comes to biodefense, Hoffman said.
"We've got lots of information, but … we don't necessarily have all the nodes connected well," he said. "That network and backbone is not quite there yet."
The Pentagon is working with its international and interagency partners to improve its integrated early warning systems to close that gap, he noted.
In that same vein, it is also working more closely with the intelligence community. Much of the information about CBRN threats has traditionally been held at a high classification level, which is not accessible to some relevant parties, Hoffman added.
"We've been working very hard with our intelligence partners to … digest that and operationalize it so that we've got clear assessments that we can share with our service and combatant command partners," he said.
The Pentagon is also shaking up how it acquires chem-bio defense equipment, said Brandi Vann, deputy assistant secretary of defense for chemical and biological defense programs.
"The administration has directed us to do a number of things, including relooking at our legacy processes, our legacy systems and really reinvesting our focus and our funding into capabilities for the future," she said.
There are new opportunities to leverage emerging technologies such as AI and quantum computing, Vann said.
"These are buzzwords we've heard before, but as we start enveloping these into the CBRN community, … this begins to transform how we think about CBRN defense," she said.
Dr. Jason Roos, joint program executive officer for chemical, biological, radiological and nuclear defense, said there is a need for autonomy, AI, machine learning and robotics for integrated early warning. "I believe there is space in our industry where we can apply AI and ML," he said.
However, transforming CBRN technology will require the Pentagon to transition away from its traditional methods of requirements development, R&D investment and acquisition, Vann said.
"Bluntly, we need to not only embrace industry, but we need to start thinking like you," she told conference attendees.
The Defense Department needs to leverage commercial technology so it can remain more competitive against the nation's adversaries, Vann said.
Decades ago, the government drove much of the innovation in the United States, but that paradigm has shifted, Hoffman said. "We don't have the investment capital in our government R&D to drive all the innovation that's necessary."
While defense only makes up a small portion of the market for commercial products, Hoffman encouraged industry to partner with the Pentagon on CBRN technologies and noted that they are inherently dual use.
"We've got efforts trying to figure out how to decontaminate transportation vehicles," he said. "It absolutely has applications to the transportation sector."
Technology used to decontaminate Defense Department facilities can also be applied to the medical sector and hospitals, he noted.
As the CBRN community continues to work with industry, it is embracing new contracting methods, Roos said. "There is certainly a better way for us to be able to work with you and engage with you," he told the crowd.
Roos touted a new contracting tool called commercial solutions opening, which facilitates the acquisition of commercial-off-the-shelf technology.
"You can rapidly go out and get COTS capability or modify COTS capability," he said. "We've been leveraging that tool very much in the context of COVID."
The Pentagon wants to modernize its CBRN equipment and is looking at an array of new technologies, including threat-agnostic sensing capabilities and wearables.
Soldier-worn devices show great promise for the future, Roos said. "We can understand the health of the war­fighter, hopefully, even before symptoms" appear.
His office is also examining medical countermeasure capabilities to take advantage of existing drugs and therapeutics that could apply to military missions.
Meanwhile, retired Army Brig. Gen. William King, chair of NDIA's CBRN division, said the United States must be prepared for a wide range of chem-bio threats in the future, regardless of how or where they arise. This includes both naturally occurring infectious disease outbreaks and the accidental or deliberate release of biological threat agents.
"The COVID-19 pandemic has demonstrated that biological threats do not respect national borders, treaties or social/economic status," he said in prepared remarks for the conference. "An infectious disease threat anywhere is a threat everywhere."
The pandemic has illustrated the danger that pathogens pose to economic growth, social programs, political stability and global security, he noted.
"While emerging technologies — biotechnologies, in particular — provide unbelievable potential for our economy and global health, they also pose a significant challenge," King added. "Like gene editing and synthetic biology, emerging biotechnologies could reduce the barrier to biological weapon development as they become more readily accessible by the general public."
For example, technologies such as 3D printing could enable lower cost manufacturing of complex equipment necessary to creating biological agents, he noted.
"The inherently dual-use nature of biological and some pharmaceutical chemical capabilities make countering the proliferation of these novel threat-related technologies, materiel and expertise even more challenging," he said.
Facing new and emerging threats, officials are working to revamp a number of strategies — including the National Defense Strategy and the counter-WMD strategy — during the pandemic, Vann said.
"All of these are actually converging at the same time," she said. "There is actually a really interesting, really nice cross-department initiative now to cross walk and cross talk all of these types of issues."
The U.S. government is also working on updating its National Biodefense Strategy, which was last released in 2018, said Chris Hassell, former deputy assistant secretary of defense for chemical and biological defense, who is now a senior science advisor for the Department of Health and Human Services. The effort — which is being led by the National Security Council — emphasizes both manmade threats and naturally occurring hazards, he said.
"COVID still remains a tragedy, … but we can't lose the fact that it's an opportunity," he said. "It's an opportunity to exercise that National Biodefense Strategy, and to see what did we get right and what do we need to change?"
The strategy is currently in the process of being updated with lessons learned from the pandemic, he said.
Meanwhile, earlier this year the Army released its own biological defense strategy. Biodefense must be broadly integrated and routinely applied throughout the service to fight and win in future battlefields, the document said.
"The COVID-19 pandemic has exposed shortfalls in Army biological defense planning, preparation and material capabilities," it said. "It has become clear: the Army's ability to deploy, fight and win the nation's wars is at risk as long as the Army cannot sufficiently gain and maintain situational awareness, protect its people, mitigate impact, project force and maneuver freely within a biological hazard or threat environment."
Maj. Gen. Bradley Gericke, director of strategy, plans and policy within the office of the deputy chief of staff for the Army, said the service's strategy is the first of its kind.
"Everybody has watched the damage and disarray that COVID has inflicted upon states and … armed forces around the world," he said.
If a bad actor is seeking to disrupt international order and does not mind indiscriminate harm to various populations, then a biological weapon becomes an attractive choice whether it is through the manipulation of a naturally occurring pathogen or something made in a lab, Gericke said.
The service has an "urgent problem that is going to require a combination of unit design, it's going to require technical expertise, and it's going to require different kinds of training and readiness than we've experienced to date," he said.
Contagious, endemic and emerging diseases present a challenge that is qualitatively different from biological warfare yet one that can be commensurate in impact, Gericke said. "We are not ready today, and we've got a lot of work to do to make ourselves ready."
For example, Gericke said the Army needs to conduct credible, large-scale wargames to simulate biological incidents and threats. "There are gaps in our understanding of future warfighting that I think we need to pursue," he said.
Topics: Chem Bio Protection, CBRN, Defense Department