JUST IN: Air Force Leader Pushing for New Airborne Early Warning Aircraft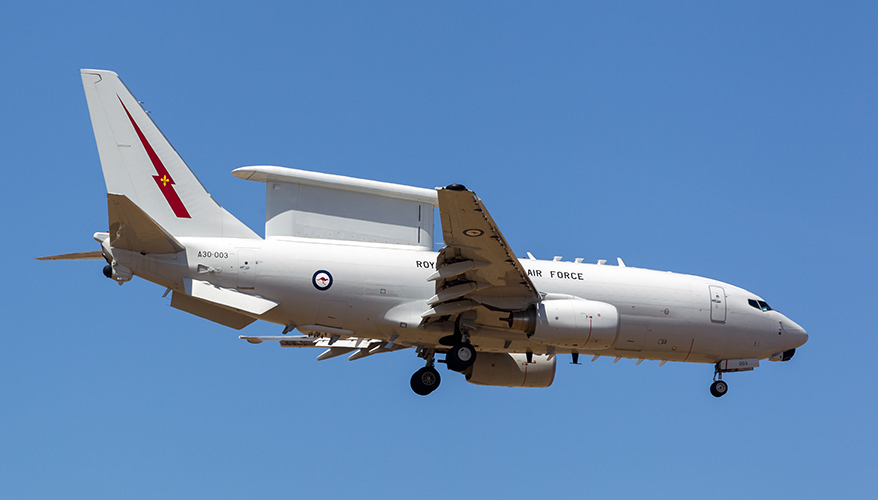 Royal Australian Air Force Boeing E-7A
iStock photo
The Air Force is eyeing Boeing's E-7 Wedgetail platform to replace its aging airborne early warning and control capabilities, a service official said Oct. 25.
Gen. Mark Kelly, commander of Air Combat Command, said the E-7 Wedgetail could be the ideal solution to what he called the "multi-spectral problem" of updating the Air Force's current air domain surveillance capabilities. Maintaining the Air Force's fleet of E-3 Sentry AWACS will only become more difficult as the aircraft age, Kelly said during a webinar hosted by the Mitchell Institute for Aerospace Studies.
"It's not just interoperable with what we need to do," he said. "So, it's obviously a key effort and it can't happen fast enough."
Kelly admitted that he wasn't entirely sure of when E-7 Wedgetails could enter service with the Air Force, but said that he would've liked them in the Air Force's inventory two years ago. According to a notice from Oct. 19, the Air Force awarded a contract to Boeing for an analysis of the E-7A's cyber security, spectrum allocation, open mission systems and other capabilities.
The fleet of E-3 Sentry's currently operated by the Air Force were built during the 1970s and 1980s and can conduct airborne moving target indicator, or AMTI, missions for the force. However, maintenance is growing more complicated and expensive as the years pass due to a limited supply of parts.
"I frankly don't think we…have done a really good job of unambiguously articulating the no-fail mission of the air domain sensing piece that we — and not just the Air Force but the Joint Force — that our phenomenal operators and sustainers of the E-3 are working hard every day to provide," Kelly said.
When asked whether the force was considering options besides the E-7 from other companies, Kelly said he wasn't aware of another platform that could be fielded in the time horizons the Air Force needs. The E-7 has already entered service with the Royal Australian Air Force and the United Kingdom's Royal Air Force announced in 2019 that it would also purchase three aircraft from Boeing.
Meanwhile, Kelly also addressed a request for information (RFI) for the Advanced Tactical Trainer released by the Air Force on Oct. 12 and said he also wasn't positive on the exact timeline those planes would be fielded.
The additional aircraft, along with the T-7A Red Hawks already ordered from Boeing, will replace T-38 Talon jet trainers. He said that the force needs a platform that can help bridge the gap between initial pilot training and more advanced operational-level training that the Red Hawk may not be able to fill.
"I need to get our aviators as soon as I can into something that is not such a relief from a 1964 T-38 to a 2021 F-35," Kelly said. "Because right now… I put that tactical bridge on the shoulders of our young instructors on the flight line."
Topics: Air Power