NDIA POLICY POINTS EMERGING TECHNOLOGIES
Hypersonic Weapons - Identifying a Way Forward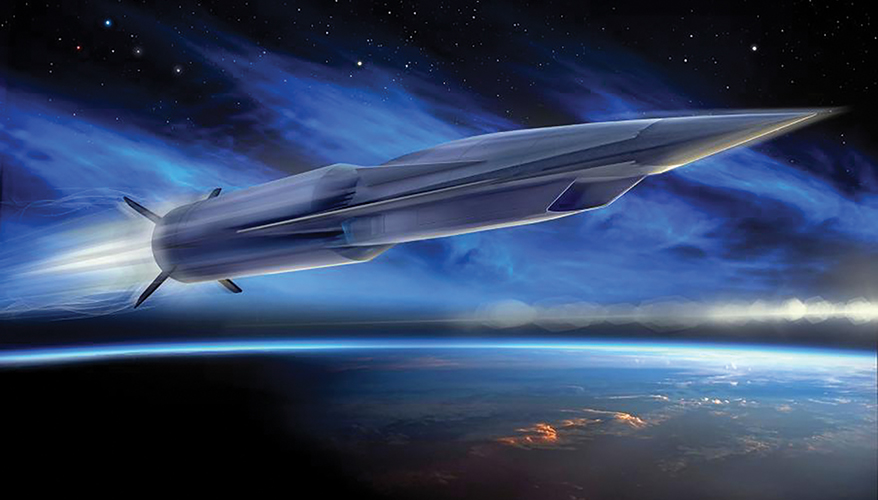 Aerojet Rocketdyne illustration
Hypersonic weapons cover great distances quickly, dramatically shrinking the shooter-to-target timeline. Their maneuverability and speed make them highly survivable against traditional missile defenses.
Russia has invested greatly in hypersonics. Having wisely identified these weapons as valuable to their defense strategy, China beat the United States — until recently the undisputed leader in hypersonic technology — to an operational hypersonic weapon. The People's Liberation Army's DF-ZF hypersonic glide vehicle, mounted on a DF-17 ballistic missile, reportedly has a range of up to 2,400 kilometers.
Indecision from policymakers left the U.S. defense enterprise scrambling to catch up, rushing to assemble the infrastructure and skilled workforce needed to do so. The volume of projects has stretched available resources. Why did the nation fall behind despite alarm bells and statements from experts about the importance of hypersonics?
A failure to decide that hypersonic weapons were a needed capability created an environment disadvantageous to their development. Interest in the technology came in fits and starts, creating peaks and troughs of resources. Programs came and went. Without a stable resource and programmatic environment, the requisite investment of infrastructure and human capital couldn't exist.
Gillian Bussey, director of the Defense Department's joint hypersonics transition office, said: "Ten years ago, the government was considering closing wind tunnels, and academic researchers avoided mentioning hypersonics in their proposals in order to secure funding. Today, many wind tunnels, including some of those slated for decommissioning, are booked solid for years."
The present testing infrastructure for hypersonics is inadequate and sluggish. Wind tunnels are overscheduled, planning tests requires a mammoth bureaucratic effort, and the culture of testing has shifted away from learning to proving. What's more, too often test failures are unrelated to the very technology being tested. To get operational hypersonic weapons, we need to energize our testing enterprise.
Richard P. Hallion, a noted aerospace historian and hypersonics advocate, said current testing culture must change.
"We must as well move beyond the idea of test as demonstration and embrace test as a process and profession in which legitimate risk of failure is acceptable. We didn't get to this point in hypersonics by being timid, and neither have the Russians and Chinese," he said.
Thankfully, hypersonics have been recognized as a defense modernization priority, and the Pentagon is increasingly proactive. Fiscal year 2020 spending on hypersonic development was about five times greater than in 2016, according to a March 2021 Government Accountability Office report.
Organizational efforts like creating the joint hypersonics transition office — responsible for shaping a strategy to develop hypersonics into operational capabilities — and the University Consortium for Applied Hypersonics — designed to mobilize universities, government and industry to innovate in hypersonics and augment its workforce — are positive steps that cultivate the talent and infrastructure needed for developing hypersonic capabilities.
It's critical the Defense Department doesn't take its foot off the gas.
To realize the potential of hypersonic weapons, a steady hand of appropriate funding and attention is needed, guided by a clear trajectory with force structure in mind, producing a two-pronged hypersonic glide vehicle and hypersonic cruise missile capability. The Pentagon cannot flitter from project to project, wasting time and resources.
"By focusing on the airbreathing scramjet and … glide vehicle programs, we have a path forward that can deliver two distinct capabilities that include the Army, Navy and Air Force at-scale sooner than if we spread our limited resources — particularly our funding, people and test infrastructure — across a multitude of medium-sized projects," Bussey said.
Both approaches improve U.S. Indo-Pacific force structure, providing the tactical and strategic means to burst an area-access/area-denial bubble. Additionally, advances in their development can help create counter-hypersonic defenses.
Airbreathing scramjet-powered missiles are a natural evolution of the tactical Tomahawk, but not a total replacement. With a tradeoff of less range, the cruise missiles have the benefits of hypersonic speed while being smaller and less expensive than the glide vehicles. This makes the missiles versatile and more easily integrated into U.S. force structure at scale and with depth of magazine.
Hypersonic glide vehicles bring a more niche capability: conventional prompt global strike. While more expensive than cruise missiles because of their large rocket boosters, glide weapons make a conventional global strike mission set possible; covering strategic distances while providing a counter and deterrent to adversarial conventional prompt global strike.
In this strategic environment, the United States must possess hypersonic weapons. Arguments categorizing them as "destabilizing" create a false dichotomy where fielding hypersonics is irresponsibly escalatory and ensuring stability means forswearing them. An Indo-Pacific region where China has hypersonic weapons, and the United States does not, renders U.S. forces exposed with little effective defense, deterrence, or recourse. If a free and open Indo-Pacific is the goal, a hypersonic-free force structure is wholly counterproductive.
Previously, the Pentagon failed to be effective at articulating the need for, and then managing the development of, hypersonic weapons. It is essential to learn from these mistakes and apply their lessons going forward.
Sustaining a consistent flow of resources to hypersonics is the first step. Next, the department must energize testing and evaluation efforts to deliver a two-pronged hypersonic capability.

Andrew Senesac is a junior policy fellow at NDIA.
Topics: Emerging Technologies