JUST IN: Lord Warns Pentagon, Industry to Combat China's 'Economic Warfare'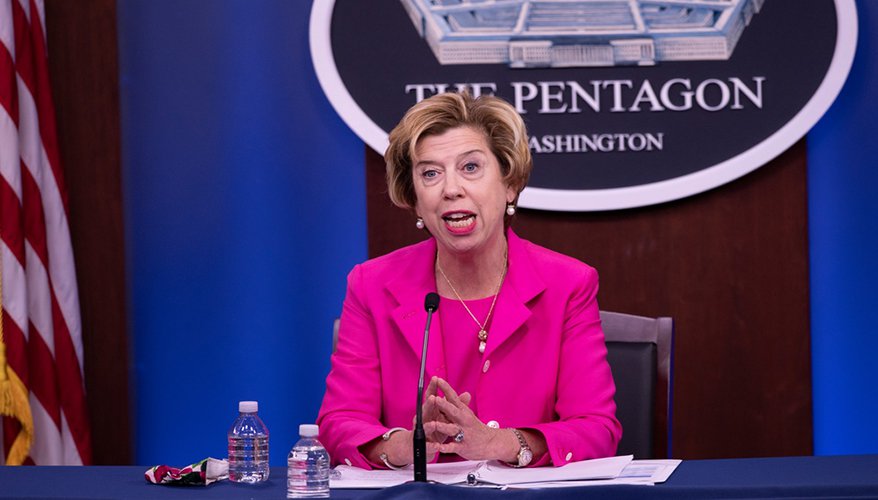 Former Under Secretary of Defense for Acquisition & Sustainment Ellen Lord holds an on-camera, on the record press briefing August 20, 2020, in the Pentagon Briefing Room.
Photo by Marv Lynchard
COLUMBUS, Ga.— Less than a year after finishing her tenure as the Pentagon's top weapons buyer, former Undersecretary of Defense for Acquisition and Sustainment Ellen Lord's biggest worry is economic warfare and other "gray zone" activities conducted by China and other adversaries.
Supply chain security and resiliency was a major area of focus for Lord when she served in the Trump administration, and it's still a problem that officials and members of industry must grapple with, she noted Oct. 19 during remarks at the Future Force Capabilities Conference and Exhibition in Columbus, Georgia, which is hosted by the National Defense Industrial Association.
"Moving forward, I think where my largest concern is — and where there's an opportunity — is gray zone activities, which is really defined as conflict below open war," she said. "We find that our strategic competitors, particularly China, are pretty smart at this, whether that be tying up all the critical minerals that go into our batteries or go into many, many of our parts" for U.S. weapon systems. "There's this low-key escalation that has been building, and we in DoD need to not only think about kinetic warfare, we [also] need to think about economic warfare."
Industry should also be concerned about these threats, she added.
"The defense industrial base is the nexus of our national security and our economic security, so it's very, very important for our defense industrial base to stay incredibly strong," Lord told contractors at the conference. "So be vigilant, be smart, think ahead, act wisely."
Lord is now a senior adviser with the Chertoff Group focused on defense programs, homeland security and the protection of critical infrastructure, and serves on the advisory board of NDIA's Emerging Technologies Institute.
During her remarks at the conference, Lord noted the work done by the Committee on Foreign Investment in the United States — which conducts interagency reviews of certain transactions and investment by foreign entities in U.S. companies to assess their impact on national security — as well as the Trump administration's efforts to leverage artificial intelligence to better understand supply chain issues and avoid buying counterfeit goods.
The former A&S chief also touted the Cybersecurity Maturity Model Certification initiative that she helped launch. The CMMC standards, which companies must eventually adhere to if they want to do business with the Pentagon, were first unveiled in January 2020. They include five different security levels. The level that a company must achieve will depend on the work it is doing for the department for specific contracts. The new requirements have already been included in some solicitations.

During implementation, third-party assessor organizations, known as C3PAOs, will have to conduct audits and certify that a company has met the required standards before it can win contracts. Contractors are responsible for paying for the audits and their efforts to come into compliance.

The new requirements are being rolled out over time. By 2026, all Pentagon contracts will include CMMC requirements. The rules are expected to affect more than 300,000 contractors in the defense industrial base.
However, the effort has its critics among industry and other observers, and the Pentagon under the Biden administration has been conducting an internal review.
"As is done in the early stages of many programs, the DoD is reviewing the current approach to CMMC to ensure that it is achieving stated goals as effectively as possible while not creating barriers to participation in the DoD acquisition process," Pentagon spokesperson Jessica Maxwell said in a statement to National Defense in April.
The assessment aims to identify potential improvements to the implementation of the program.
"We need standards for cybersecurity," Lord said. "That's why we came up with … CMMC. We are still in the midst of the rulemaking process. It is not for the faint of heart, but we are getting there and we are making progress."
Topics: Defense Department