JUST IN: Army Struggling to Simulate All-Domain Warfare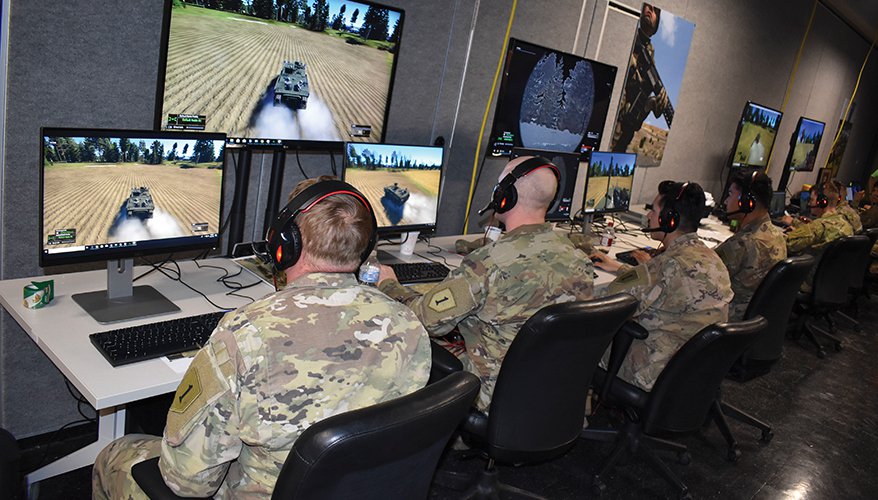 Army photo by Margaret Ziffer
COLUMBUS, Ga. —
The Army is having difficulty simulating non-kinetic attacks as it tries to prepare for all-domain warfare — and it wants industry to provide solutions, service officials said Oct. 18.
Phrases such as all-domain warfare, cross-domain maneuver warfare and multi-domain operations have become buzzwords at the Pentagon as the Army and the other military services prepare for future conflicts that could feature attacks not just in the land, air and sea domains, but also in space, cyberspace and the electromagnetic spectrum.
"It means you have to prepare leaders to fight in all domains, all the time," said Jim Stone, acting director of the concept development division at the Army Maneuver Center of Excellence.
The Army is dependent on its networks, he noted, and China's electronic warfare systems and other "informationalized warfare" capabilities could potentially take them down. Meanwhile, the U.S. military needs to be able to launch similar attacks.
"We have to conduct cross-domain maneuver," he said at the Future Force Capabilities Conference and Exhibition in Columbus, Georgia, hosted by the National Defense Industrial Association. "We have to execute command and control at a time when we think our networks might be degraded or might be gone."
The Army is pursuing new tools such as the Simulated Training Environment, which aims to combine live, virtual, constructive training using computer-generated entities with gaming technologies to improve soldier readiness. However, the service isn't where it needs to be for training and concept development, Stone said.
"Our models of sims don't do enough for us today," he said. "Our sims right now don't allow me to simulate in all domains."
Simulating all-domain or cross-domain warfare is "very tough, because it's more than just kinetic shooting," he added.
Part of the problem stems from the fact that it's more difficult to calculate the expected effects of space and cyber attacks or electronic warfare compared with loss-exchange ratios that might result from artillery bombardments, for example, Stone said.
"It's much harder to simulate and to figure out the value of being able to take away someone's PNT," he said, referring to positioning, navigation and timing capabilities.
Col. Christopher Budihas, director of the Army's Maneuver Battle Lab, noted that the service is still often using an old-school technique known as white-carding.
"Basically, it's taking a … 3X5 card running out the scenario," he told National Defense at the conference. During exercises, these white cards inform soldiers when they are being electronically jammed, for example.
"You basically give them a white card saying, 'This is what's going on with you,'" he said.
"We need a technology to catch up so we don't have to white-card these things," Budihas said.
Stone asked for industry to come up with solutions.
"This is the group … that can help us solve this problem," he told members of industry at the conference. "How do I simulate non-kinetic fighting [in] space, cyberspace, EW?"
Topics: