Allies Collaborate to Further Space Security, Situational Awareness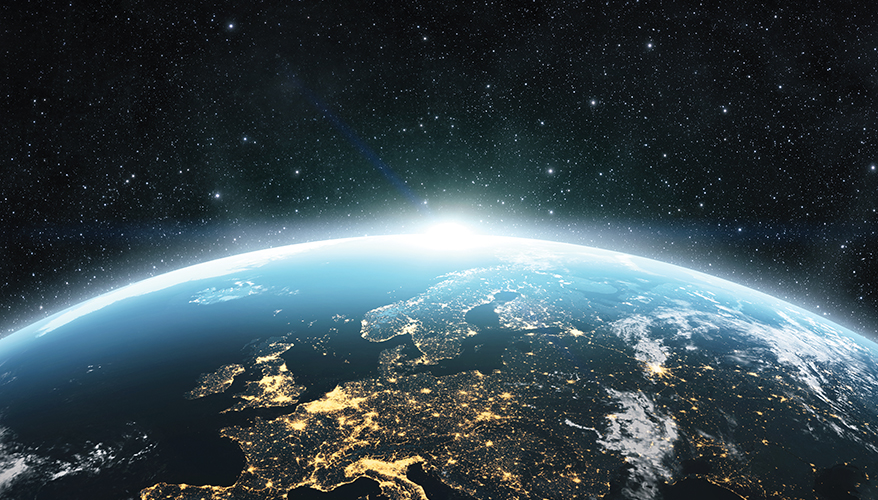 iStock illustration
COLORADO SPRINGS, Colo. — The U.S. Space Force recently gathered its international allies in August to discuss how it can further global collaboration as it seeks to maintain order in a critical warfighting domain.
Space leaders from the United States, United Kingdom, Germany, Finland, Japan, Chile and France took part in the discussion, which was hosted by the Space Foundation during its annual Space Symposium confab in Colorado Springs, Colorado.
Air Chief Marshal Michael Wigston, chief of the air staff for the Royal Air Force, said the United Kingdom believes the first step toward successful collaboration is to establish common rules in the space domain.
"The U.K. believes strongly that an open and resilient international order is fundamental to all of our security and prosperity, and that means people playing by the rules," he said. "The first bit of collaboration I would point to is actually not military collaboration, it's [collaboration] between our governments and our diplomats working in the United Nations to establish rules and norms of responsible and safe behavior in space."
Countries such as Russia and China are acting "increasingly reckless" in space by fielding systems that are designed to interfere with, harm, or destroy space platforms, he noted. "So, establishing international norms and rules of behavior in space is a fundamental path to cooperation."
The U.S. Space Force's Chief of Space Operations Gen. John "Jay" Raymond concurred with Wigston.
"In every warfighting domain there are rules for safe and professional behavior, and we don't have that today in space," he said. "It's the wild, wild West."
To understand what is occurring in space, there needs to be better situational awareness, he said. Over the course of the last year or so, the Space Force — which will soon celebrate its second birthday — has had conversations with partner nations about the need for norms of behavior in space and to increase awareness in the domain.
The dialogue has picked up pace recently as leaders have become aware of behavior that is "less than safe or professional," Raymond said.
"Over the years, as we train together, as we exercise together, as we play more games together, we exercise these types of things together, … we [also] tend to have a common understanding of what's safe and professional," he said. "It has been very valuable to have not just one country messaging, but multiple countries messaging, because I think it's important that we set those standards of what is safe and professional and we operate that way on a day-to-day basis."
Several countries are already collaborating on operations to expand space domain awareness. Efforts such as the United States-led Operation Olympic Defender aims to strengthen allies' abilities to deter hostile actions. The United Kingdom was the first nation to sign up for the coalition, Wigston noted.
"I would also flag up the Combined Space Operations [Center] initiative" which brings together the United States, United Kingdom, Australia, New Zealand, Canada, France and Germany, he said. The effort, known as CSpOC, is led by the United States and includes a multinational space operations center that provides command and control of space forces for U.S. Space Command's Combined Force Space Component Command, which is located at Vandenberg Space Force Base, California.
The organization "is working in a number of areas, not just operations ... but around the policy and the approach to international rules of behavior, [and] also around the capabilities and the architectures that we need in space and making sure that we are all able to work together," Wigston said.
He added: "I would say that building the expertise and the experience among our people is the most important thing we can do working together. … It is about operational collaboration, it's about capability and equipment collaboration, but it's also about getting our people working together."
To further these conversations, Raymond was slated to host a meeting in August to confer with senior officials from nearly two dozen allied nations. The gathering was part of a broader push by the Space Force to bolster international partnerships.
A number of countries that were slated to be represented at the meeting are currently training with the Space Force, Raymond noted.
Additionally, more than 300 international experts recently participated in the Schriever Wargames, a two-day training event focused on critical space operations.
The Space Force is also increasing its number of international exchanges and liaison officers, as well as creating more slots for foreign personnel at its professional military education programs, Raymond said.
"While we in the U.S. are busy establishing Space Command [and] the Space Force, many of our allies and partners have elevated space in their militaries as well, including the U.K., France, Australia, Japan and Germany, to name a few," Raymond said.
The Space Force is already developing and utilizing capabilities with other countries, he noted.
"Although we've leveraged about $2.7 billion of partner funding in space capabilities through 40 different international agreements with 19 different nations, that's just the beginning," he said. "We would like to see more."
However, there are some hurdles to collaboration. One includes data sharing and the classification of information, Wigston noted.
"People recognize that there are some aspects of what goes on in space that have probably been too highly classified for too long and there is a need to share that information," he said. "And in particular, share that information around domain awareness and what is going on."
Another challenge is that global militaries have yet to find an effective way to collaborate on equipment and capability programs, he said.
"I've pointed to that in some of the things we are doing in CSpOC, but we know what we need to do," Wigston said. "There are a lot of good people working really hard at it and I've personally seen significant progress in the last 18 months, and it looks to me like it's accelerating."
Col. Luis Felipe Saez, subdirector of the space affairs operations directorate at the Chilean air force, said he believes the South American nation should have its own national space service similar to its air force — a move that would prioritize the space domain and allow it to boost collaboration with partner nations.
The best way to prioritize space "is to try to have a multilateral or bilateral national space program in order to match the air force and be able to create a synergy," he said.
"This is a team building effort," he added. "There is no country that will face the challengers alone."
By building its own space program, Chile can contribute more to evolving issues in the domain, he added.
Space situational awareness is also a major priority for Chile, and the country would like to build its own equipment to track objects, Saez said.
"The idea is to develop our own system — [the] ground segment first. Then the system will be able to collect, analyze and provide our own data to the international catalog system," he said.
Meanwhile, the U.S. Air Force Research Laboratory — which supports both the Air Force and Space Force — will soon expand its international locations to include Australia and Brazil, said Maj. Gen. Heather Pringle, the commander of the organization.
The lab already has international sites in the United Kingdom, Japan and Chile, "which build our basic research program partnerships in pursuit of high-risk, high-reward endeavors," she said. "Coming soon is Australia and Brazil."
ARFL is currently engaged in nine international research project arrangements with "five eyes" partners the United Kingdom, Canada, Australia and New Zealand as well as Spain, Sweden, Japan and Israel, Pringle noted.
"In addition to collaborations with 12 other nations, AFRL is seeking a new flexible project arrangement with Australia to allow for the rapid kickoff of technical space research collaborations," she said. "That is a lot that AFRL can leverage or build on in the end," she added.
AFRL also has a large domestic presence, Pringle noted.
It "has locations in nearly 10 states and three international locations and our outreach spans the globe," she said. "The return on investment for this posture is really high — you count them all together — we have about 6,000 partnerships."
These relationships allow the organization to deliver transformational, multi-domain capabilities, she added. "Building on [those] partnerships is just the beginning."
Topics: Space, Global Defense Market, International