AUSA NEWS: Project Convergence '21 to Test More than 100 Technologies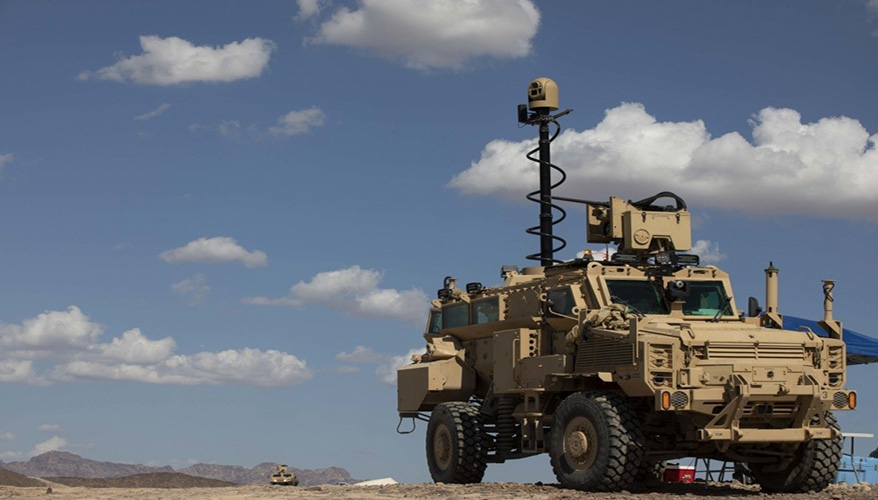 A next-generation combat vehicle mine-resistant ambush protected surrogate conducts a live-fire exercise for Project Convergence.
Army Photo by Spc. Carlos Cuebas Fantauzzi
Army officials will test more than 110 technologies and seven use cases over the course of the next month at Project Convergence, said the head of Futures Command Oct. 12.
Organizers of the Army's "campaign of learning" that started last year at Yuma Proving Ground, Arizona, will expand the volume of technologies they are experimenting with, as well as increase the number of use cases from three to seven, said Gen. John "Mike" Murray, commanding general of Army Futures Command.
Project Convergence is the Army's annual experiment to discover better ways to connect sensors and shooters, contributing to the Pentagon's overall joint all-domain command and control effort known as JADC2. The data and communications technologies that survive the experimentation will advance to a program of record as soon as possible, Murray said.
"We will go into Project Convergence '21 with an eye towards technologies that are mature enough and proven enough … that we [can] begin to spin out those technologies either directly into a program executive officer or a program manager, or to an industry partner to scale for us," he said during a panel at the annual Association of the United States Army's conference in Washington, D.C.
The experiment will involve about 5,000 participants from across the Joint Force. It will take place at several locations, including Yuma Proving Ground; Joint Base Lewis-McChord, Washington; White Sands Missile Range, New Mexico; and Fort Bragg, North Carolina.
Joint use cases will include joint all-domain situational awareness, air and missile defense and long-range precision fires. The other four use cases will feature autonomous systems and automated target recognition systems, Murray said.
Lt. Gen. James Richardson, deputy commander of Futures Command, said Project Convergence will employ 300 data collectors at eight different locations to provide updates on how each technology measures up.
One lesson learned from the previous year's exercise was to create a single network on which to integrate all science-and-technology laboratories, he said. This allowed Futures Command to run tests on how each piece of technology would work together before taking it to the experimentation area.
"We just came out [of] two weeks of prep for the exercise — I don't know what we would have done if we had not taken all the 110 technologies, seven use cases [and] run them in this laboratory," he said. "It would have been very painful."
Experimentation will help conserve precious Army resources, he noted.
"It's good to call the ball and call the ball early," he said. "Don't waste money. Put the money in what works."
To better test how well the sensors work in the field, Project Convergence will also measure their ability to relay information in degraded environments, he noted.
Plans for Project Convergence in 2022 and 2023 are already underway. In 2023, and possibly 2022, Futures Command will conduct experimentation in the Pacific, African and European theaters, Murray noted.
"Building coalition interoperability into [JADC2] from the very beginning ... is going to be critical to keep our allies and partners with us," he said.
Topics: Army News