ROBOTICS AND AUTONOMOUS SYSTEMS
AUSA NEWS: Textron Bidding Aerosonde for Future Tactical Drone Program (Updated)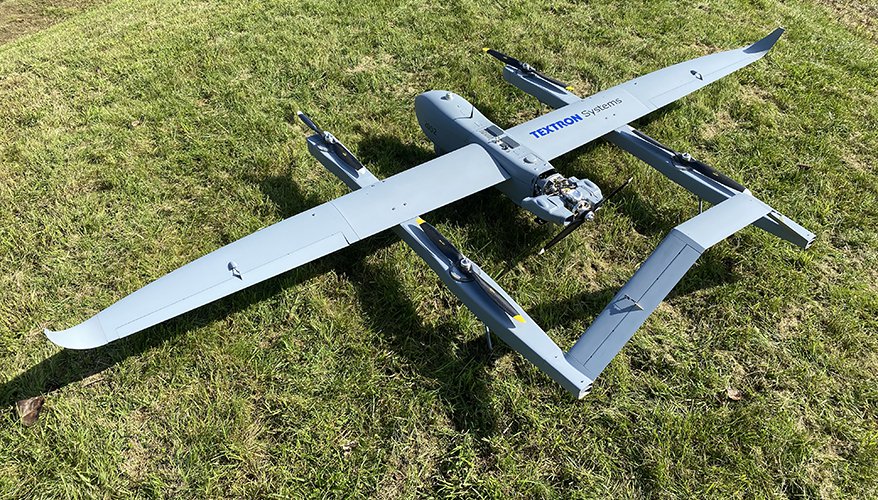 Textron Systems photo
Textron Systems is bidding a next-generation version of its Aerosonde hybrid quadrotor drone for the Army's highly anticipated future tactical unmanned aerial system program, a company executive said ahead of the Association of the United States Army's annual conference.

The company is planning to bid an upgraded version of its Aerosonde HQ platform — which features a runway-independent configuration that uses a hybrid quadrotor for vertical takeoff and landing — that has been widely used by the military, said Wayne Prender, senior vice president for air systems at Textron.

This new version has been "designed with soldier feedback and reflects on our intimate understanding of how these systems are utilized," Prender said Oct. 6 during a media call with reporters.

The Future Tactical UAS program is meant to replace the Army's RQ-7B Shadow — which is built by Textron — in its ground maneuver combat teams. The system will be a low- to medium-altitude aircraft with modern data links, electro-optical/infrared sensors, data encryption, manned-unmanned teaming capabilities and the ability to operate autonomously, according to the Army's program executive office for aviation.

The Army is pursuing two pathways for the systems, known as Increment 1 and Increment 2. Textron plans to offer its legacy Aerosonde — which has more than 500,000 hours of combat operations under its belt — for Increment 1 and its next-generation version for Increment 2.

Textron was notified recently that it was a selected as qualified bidder by the Army to submit bids for the program, Prender said. Proposals for Increment 1 are due Oct. 15 and an award is expected in January 2022. Increment 2 bids are due Oct. 22, with an award anticipated for June 2022, he added.

"Increment 1's scope is to deliver a prototype system that will go through evaluation. Upon successful evaluation of that system, they expect to procure eight systems that will be delivered and introduced into the Brigade Combat Teams," he said. "Increment 2 will run for approximately two years and that system is intended to be the full program of record and deliver … [58] systems for the Brigade Combat Teams and other units."

According to a Textron white paper, the Aerosonde hybrid quad — which has been operated in a fee-for-service business model — has an endurance of 10 hours with multiple electronic warfare and communications relay payloads and an air speed of 45 to 65 knots. Naval Air Systems Command, Special Operations Command and the Air Force have used the product under such a model, Prender said.

"Those contract vehicles allow us to operate in a variety of austere, real world, mission-centric locations," he said. "It has informed our reliability. It has informed our durability. … [It has] driven down the cost and increased the efficiencies by which our system can be operated."

The next-generation Aerosonde will feature several improvements — included increased payload capacity, endurance and aircraft performance — informed by soldier feedback. However, Prender declined to share specific details, citing the competitive nature of the FTUAS program.

"This new version is a scaled-up version of our current platform and is going to provide the Army increased performance and growth for their objective program of record," he said.

Aerosonde was built with ease of use in mind, he said.

"Our system requires no hands or stands for launch and recovery," he said. "You simply set it up, get out of the way, push a button, and the system takes off vertically, transitions to flight and moves off to execute its mission. That allows us to minimize the number of soldiers and operators that we need, driving down not only the size of the equipment for future tactical UAS, but also driving down the manpower required to operate the system."

The aircraft will use the standard jet propellant 8 fuel the Army already employs, he noted. Additionally, it will be transportable via Chinook, Black Hawks and ground vehicles such as the Humvee and joint light tactical vehicle.

This is "driving down the logistics footprint and increasing the agility at which our system can be employed," he added.

Prender noted that Textron took part in what he called a "buy, fly and inform" effort led by the Army to gather soldier feedback on the Aerosonde platform and other vendors' systems. Aircraft were put in the hands of troops and operated in variety of scenarios at locations such as Fort Polk, Louisiana; Yakima Training Center, Washington; and Fort Benning, Georgia, during the Future Tactical Unmanned Aircraft System Rodeo earlier this year.

As of press time, the Army had not disclosed which other companies have been selected as qualified bidders for the FTUAS program to National Defense.
Correction: A previous version of this story misidentified the location of Fort Polk. It is located in Louisiana.
Topics: Robotics, Robotics and Autonomous Systems, Army News