AUSA NEWS: Army Teaming with Silicon Valley to Develop Soldiers' Software Skills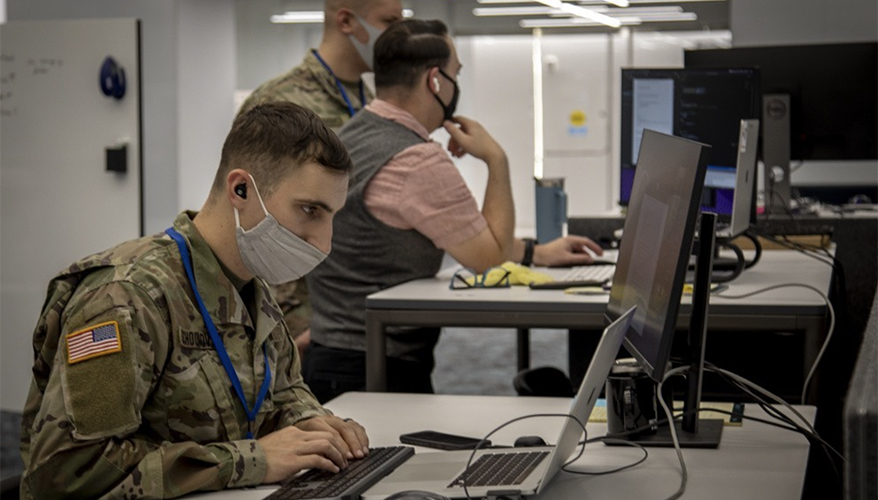 Army Futures Command's Software Factory operations
Army Photo by Mr. Luke J. Allen
The Army is tapping into expertise from Silicon Valley as it works to develop a cadre of service members who can rapidly develop software applications that can be used on the tactical edge.
In April, Army Futures Command stood up a new Software Factory in Austin, Texas — a commercial technology hub where Army Futures Command is headquartered — to beef up the force's organic software capabilities by training troops and Army civilians who have a knack for coding. The service wants to reduce its dependence on industry for these skills.
"We're not so sure we're going to be able to move contractors around the battlefield in the same way that we were able to do so in Iraq and Afghanistan," Lt Col. Vito Errico, co-director of the Software Factory, said Oct. 11 during a presentation at the Association of the United States Army's annual conference in Washington, D.C. "We certainly think, in the information age, it's time to start investing in soldiers who have these skill sets."
The service aims to create product teams that are capable of prototyping and developing solutions that can be deployed on operational networks on the battlefield, he said.
The Software Factory has been recruiting cohorts of about 30 soldiers and Army civilians. They are put through a four-month "technical accelerator" to immerse them in topics like software engineering and platform engineering, and then they are assigned to work with subject matter experts for another six to nine months.
"We pair them with Silicon Valley experts so that they can hone their own expertise, so that they can get to learn how to work as a Silicon Valley product team, just like we might see in some of our favorite Silicon Valley companies," Errico said. "It's learning how to prototype a solution."
Building relationships with industries outside of national security is a key element of the initiative. The Software Factory hosts weekly lunches and talks with officials from tech giants such as Microsoft, Facebook and Google.
"Soldiers are getting exposed to that sort of problem-solving process" that the commercial sector is known for, Errico said, touting the benefits of being located in Austin where many high-tech firms outside of Silicon Valley have set up shop.
Troops also have the opportunity for 30- to 60-day internships with companies that are interested in hosting them. Firms that want to contribute to these efforts can find out more information on the Software Factory website
armyfuturescommand.com/software-factory
or at the organization's booth at the AUSA conference.
Soldiers participating in the initiative are expected to be part of the project for three years, two of which will be focused on training other soldiers the skills they've learned.
The Software Factory will be accepting applications for the fifth cohort until Nov. 15, according to the organization's website. The opportunity is open to a wide range of service members, from Privates 1st Class to Majors, Errico said.
The Software Factory initiative will inform Army policies for managing and retaining talent. Officials are worried that coders could leave for other opportunities in the commercial sector.
"The Army doesn't want to make this type of investment … [and then] lose these kinds of soldiers," Errico said.
Topics: Army News