JUST IN: Hicks: AUKUS Submarine Deal Highlights Allies' Concerns About China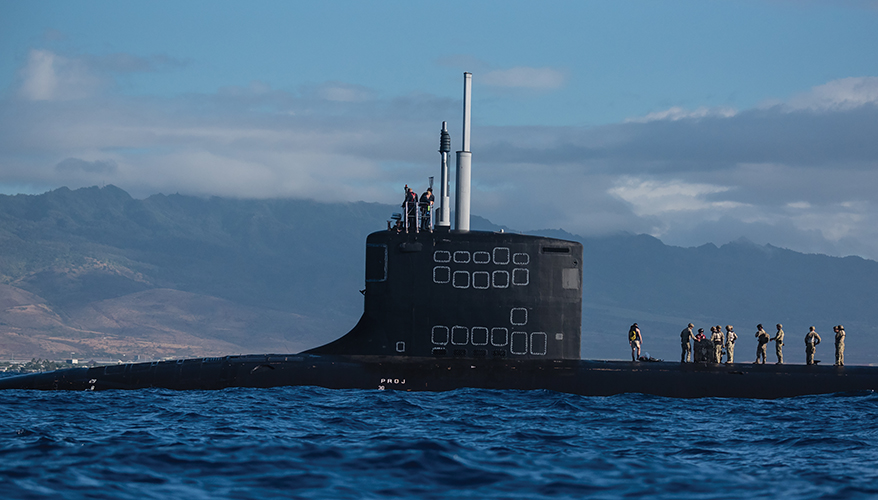 Virginia-class fast-attack submarine USS Hawaii (SSN 776) off the coast of Oahu, Hawaii
Navy photo by Mass Communication Specialist 1st Class Daniel Hinton
The nuclear propulsion technology deal between the United States, United Kingdom and Australia that was inked last month marks a change in international allies' attitudes about China, a top Pentagon official said Oct 1.

The security partnership known as AUKUS — which promises eight nuclear-powered submarines for Australia — demonstrates that partners in the Indo-Pacific region and Europe are taking the threat of Chinese capabilities seriously, Deputy Defense Secretary Kathleen Hicks said at a Center for Strategic and International Studies event.

The deal "just demonstrates how the opinions in the region, in the Western Pacific are shifting and honestly, in Europe, how the positions are shifting with regard to how serious this Chinese challenge is," she said.

Allies are realizing that "the rhetoric of President Xi is as aggressive, frankly, as his actual capabilities," she said. She noted that China is considered a pacing threat for the Pentagon, meaning its capabilities could compete with what the U.S. military has to offer.

In the past, though China was developing its military, Beijing's intentions were more opaque, she said.

"Now, they're being pretty clear about their intentions," she said. "I think the lights are going on in many places, and I think one of those places is Australia."

Hicks noted that nuclear-powered submarines could help Australia face the advanced undersea capabilities that China has developed, which include six Shang-class nuclear powered attack submarines, according to the Nuclear Threat Initiative, a U.S.-based nonprofit.

"Nuclear propulsion allows them to think about how they stay undersea longer and more quietly, less detectable, as the advantage of the nuclear propulsion" technology, Hicks said.

She pointed to the Pentagon's strong alliances that enable it to compete with the Chinese.

"The U.S. has a huge advantage in that those capabilities are not just ours, [going] back to AUKUS," she said. "They're about what the U.S. can bring as a global power, and with a lot of other countries who are now increasingly concerned about what China is trying to do."

Defense officials have expressed concerns about the buildup of the Chinese navy in recent years. The 2020 China Military Power Report published by the Pentagon warned that China has achieved parity with the United States, boasting 350 ships and submarines.

Additionally, the threat of a potential Chinese invasion of Taiwan — which produces a significant supply of microchips needed by the defense and commercial industry — is something the U.S. military is closely monitoring, Hicks noted.

"We have a significant amount of capability forward in the region to tamp down any such potential," she said.
Topics: Maritime Security, Navy News, Shipbuilding