Industry Offering On-Orbit Satellite Servicing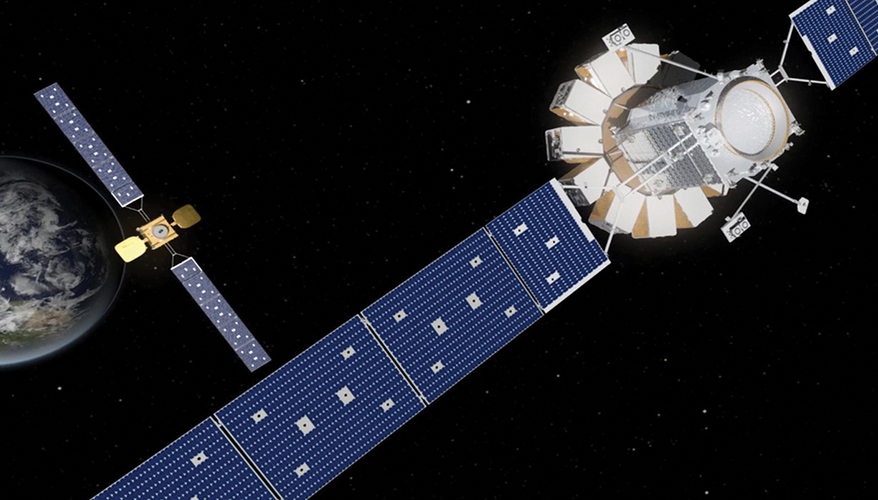 Artist's rendering of a Mission Robotic Vehicle carrying mission extension pods (right)
SpaceLogistics illustration
The U.S. military relies on constellations of satellites to provide it with everything from precision navigation and timing to intelligence data, but officials face a conundrum when those critical spacecraft require servicing or repair. To get at the problem, the Pentagon and industry are eyeing new initiatives to use robots to perform on-orbit satellite servicing and life extension work.
"When I first joined the satellite industry and we were thinking about refueling there were about eight satellite servicing companies that we identified," said Jeremy Schiel, acting chair of the Consortium for Execution of Rendezvous and Servicing Operations, or CONFERS, executive committee.
"There are now over 45, and that number only grows with every passing month," he noted during the consortium's Global Satellite Servicing Forum. The industry-led initiative received initial seed funding from the Pentagon's Defense Advanced Research Projects Agency.
As the satellite servicing industry continues to expand, so does the consortium, said Todd Master, DARPA's program manager for CONFERS.
Initially, Master said he saw resistance from industry members with regard to working alongside one another as they were competing for the same market space. That viewpoint has "gradually shifted to a recognition of: 'We have to work together if we want that market space to exist and even to grow.'"
Recently the consortium, which was established in 2016, has seen its members start to split into two groups: one focusing on the technical aspect of satellite servicing and the other on the policy element, Master said.
The technical side is working to establish common standards for safe operations, and eventually, hardware standards so companies can start to define interfaces.
On the policy side, work is being completed to put together a sound plan that convinces regulators that the consortium's actions are logical and consistent with their desires as well as to help inform the regulatory framework, he said.
"What that really indicates to me is we've got enough growing participation and enough interest from the industry in growing into a variety of different segmented things, all of which we considered to be under the umbrella of satellite servicing," he said. "We're really seeing things take off here."
While DARPA provided initial funding for the consortium, that has "tailed off" over the last couple of years, he noted. The agency is aiming to fully transfer CONFERS leadership and resourcing responsibilities to industry by 2021, according to the agency.
"I'm seeing the ability for it to become self-sustaining and it makes it easier for us as a government to become more on the observer side, rather than the funding and expertise side," Master said.
Consortium members already have robotic on-orbit satellite servicing vehicles in space.
SpaceLogistics, a subsidiary of Northrop Grumman, launched its first satellite servicing vehicle, the Mission Extension Vehicle, or MEV-1, in 2019. In early 2020, the vehicle successfully docked on Intelsat 901, a communications satellite that is positioned in geostationary orbit. The MEV-1 will provide the satellite with life-extension services for five years, Tom Wilson, president of SpaceLogistics, said during the forum.
The Mission Extension Vehicle is designed to dock with satellites whose fuel is almost depleted. After docking, the MEV can use its thrusters and fuel supply to control the orbit of the satellite, providing what the company calls docked life extensions, said Joe Anderson, vice president of operations and business development at SpaceLogistics. Once the customer no longer needs the service, the MEV will undock and proceed on to its next client.
"After docking, [MEV-1] took over both the orbit and attitude control of the combined vehicle stack, relocated the 901 to its new operational location over the Atlantic Ocean region while removing over one-and-a-half degrees of inclination," Anderson said. "The MEV-1 remains docked to the 901 today providing critical life-extension services and is expected to continue operating this way for the next four-and-a-half years."
The successful docking of MEV-1 with Intelsat 901 shows major maturation in the industry, Master said. "That's going to be a big proof of the business for everybody involved in this industry to move forward," he added.
The second iteration of the vehicle, MEV-2, is en route to Intelsat 10-02, another communications satellite. MEV-2, which launched in August, is expected to arrive in geostationary orbit in late January, Anderson said. Docking should occur in the February to March timeframe.
SpaceLogistics is working on another robotic satellite servicing system called the Mission Robotic Vehicle, or MRV. DARPA selected the company as its commercial partner for the agency's Robotic Servicing of Geosynchronous Satellites, or RSGS, program in March 2020.
Objectives for the program include enhanced capabilities such as in-orbit repair, augmentation, assembly, detailed inspection and relocation of client satellites.
Through the agreement, DARPA will provide the robotics payload for the MRV. The payload was developed by the Naval Research Laboratory and consists of two robotic arms and a number of other tools and sensors. SpaceLogistics will provide its Mission Robotic Vehicle which was developed by leveraging capabilities from its MEVs, the company said in a press release.
Launch of this new system is planned for 2023.
"From our perspective here at DARPA, the signing of ... another partnership with SpaceLogistics for our RSGS mission are all sorts of things that were big in moving this entire industry forward," Master said.
Meanwhile, another member of CONFERS is focusing its efforts on "in-space" transportations services.
Momentus, a California-based startup, created a transportation vehicle to move satellites into different orbits, said Rob Schwarz, chief technology officer of the company.
"The concept for our transfer vehicles is that initially we will launch with an assembly of small satellites — and larger vehicles will carry larger satellites — to the initial launch orbit," Schwarz said. "We find the cheapest access into orbit whether it be on a large launch vehicle or a small one, and once we're in space then we do the custom orbit delivery of our customers."
The servicing vehicle, known as Vigoride, was designed to support small satellites and cubesats in low-Earth orbit.
Although Vigoride will eventually be de-orbited after use, the company's next generation of vehicles will be reusable.
This next-generation of platforms will be introduced in 2023, Schwarz said. The reusable vehicles will be equipped with robotic arms and are expected to be capable of performing proximity maneuvers, docking and refueling and other in-orbit servicing.
The company also sees debris removal and end-of-life disposal for satellites as part of its servicing offerings, Schwarz said.
"One of the things that we are looking at is how to best service constellations in particular, because it is a potential source of debris," he said.
A contributing factor to this focus was the Federal Communication Commission contemplating rule changes to reduce the amount of time satellite companies have to de-orbit their capabilities, he noted.
"The smaller a satellite gets, the more expensive that can be in terms of carrying your own propulsion systems on board for de-orbit," he said.
"In any event, you're never guaranteed that the propulsion system is active. When you have a critical system failure, you may just have a disabled satellite that then becomes debris, so we see that as a big part of our future — maintaining constellations and removing end-of-life satellites and other debris."
To support these satellite tow trucks, another startup, Orbit Fab, is working to build "gas stations" in space.
The California-based company's mission is to make satellite servicing vehicles reusable, said CEO Daniel Faber.
"Our startup is a bet on the market that this will materialize and that each of those satellites, the satellite servicing vehicles, are going to want fuel," he said.
The firm, which was established in 2018, tested its refueling technology on board the International Space Station in 2019.
During the tests, Orbit Fab demonstrated the ability to transfer water between two satellite testbeds. The water was then transferred into the space station's water supply, Faber noted.
The experiment showed the company's technology can be used to transfer a number of other propellants. It is also working on a new variant capable of maintaining high-pressured propellants such as xenon, he said.
The startup announced in December that it raised additional seed funding from Munich Re Ventures, the venture capital arm of Munich Re Group, a Germany-based reinsurance company.
The funding will help Orbit Fab further its vision of fuel depots in space.
The company is planning to launch its first operational tanker in 2021.
Topics: Space