BREAKING: Sikorsky-Boeing Unveil New Assault Aircraft for FLRAA Program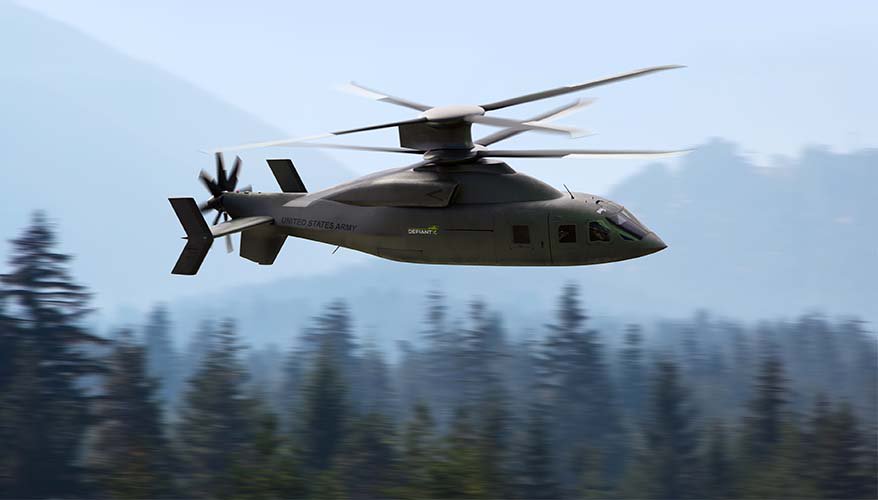 The Sikorsky-Boeing Defiant X
Sikorsky-Boeing image
A Sikorsky-Boeing team on Jan. 25 unveiled its new helicopter offering — dubbed the Defiant X — for the Army's Future Long-Range Assault Aircraft initiative.
The FLRAA project is aimed at developing a platform that will replace the aging Black Hawks. It is part of the service's future vertical lift modernization portfolio.
The Sikorsky-Boeing team was originally tapped to buiild a technology demonstrator, the SB-1 Defiant, as part of a precursor effort for FLRAA.
After garnering feedback and working with the service to inform requirements for the new capability, Sikorsky and Boeing created the Defiant X.

"We have really optimized our design based on both the Army requirements but also [by] leveraging and building on all of the test data that we have that we've generated to date," Heather McBryan, sales and marketing director for future vertical lift at Boeing, said during a Jan. 22 briefing with reporters to discuss the new platform. Information from the briefing was embargoed until the official announcement.

A few of the main differences between the SB-1 Defiant technology demonstrator and the company's new offering include: enhancements that reduce the aircraft's thermal signature and improve aerodynamic handling; tricycle landing gear to improve stability and taxiing in austere environments; and increased maneuverability through flight controls integrated with autonomy capabilities, according to Jay Macklin, business development director for future vertical lift at Sikorsky.

The aircraft was "really designed for growth so that out in the 2030s as missions change and the threats change, there is that growth capability," McBryan said.

Although the aircraft will be able to fly farther and faster than the UH-60 Black Hawk, the new offering shares enough characteristics with the legacy system to minimize changes required for pilot training, McBryan noted.

Future vertical lift is one of the Army's top three modernization priorities being spearheaded by Army Futures Command as the service prepares for great power competition with China and Russia. In addition to a new long-range assault aircraft, the service is a lso pursuing a new scout platform known as the Future Attack Reconnaisance Aircraft.
The Sikorsky-Boeing team isn't the only industry player developing a new platform for the FLRAA initiative. A Bell-Textron team has also built an aircraft, the V-280 Valor, for the tech demonstrator effort, which will determine requirements for the 2022 program of record competition.
The first unit is slated to be equipped with a next-generation platform by fiscal year 2030.