Nation Should Invest in Electronics Critical Infrastructure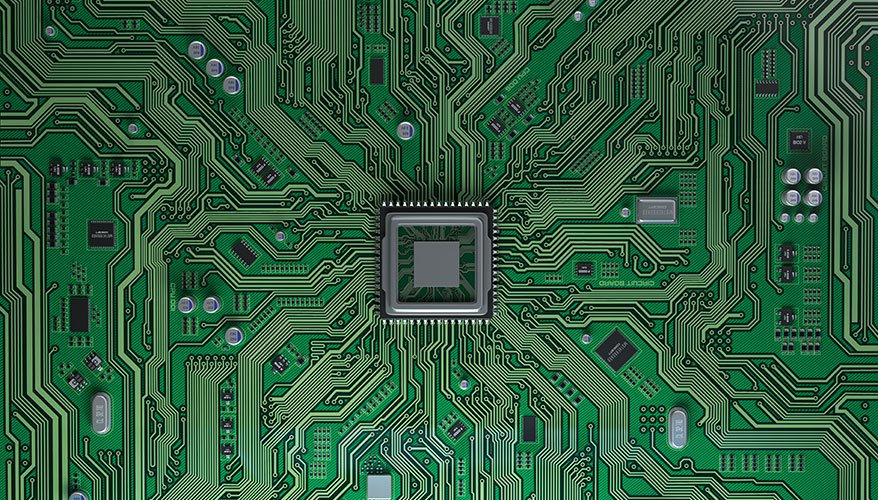 The National Defense Industrial Association's relatively new Electronics Division has a clear interest in the CHIPS for America Act and the American Foundries Act, which are currently before Congress.
The division has been closely following the proposed legislation, and recently hosted a webinar on this topic with staff from Capitol Hill. As a division, we felt it was important to improve members' understanding and visibility into these activities.
Since the inception of the industry in the 1960s, electronics technology has remained strategic for the Defense Department and has become an increasingly important part of the domestic economy.
In fact, the government helped to create new technologies and dominated the early market with the Very High Speed Integrated Circuits program.
The primary goal at the start of the VHSIC program was to reduce the time lag from the introduction of a microelectronic technology into the commercial market until the technology was first applied in deterrent and warfighting systems.
Today, however, commercial demand dominates the market by a large margin, with defense electronics being less than 1 percent, but remaining essential to national security.
To initially ensure access, in 1990 the government invested in its own fabrication line at the National Security Agency. As commercial adoption of electronics skyrocketed and technology refreshes became more complex and expensive, the government needed to change its approach. Starting in 2003, the Trusted Foundry program was initiated to ensure continued access to commercially available technologies, ultimately leading to a network of certified trusted suppliers.
However, industry changes and challenges have led to a question: how can government and industry guarantee and secure a microelectronics supply chain able to meet critical national needs, across all technologies, and at pace? This is particularly important in today's globalized environment, with aggressive adversarial investments in technology leadership — both in fabrication and application.
The microelectronics supply chain is complicated, and includes many steps such as fabrication, testing and packaging. In parallel, industry seeks to adopt emerging technologies like heterogeneously integrated packaging to differentiate their offerings and capabilities.
Continued offshoring of these capabilities has exposed gaps and limitations within the defense industrial base. Events impacting the supply chain such as the coronavirus pandemic have further highlighted some detrimental impacts of offshoring. Further, there is a need to develop the workforce to support these technologies domestically.
As some domestic leading-edge technology companies have adopted a "fabless" model focusing on design and architectural innovation, the knowledge base required to innovate in manufacturing is not always available at the levels required. Additionally, hiring efforts can be hindered by clearances and U.S. citizenship requirements.
Design and architectural innovation also have limitations as the workforce required for exquisite, custom designed parts is similarly limited.
This has led to the commercial design intellectual property and services markets of today.
Today's advanced custom designs often utilize high percentages of commercially available design IP and services in order to accelerate the time to market. Similarly, another path to mitigate these issues is through the use of programmable hardware such as field programmable gate arrays. This is a technology prevalent in government platforms, also requiring a highly skilled, yet sometimes unavailable, workforce.
For both of these approaches, there is a tight coupling between manufacturing and design. This allows for optimization of a platform given the available technology options, impacting gate arrays and custom designed solutions as well as the design IP used in both. Therefore, system differentiating technologies rely upon manufacturing and architecture optimization regardless of platform.
Government systems typically incorporate both commercial off the shelf, as well as custom components to achieve system goals. This enables a balance between affordability and capabilities as well as potential accelerated adoption of "lead-ahead" technologies. Accomplishing this requires investment to transition lead-ahead technologies to industry and government, and to have the workforce to implement those technologies in or near the facilities architecting and manufacturing them.
Considering security of production and the supply chain, physical location may provide a level of inherent trust or assurance. However, mission critical functions also require system level security to address vulnerabilities.
As vulnerabilities span software and hardware, mitigations must ensure adequate protection of mission critical functionality. As a result, security requirements vary by platform, and based on intended mission criticality must consider: confidentiality to ensure bad actors are not able to accelerate compromising mission critical functions; integrity to ensure mission functionality achieves only what was intended; and availability to protect component supply in times of geopolitical unrest, natural disaster or pandemic.
There should be a national strategy for achieving guaranteed secure access to microelectronics components. In this globalized industry, it is unrealistic to expect an entirely domestic supply chain for every interesting technology given that volume sales are required for scale in manufacturing.
However, we need to reverse the trend of offshoring critical capabilities and start to rebuild those where we no longer have domestic capacity.
The current pandemic has laid bare that relying on fragile supply chains is unwise, and several actions are needed.
First, the industry needs incentives to re-shore key elements of the supply chain.
There should also be public-private partnerships to share risks and accelerate availability. And partnerships with allies are required to ensure uninterrupted, secure supply chains.
An advisory council — including government, academia and industry — focusing on how to support new technologies and their transition to commercial markets is also required. This council should develop a strategic long-term plan across mission critical needs and domestically available technology nodes, as well as forecast needed capacity for legacy to state-of-the-art technologies. This needs to occur concurrently with obsolescence and sustainment strategies.
An accurate, objective, accessible and supported end-to-end risk framework is also needed. The council should establish, maintain and evolve such a framework and include: a comprehensive attack surface risk assessment; an accurate mitigation versus risks analysis method; and a method to identify additional mitigation requirements for acceptance.
Advanced node technologies are an important subset of need. However, newer nodes may not accommodate needed specialized processes or technologies. Such investment across the full spectrum of technologies — emerging, state-of-the-art, state-of-the-practice and legacy — is critical to accommodate diverse national needs.
This requires reforms in acquisition and sustainment focusing on security and modernization. Rather than locking in today's technology for decades, refreshing capabilities more frequently needs to be enabled.
This includes simplifying acquisition practices and establishing public-private partnerships to accelerate access to critical technologies.
Innovation in commercial markets is driven by commercial companies unwilling to tolerate current government acquisition processes or restrictions. Reducing this burden will provide more direct access to innovative solutions.
To enable modernization, procurement methods should aggregate demand across the entire government enterprise rather than program by program. Procurement methods must also adapt to commercial business practices and include long-term technology and capacity forecasting.
This will better align government programs with commercial technology shifts, enabling early insight and faster adoption of technology advancements.
To secure the supply chain and guarantee access, clearly defined "tiers of trust" need to be established to guide program security requirements.
Further, government programs need to be better aligned with critical industries including infrastructure, artificial intelligence and consumer electronics.
Through such alignment, opportunities of scale can be realized for industry and government using common approaches to security. These tiers must be consistent with protection levels relevant to system end use in order to optimize adoption. Commercial industry will balance security against production costs to optimize the market.
Together, initiatives like the CHIPS for America Act and the American Foundries Act must support world class domestic commercial technology. They must balance cost, quality and a secure supply chain, to extend domestic advantage and secure the electronics supply chain as critical infrastructure.

Irene Lau is chair and Shawn Fetterolf vice chair of NDIA's Electronics Division. NDIA committee and division leaders Mike Fritze, Nikhil
Shenoy, Ezra Hall and Jim Will also contributed to this article.
Topics: Infotech