WEB EXCLUSIVE: Army Revamps Acquisition Strategy for Bradley Replacement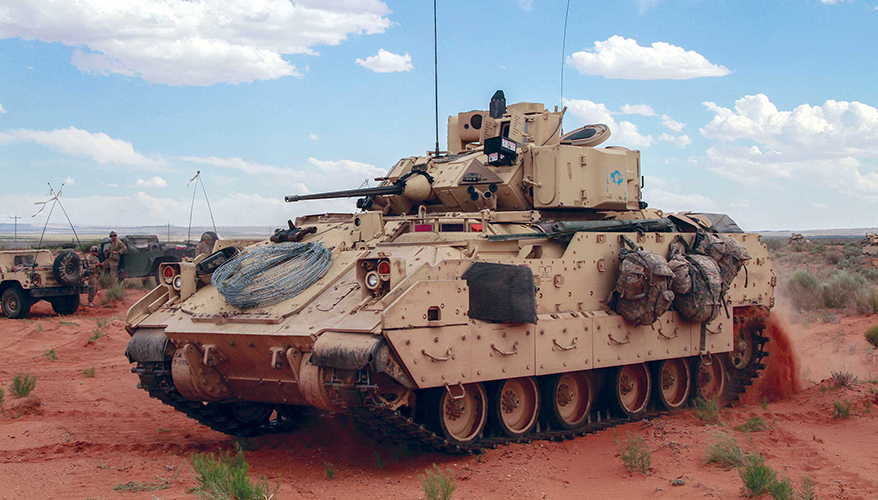 Bradley Fighting Vehicle
Army photo
The Army has come up with a new acquisition strategy in its decades-long effort to replace the Bradley Fighting Vehicle.
The service now has a five-phase approach which favors digital designs over building prototypes and more "nebulous" requirements its leaders are calling "characteristics of need."
The Army released a request for proposals Dec. 18 for the optionally manned fighting vehicle, its latest name for the program.
"We are moving into our actual funded activity that will ultimately result in the design, development, delivery and capability of the optionally manned fighting vehicle and ... replace the Bradley Fighting Vehicle," Brig. Gen. Glenn Dean III, program executive officer for ground combat systems, told reporters in a briefing.
This is the Army's fourth attempt to develop and field a replacement for the Bradley dating back to 1999 and the failed Future Combat Systems program, which was canceled in 2009. Since then, there have been two other programs and three different names for the Bradley replacement, with little to show for the three decades of efforts. The Army has now made the development of a next-generation combat vehicle one of its top acquisition priorities.
What's different this time is the elimination of "requirements," said Brig. Gen. Ross Coffman, Army Futures Command's director of the next-generation combat vehicle cross-functional team.
"In previous programs, the government has said, 'We want a vehicle to go so many miles on a tank of gas.' And if that was a threshold requirement and it was the best vehicle in the world, but it could only go two miles less then that threshold, [it] wasn't unacceptable. So the government had to say 'no,'" Coffman said.
In the place of requirements are now "characteristics of need," Coffman said.
"We've identified nine broad characteristics to give industry the ability to innovate and deliver their ideas to the government for selection," he said.
For example, one characteristic is weight. "Rather than saying it must weigh 41.5 tons, we're saying that it has to cross 80 percent of the main supply routes in Eastern Europe," Coffman explained.
Other features in the characteristics of need category include survivability, diagnostics, mobility, soldier capacity, upgradability, trainability, the ability to be optionally unmanned, and lethality.
"We have to be able to see and defeat our adversaries beyond the range of their capability," Coffman said of the lethality category.
Dean said those characteristics of need "will drive industry toward their design."
There are three components to the RFP, and these "characteristics" are the first. The second part is what Coffman called "non-mandatory items," requirements that contractors know have been on every military vehicle. "So every vehicle has to be tied down on a rail car. Every vehicle has to be able to take a jumpstart in the same manner."
The third component is similar to market research where bidders will be able to freely describe any new capabilities they may have to offer.
Based on the information gleaned from the RFP, the Army will put together an abbreviated capabilities development document.
Based on that document, the Army will select five contractors in phase 3 to build digital designs, Coffman said. That is new as well. Previous programs would have asked for contractors to build prototypes.
Those digital concepts will be improved by industry and the government working together with soldier input, he added.
Phase 4 calls for three contractors to build and test prototypes. Phase 5 will identify a winner to move into production, Dean said. The competition will be opened up for any team to bid at each phase.
Also new to the program is that there are no classified annexes to the documents. The Army wants nontraditional contractors, including foreign manufacturers, to participate, Coffman said.
The optionally manned fighting vehicle will be built in the United States, Dean clarified. Normally, there is a lot of classified information provided at the beginning of programs, which results in barriers to entry for foreign competitors. That isn't the case in the early stages of this program. For phase 3 and after, foreign bidders would have to have U.S. partners or a U.S. subsidiary with all the necessary firewalls in place, he added.
Key to the Army's new acquisition philosophy is that there will be "no decision before its time," Coffman said.
"Previous programs have required the government to be omniscient, and we all know that we're not omniscient," he said.
"We can't predict what's going to happen in seven years or eight years or nine years when this program or any program completes fielding. So we are not going to put a nail in a single requirement until we have to," he added.
That will allow industry to continue to innovate. It allows the government to maximize what the technological advances are. And it also ensures that the Army "does not move the goalposts inadvertently and cause rework or additional schedule on industry," Coffman said.
Topics: Army News