JUST IN: New Navy Lab to Accelerate Autonomy, Robotics Programs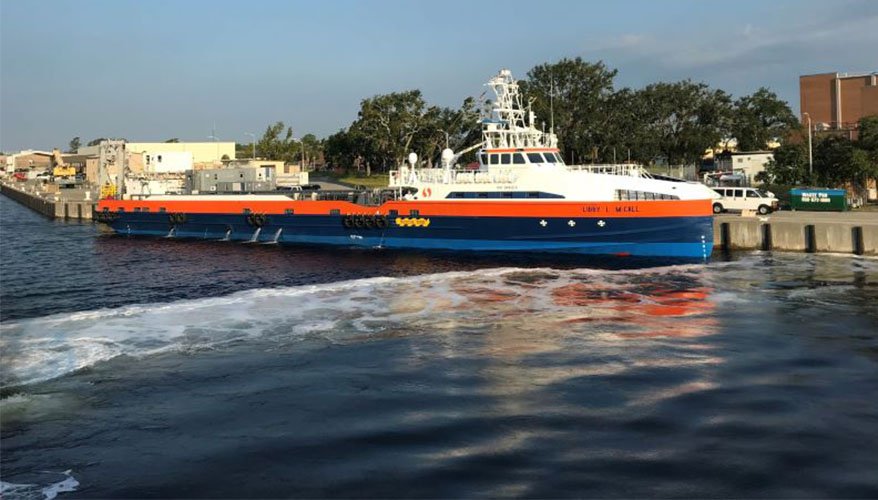 Ghost Fleet Overlord test vessel
Navy photo
Over the past few years, the Navy has been hard at work building a new family of unmanned surface and underwater vehicles through a variety of prototyping efforts. It is now standing up an integration lab to enable the platforms with increased autonomy, officials said Sept. 8.

The Rapid Integration Autonomy Lab, or RAIL, is envisioned as a place where the Navy can bring in and test new autonomous capabilities for its robotic vehicles, said Capt. Pete Small, program manager for unmanned maritime systems.

"Our Rapid Autonomy Integration Lab concept is really the playground where all the autonomy capabilities and sensors and payloads come together, both to be integrated … [and] to test them from a cybersecurity perspective and test them from an effectiveness perspective," Small said during the Association for Unmanned Vehicle Systems International's Unmanned Systems conference, which was held virtually due to the ongoing COVID-19 crisis.
Robotics technology is moving at a rapid pace, and platforms will need to have their software and hardware components replaced throughout their lifecycles, he said. In order to facilitate these upgrades, the service will need to integrate the new autonomy software that comes with various payloads and certain autonomy mission capabilities with the existing nuts-and-bolts packages already in the unmanned platforms.

"The Rapid Autonomy Integration Lab is where we bring together the platform software, the payload software, the mission software and test them," he explained.

During testing, the service will be able to validate the integration of the software as well as predict the performance of the unmanned vehicles in a way that "we're sure that this is going to work out and give us the capability we want," Small said.
The RAIL concept will rely on modeling-and-simulation technology with software-in-the-loop testing to validate the integration of various autonomous behaviors, sensors and payloads, he said.
"We will rely heavily on industry to bring those tools to the RAIL to do the testing that we require," he noted.
However, the lab is not envisioned as a single, brick-and-mortar facility, but rather a network of cloud-based infrastructure and modern software tools. "There will be a certain footprint of the actual software developers who are doing that integration, but we don't see this as a big bricks-and-mortar effort. It's really more of a collaborative effort of a number of people in this space to go make this happen," Small said.
The service has kicked off a prototype effort as part of the RAIL initiative where it will take what it calls a "third-party autonomy behavior" that has been developed by the Office of Naval Research and integrate it onto an existing unmanned underwater vehicle that runs on industry-made proprietary software, Small said. Should that go as planned, the Navy plans to apply the concept to numerous programs.
For now, the RAIL is a prototyping effort, Small said.
"We're still working on developing the budget profile and … the details behind it," he said. "We're working on building the programmatic efforts behind it that really are in [fiscal year] '22 and later."
The RAIL is part of a series of "enablers" that will help the sea service get after new unmanned technology, Small said. Others include a concept known as the unmanned maritime autonomy architecture, or UMAA, a common control system and a new data strategy.
Cmdr. Jeremiah Anderson, deputy program manager for unmanned underwater vehicles, said an upcoming industry day on Sept. 24 that is focused on UMAA will also feature information about the RAIL.
"Half of that day's agenda will really be to get into more of the nuts and bolts about the RAIL itself and about that prototyping effort that's happening this year," he said. "This is very early in the overall trajectory for the RAIL, but I think this will be a good opportunity to kind of get that message out a little bit more broadly to the stakeholders and answer their questions."
Meanwhile, Small noted that the Navy is making strides within its unmanned portfolio, citing a "tremendous amount of progress that we've made across the board with our entire family of UVS and USVs."
Rear Adm. Casey Moton, program executive officer for unmanned and small combatants, highlighted efforts with the Ghost Fleet Overlord and Sea Hunter platforms, which are unmanned surface vessels.
The Navy — working in cooperation with the office of the secretary of defense and the Strategic Capabilities Office — has two Overlord prototypes. Fiscal year 2021, which begins Oct. 1, will be a particularly important period for the platforms, he said.
"Our two Overlord vessels have executed a range of autonomous transits and development vignettes," he said. "We have integrated autonomy software automation systems and perception systems and tested them in increasingly complex increments and vignettes since 2018."

Testing so far has shown the platforms have the ability to perform safe, autonomous navigation in according with the Convention on the International Regulations for Preventing Collisions at Sea, or COLREGS, at varying speeds and sea states, he said.

"We are pushing the duration of transits increasingly longer, and we will soon be working up to 30 days," he said. "Multi-day autonomous transits have occurred in low- and high-traffic density environments."
The vessels have already had interactions with commercial fishing fleets, cargo vessels and recreational craft, he said.
The longest transit to date includes a round trip from the Gulf Coast to the East Coast where it conducted more than 181 hours and over 3,193 nautical miles of COLREGS-compliant, autonomous operation, Moton added.
Both Overload vessels are slated to conduct extensive testing and experimentation in fiscal year 2021, he said.
"These tests will include increasingly long-range transits with more complex autonomous behaviors," he said. "They will continue to demonstrate automation functions of the machinery control systems, plus health monitoring by a remote supervisory operation center with the expectation of continued USV reliability."

The Sea Hunter will also be undergoing numerous fleet exercises and tactical training events in fiscal year 2021.
"With the Sea Hunter and the Overlord USVs we will exercise … control of multiple USVs, test command-and-control, perform as part of surface action groups and train Navy sailors on these platforms, all while developing and refining the fleet-led concept of operations and concept of employment," Moton said.
Topics: Navy News, Undersea Warfare