Army Invests in New Training Tools Amidst Pandemic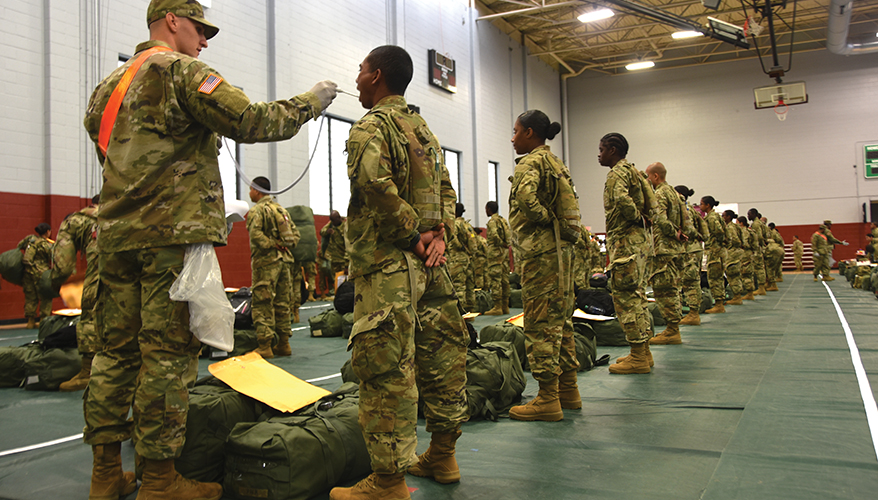 Army trainees are screened upon arrival to Fort Lee, Virginia.
Photo by Army Master Sgt. Crista Mary Mack
The COVID-19 pandemic has raised questions about how soldiers will be able to prepare for war while implementing safety procedures. This has prompted the Army to revamp its training and further invest in new virtual reality technology.
Maj. Gen. Maria Gervais, synthetic training environment cross-functional team director at Army Futures Command, said the pandemic has highlighted the importance of virtual training technology. The synthetic training environment, or STE, is a 3D soldier training tool that converges live, virtual, constructive training and gaming environments to help troops better prepare for high-end warfare against advanced adversaries such as China and Russia or other potential foes. LVC leverages virtual reality and other computer-generated entities.
"Because of COVID-19 and what we've had to experience over the past three to four months, we have understood now the power of distributed learning, training and connection; and also the power of what the synthetic training environment can deliver to our Army," Gervais said at the National Training and Simulation Association's Training and Simulation Industry Symposium, which was held online due to the ongoing public health crisis. NTSA is an affiliate of the National Defense Industrial Association.
Because of the pandemic, the service has increased its use of virtual training technology to account for social distancing procedures, she noted.
"They have turned to actual gaming technology," Gervais said. "They are playing games to get through some of their training capability to synchronize some of their efforts.
We've also seen more use of the virtual capability to help units train, to help them continue preparations."
The Army is still solidifying its requirements for the synthetic training environment. The Combined Arms Center-Training is working on a live training environment modernization study to inform the effort, she noted. The study is slated to conclude this year and will be used to inform the program objective memorandum for fiscal years 2023 to 2027.
The service is trying to bring its antiquated training capabilities into the 21st century.
"We definitely need help from our industry partners in this area because it is time to change a 1970s technology that has evolved over time," she said. "It will no longer meet our needs and we're looking for a revolutionized training capability for our live training environment."
Over the last decade, the service has been making incremental changes to its training regime by adopting systems that address specific needs, Gervais noted. However, the Army is currently limited in its ability to train soldiers for combined arms operations, she noted. The development of a synthetic training environment can help the service better prepare for these tasks.
"We can't effectively replicate the operational environment for the future" without new tools, she said. "Creating a synthetic training environment in which a unit may train will give back to the leaders some of the time they have spent in planning, preparing, executing and assessing training."
The STE will have three baseline applications, which include the training simulation software, the training management tools and One World Terrain. One World Terrain is the service's digital 3D representation of the operating environment, which can be used to replicate real-world locations around the globe where soldiers might have to fight.
"We need our partners to help continue to develop the STE at large and the content that we will need to train," Gervais said.
One advantage of the technology touted by senior officials is its ability to facilitate a large number of repetitions, which might not be feasible in large live-training exercises.
"It is paramount that we develop a multi-domain operations training environment in which soldiers and leaders may attain the sets and the reps necessary to ensure success of their mission," Gervais said.
To bring academia and industry together to work on the STE, the Army has opened a technology integration facility. The technologies are brought to the facility and assessed using the synthetic training environment architecture, she said. The service has been holding web meetings to discuss potential new systems for the effort.
"It will be focused on examining capability gaps, innovating and integrating solutions from across DoD and industry and demonstrating those solutions for exploitation by our material developer," she said.
Col. Marcus Varnadore, project manager for the synthetic training environment, said the service is also developing a live, virtual and constructive-integrating architecture that will help centralize the service's technologies.
The architecture will incorporate mission command information systems as well as analysis, design development, integration, test and fielding, post-deployment software support and help-desk activities, he said.
The Army plans on awarding an indefinite-delivery/indefinite-quantity contract to industry for the effort, he noted. A request for information was released in February. According to Varnadore's presentation slides, a draft request for proposals will be released in the second quarter of fiscal year 2021. A final RFP will be released in the third quarter of fiscal year 2021, and a contract award is scheduled for the second quarter of fiscal year 2022.
Meanwhile, the service is also implementing other training modernization efforts. Scott Pulford, deputy project manager for soldier training, said the Army is working on a combat training center tower program for facilities at Fort Polk, Louisiana, and the Joint Multinational Readiness Center in Hohenfels, Germany.
The effort is a push to replace four out of five of the Joint Readiness Training Center's towers and install a new network infrastructure. A fifth tower will also require a rework of the foundation prior to adding new antenna systems.
"Recent survey findings by the U.S. Army Corps of Engineers has concluded that the current tactical communication towers fail to meet current telecommunication standards," Pulford said.
Additionally, the program management office for soldier training is working on new gunnery systems that provide simulation training for operating Abrams tanks, Bradley Fighting Vehicles and the Stryker mobile gun system. The service planned on releasing a request for proposals in the fourth quarter of fiscal year 2020 and awarding a $340 million indefinite-delivery/indefinite-quantity contract in the fourth quarter of fiscal year 2021.
The gunnery training systems effort will implement a new requirement for a product line approach to existing and future gunnery training systems, Pulford said. It will include procuring new training devices, performing technology refresh and implementing a common hardware and software baseline for existing training devices.
Meanwhile, Col. Corey Hemingway, project manager for cyber, test and training, said the service is embarking on a program called cyber training, readiness, integration, delivery and enterprise technology, or cyber TRIDENT. It will be available to all the military services.
"Cyber TRIDENT is a flexible and rapid contract vehicle designed to serve the cyber training community with a broad overarching scope of cyber training, product development, integration, operations [and] training as a service, sustainment, and associated capabilities," Hemingway said.
Plans call for awarding a $957 million contract in the third quarter of fiscal year 2021, according to his presentation. A request for proposals was released in June.
A large part of the effort includes the persistent cyber training environment, according to the RFP. The training platform will allow users to participate in various exercises such as team certifications and mission rehearsals, according to the Army.
Another program in the works includes the intelligence electronic warfare tactical proficiency trainer increment II, Hemingway noted. The system is designed to allow military intelligence analysts to practice working with data in a simulated environment.
"This contract opportunity provides high-fidelity crew, individual and collective multi-intelligence discipline training across the intelligence enterprise," Hemingway said. "It supports the military intelligence training strategy with live, virtual and constructive simulations across the broad span of the environments."
The estimated contract value for the competition is about $200 million, according to his presentation. A request for proposals is scheduled to be released in the second quarter of fiscal year 2021 and the contract award is planned for the first quarter of fiscal year 2022. The current contract is held by General Dynamics Mission Systems.
Topics: Army News