Marine Corps Seeks New Warfighting Center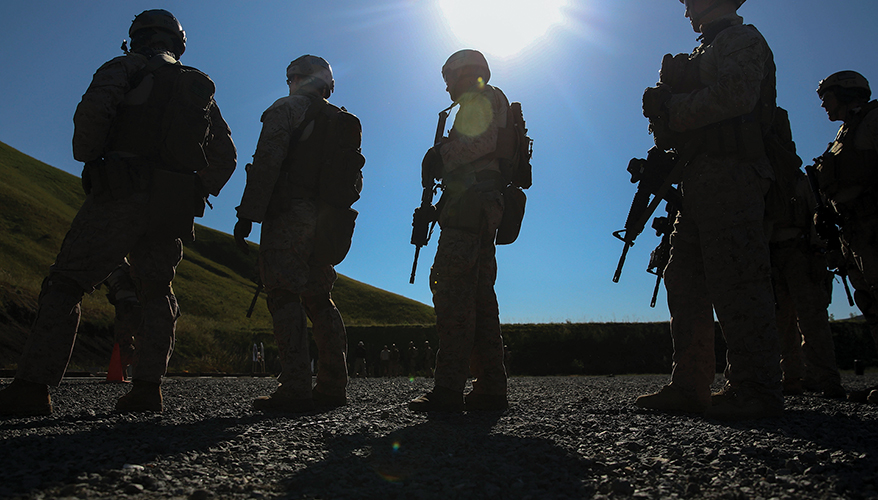 Marine Corps photo by Lance Cpl. Timothy Valero
In search of a new warfighting center, the Marine Corps picked three companies to develop prototype designs.
Contracts were awarded to BAE Systems, Microsoft and Cole Engineering Services.
The 100,000-square-foot facility will be located at Marine Corps Base Quantico, Virginia, and will host more than 12 wargames per year, according to a service announcement.
Two of these exercises will include at least 250 people.
The new center will enable Marines to run through different fighting scenarios while controlling specific aspects of the environment. "In order to stay ahead of peer competitors, it is vital that the Marine Corps conduct constant wargames," Lt. Gen. Eric Smith, deputy commandant for combat development and integration, said in the news release. "The data that comes from such wargames enables us to more rapidly determine which capabilities we will need for future fights."
The facility is scheduled to be completed in the fourth quarter of fiscal year 2023. Initial operating capability is slated for fiscal year 2024, with full operational capability expected in fiscal year 2025. The building will include features such as gaming classrooms, an auditorium, a conference room and "other spaces to support wargaming needs," according to the release.
BAE Systems was awarded a $19 million contract for the prototype design phase, the company announced in August."This prototype will integrate big data and advanced analytics in a secure cloud environment for future wargaming design and assessments," Peder Jungck, vice president and general manager of BAE Systems' Intelligence Solutions business, said in a statement.
Designs will be due in October 2021. BAE received the contract award in July. As of press time, Microsoft and Cole had not yet responded to requests for comment.
"In order to exceed the commandant of the Marine Corps' high priority wargaming center, our BAE Systems team will develop our solution leveraging state-of-the-[art] machine learning, artificial intelligence as well as predictive and detailed analytics," said Gene Hodges, BAE Systems Intelligence Solutions' business director of programs.
The company plans to provide features that will allow the Corps to evaluate the implications of emerging technologies of allies and adversaries, help leadership make informed programmatic decisions and provide better training for Marines, he noted.
Topics: Marine Corps News