Navy to Protect Columbia Program at All Costs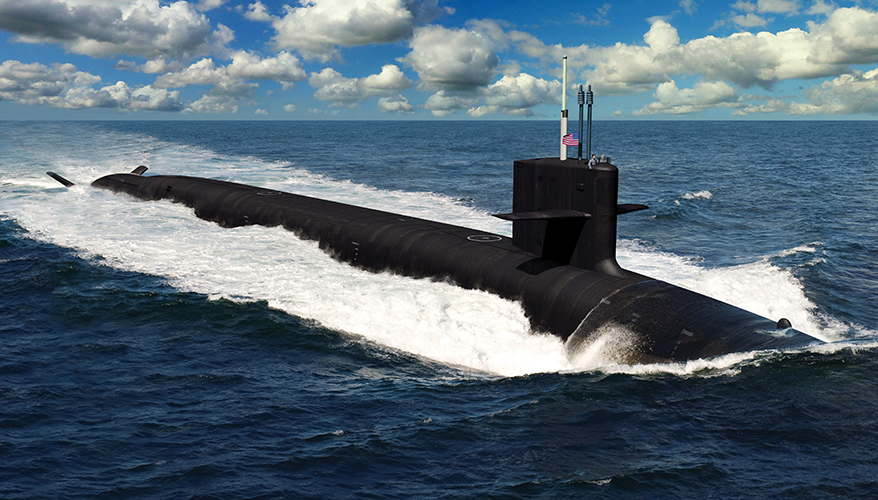 Navy concept
The Navy may face budgetary constraints and other shipbuilding challenges in 2021 and beyond. But the service will do whatever it takes to keep its Columbia-class ballistic missile submarine program on track, officials say.
The new nuclear-armed subs will replace the aging Ohio-class boats. Plans call for procuring the lead ship in fiscal year 2021 so that it can be on patrol by 2031. The Navy intends to buy 12 vessels over the life of the program at an estimated cost of $109.8 billion.
However, potential problems on the horizon include the risk of a delay in designing and building the lead Columbia-class boat due to the COVID-19 pandemic or funding-related issues, according to a recent Congressional Research Service report titled, "Navy Columbia (SSBN-826) Class Ballistic Missile Submarine Program: Background and Issues for Congress."
That "could put at risk the Navy's ability to have the boat ready for its first scheduled deterrent patrol in 2031," the study said.
The estimated procurement cost of the first boat is $14.4 billion. The Navy has already received $6.2 billion in prior-year advanced procurement funding. The 2021 budget request includes $2.9 billion in procurement funding, with the remaining amount to be requested in 2022 and 2023, according to the report.
The Navy aims to procure the second boat in 2024, and has asked for about $1 billion in advanced procurement funding in 2021.
The service has already negotiated a contract for the first two ships with prime contractor General Dynamics Electric Boat, according to Assistant Secretary of the Navy for Research, Development and Acquisition James "Hondo" Geurts. "We'll be able to award that as soon as it is authorized and appropriated," he told reporters during a recent teleconference.
However, fiscal year 2021, which starts Oct. 1, is expected to begin with a continuing resolution — perhaps for several months. That could throw a wrench in the Navy's plans.
"In terms of budget I have been fairly vocal … in our discussions with members [of Congress] that if there were a CR we would need an anomaly to be able to execute Columbia on schedule," Geurts said.
An "anomaly" granted by lawmakers would allow the program to move forward even while other programs are restricted at fiscal year 2020 funding levels until a full-year appropriations bill is passed.
Beyond 2021, defense spending cuts could be on the table due to the economic fallout from COVID-19, analysts say. That could threaten Navy plans to ramp up the size of the fleet and introduce a variety of next-generation systems. If resources are constrained, the service knows where it wants its money to go.
"Columbia is still our top priority program and it will be a program that we ensure is resourced to be successful," Geurts said. "It provides the strategic deterrent for our nation, and that's not a mission that we can afford to take risk on or put at risk. And so it will be prioritized above all others as we go forward."
Meanwhile, the shipbuilding industry has been affected by the ongoing COVID-19 pandemic, which has introduced social distancing requirements and other safety measures. A large amount of advanced construction work has already been performed on modules for the first Columbia boat. So far, the Navy has not seen any negative impacts on the program related to the coronavirus, according to Geurts.
"I'm not concerned from a — is there an ability to get the work done? — perspective," he said. "The concern would be, do we have … the number of productive hours available that we would normally expect? To the degree that that isn't the case, we would prioritize the available productive workforce or productive hours on Columbia, and then the impact would be seen in other programs."
Topics: Shipbuilding