ASC NEWS: Air Force Wants Big Data Technologies For Strategic Airlift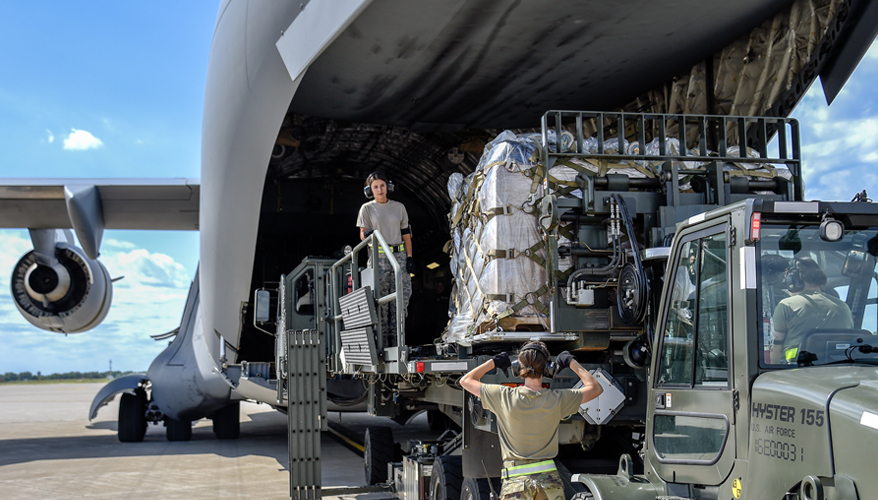 Air Force photo
The Air Force wants new technologies that can process large amounts of data for its strategic airlift capabilities, a service official said Sept. 15.
"There are others out there who wish us harm," said Gen. Jacqueline Van Ovost, commander of Air Mobility Command. "We must get the data advantage. What we deal in is physics. We need to solve the problem better with new ideas and with the data."
As part of this push, the Air Force must acquire systems that can counter adversaries that are conducting cyber attacks and GPS jamming while the U.S. military moves equipment and personnel around the world, she said during the Air Force Association's Air, Space & Cyber Conference, which was held online due to COVID-19 safety considerations.
Joint all-domain command-and-control, or JADC2, will be key to transporting equipment securely, she said. JADC2 is envisioned as a way to connect sensors from across the military services together rather than have multiple tactical networks.
"What that allows us to do is have a data backbone to understand and sense what's going on around us and help us connect all the sensors and make these decisions at [a] strategically relevant pace," she said.
Commercial partners will also need to be looped into JADC2, she noted. The Air Force provides global operation centers with equipment such as phones so personnel can communicate securely as they work to transport items, she said.
"When I look at what we do and what commercial partners do, we see now that they need to be part of this network solution," she said. "Global access, political landscapes — things change all the time, and if we have capabilities that are riding upon organic airlift or our commercial airlift, we need to be able to contact them in flight as things are changing."
Additionally, the service is collecting data for predictive maintenance, she said. The Air Force is using information gathered from each airplane to predetermine which parts to remove before they fail. For instance, the service is closely monitoring its legacy tankers as it waits to adopt the upcoming KC-46 Pegasus, she noted.
"We're finding that it's really gaining a return on investment for us," she said. "That's just one example of the way we're taking data and trying to improve our position with respect to reliability and effectiveness here with all of our missions, all of our mission sets, our medical evacuations, our support missions, our air refueling and our airlift."
Topics: Air Force News