VIEWPOINT DEFENSE CONTRACTING
The Shape of the Federal Sale
iStock illustration
Business development and sales teams can labor for years nurturing a federal sale to maturity. The actual health of the opportunity may be difficult to know on any given day.
Disaggregated teams working multiple prospects at once might be stovepiped within their organization and utterly unable to see the whole picture.
It can be useful to have a simple tool to help the business development and sales teams communicate the totality of their status as the process unfolds.
One such tool is the "sales wheel," which is described below.
Federal sales have eight essential elements. The sale could be a single large item like a submarine, or it could be a roll of wire or service. It doesn't matter; every federal sale has eight essential elements.
First comes "need." There must be a clear need for the solution. Most typically, need is observed in the field by agency employees attempting to execute a mission in the face of a new or evolving reality. Communicating the need from the field level to the headquarters level varies by agency. Sometimes agency decision-makers don't know about a need, and companies are first to identify the need. When new technologies emerge, new ways to use the technologies may allow those in the field to recognize needs.
Next comes the "solution." As a provider, businesses may have a solution that addresses the need: a product or a service. Ideally, a solution will satisfy all aspects of the demand: it mitigates or solves a problem, is reasonably available, and is affordable.
Next on the wheel is "requirement." A process assures that the best solution matches the need. In the federal sale, requirements underpin programs for which funding is budgeted and appropriated. Resourcing and acquiring depend on a valid requirement where the government acknowledges the need. Without validation of the need, there is no requirement to spend. Business developers appropriately spend much of their time working with the government customer to identify, document and validate requirements correctly.
Essential is "funding." Only validated requirements get funded. The old D.C. saw, "if it's not funded, it's not real" lives in every agency. Too many business developers and sales forces don't understand how to trace funding through the budget process. The budget process is mostly transparent, and much of it is publicly available online. It doesn't matter what one's contact in a program office might have hinted is around the corner; the budget documents and appropriations legislation spell reality out in black and white. Execution of a sale must have appropriations that support the expenditure of funding.
Another essential element is "relationships." It's not just about whom one knows. Any business developer or sales team has the potential to have and grow relationships. Most working in the federal space focus their business relationships too narrowly or rely on social media tools for their initial outreach. The federal customer is not one person. Instead, it's a constellation of people of varying significance who have degrees of influence across industry, agencies and Congress. Knowing and correctly informing those critical relationships can help business development and sales teams grow an opportunity by orders of magnitude.
"Support" is another essential element on the wheel. Relationships can convey or inhibit support of the offering throughout the sales process. Well-informed relationships with those who understand the need and range of solutions with which the proffered solution competes can prove helpful. Relationships that support what the business deems their best solution are the most valuable to the business. Without support, the sale may proceed solely on its merits. However, recognizing the human dynamics associated with federal sales can help a team see the value of investing in relationships, which ultimately garner specific support that accelerates the sale.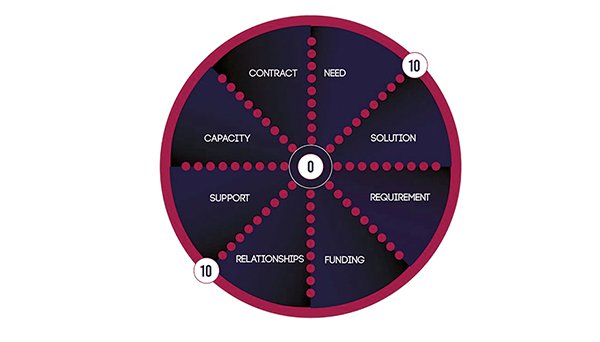 Another spoke on the wheel is "capacity." When a business proposes a solution to the federal government that promises to solve a need, the product or service must perform as advertised at the time and place agreed. Promising a solution for which proven capacity doesn't yet exist will end a federal relationship nearly instantaneously. Teams must be candid about new technology or any offer. It's not a big problem if something isn't quite ready, but the seller must disclose that fact openly. Failing to deliver will severely inhibit future sales.
And finally, there is the "contract." The best solution for a problem may be under one's roof and ready to deliver, but without a contract vehicle, there is no way for the government to pay for it.
An elaborate acquisition process, intended to protect the government at every step, ends with a contract award. Many sales teams, particularly those bringing forward new capabilities, overlook this most fundamental aspect of the sale. Connecting a program, project, ability or company to actual government funding requires a contract vehicle. There are lots of ways to solve this, but it needs to be done in a specific way and not as an afterthought.
If the eight elements seem obvious, they are. However, it's surprising how many companies don't know where they stand for each of the eight across the business development and sales teams.
A simple way for a leadership team to evaluate their status along the long road to funding is to view the eight elements as segments of a wheel. Each of the sections reflects an essential aspect of the sale.
Assign each element a numeric grade with zero at the center and 10 at the outer edge, and a vivid status report will emerge. "Zero" means it's missing; 10 means your team is a pacesetter leading the competition. Anything else is subjectively somewhere in between. Place a dot on the corresponding number grade for each segment. Now connect the dots.
What shape do the connected dots form? Ideally, a shape resembling a wheel becomes clear. In the best of all worlds, the entire business development and sales team sees a large wheel at the 10 levels of each segment. The team may evaluate each section uniformly but at a lesser grade — 3, for example. The large wheel — all 10s — rolls smoothly and covers more ground with fewer RPMs than the small wheel — all 3s. It's not critical that the image produced be uniform, or that all segments are a 10 or any number. What's important is that the team sees the big picture of what it is today.
It may be that a business identifies a segment that's causing the wheel to be something other than round, making it bump or bobble when rolled. The team shouldn't worry that the image isn't the shape of a wheel for the sale of interest. They should be encouraged to know more precisely where attention should be focused to get the opportunity to its desired end state — a final sale.
The federal sales process is not for the faint of heart. It is purposely cumbersome. Efficiency and economy are not driving forces in federal sales as they are in commercial transactions.
Further, market forces don't drive federal sales as with commercial sales. The federal sales processes value stewardship of taxpayer dollars and incorporate lengthy budget and funding processes that directly translate into a lengthy sales cycle. The length of the entire sales process — two to three years in many cases — can make it challenging for the business development and sales teams to know how they are doing.
The sales wheel is a simple tool that can supplement any company's internal management and review process.

Gene Moran is president of Capitol Integration and specializes in government affairs and is the author of "Pitching the Big Top: How to Master the 3-Ring Circus of Federal Sales."


Topics: Contracting