BATTLEFIELD COMMUNICATIONS
Advanced Battle Management System Faces Headwinds (UPDATED)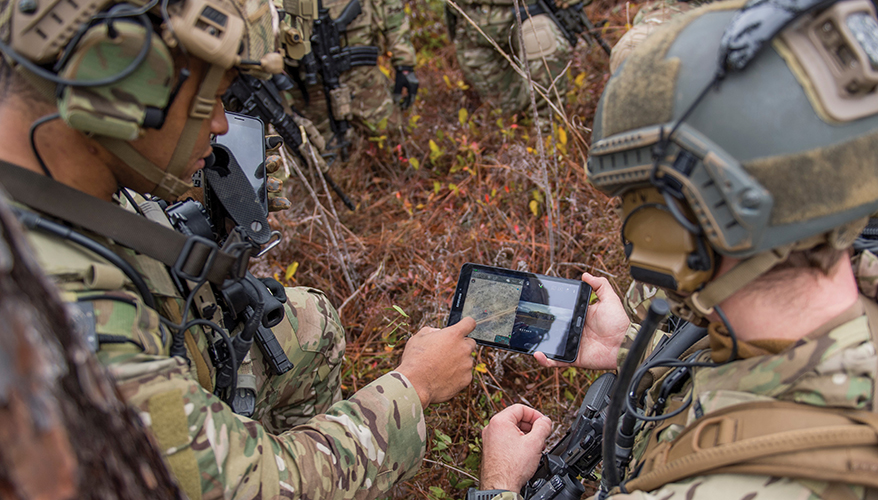 Members of the 6th Special Operations Squadron use a tablet to upload coordinates during an exercise showcasing the capabilities of the Advanced Battle Management System at Duke Field, Florida.
Air Force photo by Tech. Sgt. Joshua J. Garcia
The Air Force — known for developing cutting edge aircraft such as stealth bombers and fighter jets — is now focused on digital bits and bytes as it works to create a network of interconnected platforms that can rapidly shoot off information to warfighters.
This vast network — an "internet of things" for the military — will not only connect the Air Force and Space Force's platforms, but also those of the other services through a concept called joint all-domain command and control, or JADC2.
Underpinning the Air Force's approach to JADC2 is what is known as the Advanced Battle Management System, or ABMS. Service leadership has made the development of the technology — which is meant to replace the capabilities of the Airborne Warning and Control System, or AWACS, and the Joint Surveillance Target Attack Radar System, or JSTARS — a top priority. It has requested hundreds of millions of dollars for developing the new capability. More than 50 industry partners are involved, and the service has already held a high-profile demonstration with more on the docket.
The next big milestone for the ABMS program is what Will Roper, the Air Force's assistant secretary for acquisition, technology and logistics, called a "mega-event" with every service participating and assets coming from the space, air, land and sea domains.
The two high-profile demonstrations — or technology "on-ramps" — are slated to take place sequentially beginning in late August and September. The first will be led by the commanders of Space Command and Northern Command. The second will be headed by Indo-Pacific Command.
An initial demo of the technology took place last December at Eglin Air Force Base, Florida, which focused on defending the homeland. The next event had originally been slated for April but was postponed because of the ongoing COVID-19 pandemic and rescheduled for August.
During the Spacecom- and Northcom-led demo, ABMS systems will connect sensors and weapons from ships, submarines, ground troops, aircraft and commercial satellites to take down simulated enemy bombers, cruise missiles and unmanned vehicles, according to the service.
During the Indo-Pacific Command event, systems will be used to enable location- and platform-agnostic command and control and information sharing in the Pacific.
The main focus of the events will be to prove that ABMS can enable the service to move at internet speeds as well as share machine-to-machine data through the cloud, Roper said during a briefing with reporters in August.
For most people, that type of connectivity is ubiquitous and already available, he said.
"Your data on your phone is shared machine-to-machine going through the cloud but that is not how our military works," he said. "Most of the data that we share is via radios — people talking with each other and classified chat capabilities."
Although some observers are skeptical, Roper said the service's vision for ABMS is not pie in the sky.
"It's been done. The internet has been built and it didn't need one iota of help from the Pentagon," he said. "If we had tried to build it, we would have turned it into a Future Combat Systems type program that would have failed under its own weight," he added, referring to an infamous Army program that was eventually canceled in 2009 due to swelling cost overruns and schedule delays.
Roper said: "It is a shame that people come into our service connected to almost everything in their personal lives, and they come work in a military where they're connected to almost nothing."
But the work that the service is doing with ABMS aims to change that.
So far, the service has brought on dozens of companies to develop, test and integrate new capabilities through indefinite-delivery/indefinite-quantity contracts where vendors receive anywhere from $1,000 to $950 million in total over the next five years for work in up to seven different ABMS categories. It hopes this will enable more rapid competition.
During the first ABMS "on-ramp" event, the Air Force was able to demonstrate it could use a combat cloud to share information, including classified and unclassified data, without chat functions or human-to-human radio calls, Roper said.
"We now need to show that we can do that on a broader scale and start putting data analytics and artificial intelligence in the cloud," he said.
The service hopes to bring AI capabilities created under Project Maven — which developed machine learning systems to analyze reams of drone footage — to bear so data can be fed into algorithms during the exercises, he said.
Roper compared the technology to algorithms that can suggest a cat video to a civilian to watch on their smartphone based on their preferences and what other people are viewing.
"If you have that for cat videos, then shame on us if we can't provide that for life-and-death situations on the battlefield," he said. "I'm looking for that at this next on-ramp."
The service also wants to prove that the technology can be successful across domains, and not just between the Air Force and Space Force, Roper said. While every service has unique needs, they all share a requirement to have information at machine speeds. That means not just raw data from a sensor, but actionable information that has been synthesized and processed.
The fact that the services "have specialized needs should not drive us to higher costs or higher development times," he said.
Roper noted that a successful ABMS program does not depend on every piece of technology working as hoped.
"If we succeed in everything we try to do, we're not taking enough risk," he said. "My hope for ABMS is that we have about a 50/50 pass rate."
Meanwhile, the program is facing some criticism. In April, the Government Accountability Office released a report that said the Air Force began the ABMS program without key elements of a business case including firm requirements, a plan to attain mature technologies, a cost estimate and an affordability analysis.
"GAO's previous work has shown that weapon systems without a sound business case are at greater risk for schedule delays, cost growth and integration issues," said the watchdog in the report titled, "Action Is Needed to Provide Clarity and Mitigate Risks of the Air Force's Planned Advanced Battle Management System."
The GAO recommended that Congress hold more briefings with the service to address these issues.
While the service has taken steps to create an ABMS management structure, the authorities of Air Force offices to plan and execute the program's efforts are not fully defined, according to GAO.
"Unless addressed, the unclear decision-making authorities will hinder the Air Force's ability to effectively execute and assess ABMS development across multiple organizations," the report said.
In April, then-Chief of Staff of the Air Force Gen. David Goldfein — who retired in August and was replaced by Gen. Charles "CQ" Brown Jr. — pushed back on the watchdog's assessment.
Goldfein noted that the GAO was not able to attend the ABMS demo that took place in December. "They didn't actually have anybody there that was seeing real time what we're connecting," he said during a media briefing organized by George Washington University's Project for Media and National Security.
Additionally, Goldfein said the GAO had not seen the program's classified work.
"That makes it challenging because if the technology that you're moving forward, if a lot of it is in the classified realm … and the GAO doesn't have access or clearance to be able to look at it, then the report is going to be on just a very small portion of what Advanced Battle Management System really is," he said.
Marie Mak, director of the GAO's contracting and national security acquisitions division, said her office has not been left in the dark.
"Although we did not attend the December demo, we did request and received information related to that demo, as well as incorporating the appropriate unclassified reference to the demo into our draft report," she said in an email to National Defense. "We included information on this effort through March and the report issued this past April."
Mak said she believes the GAO has a full understanding of past and ongoing ABMS efforts.
"Even before that December exercise, we coordinated quite often with the Air Force on the classified side and my staff and I participated in numerous classified discussions," she added. "Those discussions did not change our finding that the Air Force still does not have an overall plan for ABMS, a point which they openly acknowledged and in fact concurred with our recommendation."
The fact that some ABMS work is classified did not impact GAO's review of overall program planning efforts, she said.
"The Air Force still needs to develop an overall plan, to include preliminary costs and schedule," she said. "Without some type of overall plan in place, it will be difficult for the Air Force to prioritize this program among the acquisition efforts within the Air Force."
Capitol Hill has also expressed concerns about the program. In President Donald Trump's fiscal year 2021 budget request, the Air Force asked for $302 million to fund ABMS.
However, House legislators are pushing back on that number. They recommended a reduction of $50 million toward the program in fiscal year 2021 and directed the service to not spend more than $25 million total on "on-ramp" exercises in 2021.
The Air Force's total requested funding for ABMS in 2021 is more than double the level for 2020, and the program is projected to grow to $1.09 billion by 2024 in the current future years defense plan, lawmakers noted in the House Appropriations defense subcommittee's version of the fiscal year 2021 defense appropriations bill.
"While the committee acknowledges the need for a robust and agile 'sensor-to-shooter' network to meet the challenges of future operating environments, and supports broad principles of the ABMS approach such as open architecture and the avoidance of 'vendor lock,' the committee currently lacks enough confidence in the Air Force's structuring and execution of ABMS to support the rate of budget growth beginning with the fiscal year 2021 request," lawmakers said.
Members of the subcommittee said there are several weaknesses within the current ABMS program that must be addressed before they can agree to the budget growth for the program envisioned in the future years defense plan.
These include the "absence of firm requirements, acquisition strategy, or cost estimate, as well as the unclear definition of responsibilities of the chief architect of the Air Force and other offices involved in executing the ABMS program," they said.
The Air Force needs to articulate a strategy for transitioning technologies that are developed by the program into existing weapon systems, the subcommittee said.
"It is unclear how the costs of fully integrating elements of the ABMS family of systems will be accounted for through their lifecycles across multiple programs without simply being handed down as unfunded mandates to individual program managers," the subcommittee added.
Todd Harrison, director of the Aerospace Security Project at the Center for Strategic and International Studies, said while the Air Force has been making progress on ABMS, it needs to firm up the program's requirements.
"You don't want to start pulling money into something to then just keep changing the requirements, changing the acquisition strategy, changing the expectations for what kind of capabilities it's going to provide," he said.
The service needs to solidify what the Advanced Battle Management System will be in terms of platforms, sensors, payload and communication links sooner rather than later, he said. Not doing so could spark Congress' ire.
"When the Air Force canceled the JSTARS recapitalization program it was … based on a promise that they really did have a plan," Harrison said of the move that occurred in December 2018. "It was going to be ABMS and they were serious about it. … Part of keeping goodwill with lawmakers is showing real progress" toward that.
One challenge the program faces is getting the other services to buy into the Air Force's vision of joint all-domain command and control, said retired Air Force Lt. Gen. David Deptula, dean of the Mitchell Institute for Aerospace Studies.
"The question is, where are the other services? Because this is not something that only the Air Force is going to benefit from," he said. "There needs to be top-down emphasis not in telling the services how to suck eggs, but buying into the overarching concept of ubiquitous and seamless sharing of information."
If the other services don't get onboard with JADC2 and the Advanced Battle Management System, there is a risk they won't be able to connect together in the future, he noted.
A future challenge for ABMS may be funding, Harrison said. The Air Force has a number of high-priced modernization efforts including the F-35 joint strike fighter, KC-46 tanker, B-21 bomber and others at a time when budgets are projected to be under pressure.
"How is ABMS going to effectively compete for funding over the next five or 10 years?" he asked.
Retired Air Force Col. Mark Gunzinger, director for government programs and wargaming at the Mitchell Institute, said he believes ABMS is a high enough priority for the Air Force that it should be able to move forward.
However, "it will probably suffer from a downturn in defense spending, flat defense budgets … similar to just about every other program," he said.
Significant delays or funding reductions to the program would be detrimental. Gunzinger noted that peer competitors such as Russia and China are not slowing down in their military modernization efforts.
ABMS will be critical to countering China which has fully embraced "informationized warfare," he said.
"It is the core of their warfighting strategy to gain an advantage in terms of their ability to influence the decision-making of U.S. leaders at the strategic, operational and tactical level," he said. "The way we can counter that is through our own capabilities — call them ABMS, JADC2, and so forth — that will allow us to maintain an advantage in terms of information."
Update: This story has been updated to include remarks from Marie Mak, director of the GAO's contracting and national security acquisitions division.
Topics: Battlefield Communications