BREAKING: Space Development Agency Awards First Contracts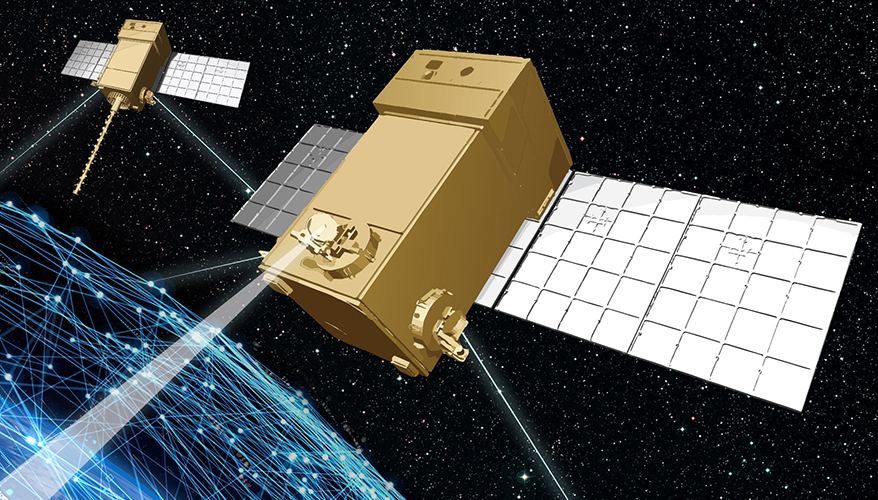 Lockheed Martin
The Space Development Agency awarded two contracts to develop a constellation of satellites that will serve as the communications backbone for other proposed systems, the organization's director announced Aug. 31.
SDA awarded one contract to Lockheed Martin — whose pedigree in building satellites goes back the dawn of the space age — and the second to one of the so-called "new space" companies, York Space Systems, which was founded in 2015.

Lockheed Martin was given a firm-fixed-price contract worth $187 million — and York Space Systems a $94 million firm-fixed-price contract — to build 10 satellites each for the agency's tranche zero transport layer, Derek Tournear told reporters during a virtual media roundtable.
"At about this time in exactly two years, we will be launching 20 satellites from two different performers to make up the nucleus of our tranche zero transport," Tournear said. "That is the backbone of what the department is betting will be the future of the [joint all-domain command-and-control] architecture, or the ability to do tactical data transfer from space to the warfighting edge."

The agency was established last year in hopes of coming up with a new approach to developing space-based capabilities. Its first priority is creating a meshed communications network in low-Earth orbit that will serve as the conduit for all its other proposed systems. In April, SDA announced its plans to have the first constellation of tracking and communications satellites in low-Earth orbit by 2022. A solicitation for tranche zero was released in May. Plans call for launching a new tranche every two years, each of which involves a certain task including communications, sensing and targeting. All are intended to provide services to combatant commanders in the field, Tournear said.

"The key backbone is our transport layer," he said. "We also have a tracking layer and a custody layer to be able to actually give data to that ... transport later, to get that data to the field."

Both contracts are milestone-based with approximately 10 specific stages, each set to a slightly different cadence, Tournear said.
According to the contracts, each company must reach its first milestone — a program kickoff — within 30 days. "We think that that will actually happen sooner, and then from there, it will progress along a series of milestones that are based on deliverables," such as preliminary design review and critical design review, he said.

Each company will construct two different types of satellites: A-class and B-class. Lockheed Martin and York Space Systems will each build seven A-class and three B-class systems, which must be delivered and ready for launch by September 2022, Tournear said. "Delivery" is defined as integrated to the launch adapter and delivered to the launch site, a spokesperson later clarified. "There will be a very short time between 'delivery' and launch but we're talking on the order or days or weeks, not months," the spokesperson said.

"A-class satellites have at least four optical cross-links, that is so they can talk to satellites that are in plane with one another as they're traveling and they also can talk to satellites that are cross-plane or in completely different orbits," Tournear said. "So, they can maintain those four lines of communication simultaneously."

The B-class satellites will connect directly to the warfighters via the Link-16 military communications system, Tournear said.

"They have two optical cross-links each, so that allows them to maintain constant communication with the other transport satellites in plane," he said in regard to the B-class satellites. The two other nodes will be Link-16 transmitters. Link-16 is an existing tactical communication system used across the services primarily for air and ground systems to share low latency data, Tournear said.

When asked why Lockheed Martin was awarded a contract worth nearly double the amount of York Space Systems, Tournear said each company proposed their own price-basing structure. There were other other criteria, he added.

"As it stands, we awarded them based completely on the technical merit and what we thought was their ability to be able to make a schedule and provide a solution, and then price was factored into that. Those were the evaluation criteria that were put out with the ... original" request for proposals, he said.
York Space Systems in May announced the opening of a new manufacturing facility near its headquarters in Denver. Its S-class small satellites are based an a proprietary technology that is designed to "reduce the cost to manufacture by an order of magnitude," its website says. The company has touted its ability to make low-cost spacecraft that last about a few years in orbit.
Topics: Space, Space Industry, Space Operations, Strategic Defense Initiatives