Industry Partnerships Key for Space Superiority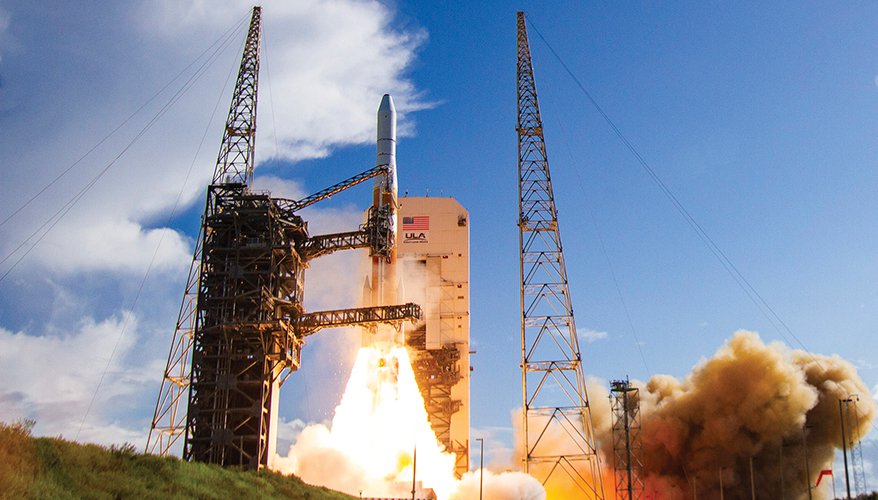 ULA photo
Space has fascinated Americans since they turned their ambitions to the skies during the Space Race and reveled in the successes of the Apollo missions.
This feat of industrial engineering and government focus is often held out as the personification of American exceptionalism. Space still represents an opportunity for expansion and dominance, one that has not gone unnoticed by adversaries. Foreign attention and investment in the space domain has led U.S. policymakers to act in-kind. The Defense Department in June released a summary of its Defense Space Strategy, a document that lays out the roadmap to advance U.S. space power in order to compete, deter and win in the "ultimate high ground."
Following the defining of space as a warfighting domain in 2017 and the establishment of U.S. Space Command and the Space Force in 2019, this new strategy is the next step in offering a much needed vision for integrating the space domain into all areas of conflict. Importantly, it places space power within the larger focus on great power competition called for by the National Defense Strategy.
The Defense Space Strategy comes at a critical time. With an expectation of a flattening defense budget, an additional service branch and unified combatant command will require increasingly sparse resources. The Pentagon can't afford to take the scenic route establishing its goals and lines of effort to achieve its desired end state. While outlining these goals is an important step forward, a key to achieving success can be found through a thoughtful and sustained engagement with the defense innovation base and burgeoning space industrial base.
Recent aggressive actions by Russia, such as the April direct-ascent anti-satellite missile test and the instance of satellites tailing a U.S. spy satellite, demonstrate that the United States can no longer view space as an isolated domain used to enable military operations. Rather, space must be viewed as a domain of active conflict where national security cannot be assumed. If the United States is forced to take action beyond deterrence and signaling, partnership with the commercial sector will be essential to fielding and integrating the capabilities necessary to compete and win in space. This kind of partnership should be prioritized early and nurtured carefully.
The new space strategy lays out several desired conditions, including a secure, stable and accessible space domain underpinned by U.S. military and industrial strength.
Recognizing that these conditions will not be realized overnight, the department plans to grow its space power over the coming decade through the following lines of effort: build a comprehensive military advantage in space; integrate military space power into national, joint and combined operations; shape the strategic environment; and cooperate with allies, partners, industry and other U.S. government departments and agencies.
Successfully organizing, resourcing and integrating the Space Force and Space Command into the broader Defense Department missions and cultures will be vital to the success of the first two lines of effort. Standing up these two new organizations offers an opportunity to rewrite slow and costly acquisition processes, expand current programs and create innovative pathways for nontraditional companies to enter the defense supply chain, and simplify the national security space structure.
As the department continues its effort to align reality with strategy and goals, a robust messaging platform will be required not only to target external audiences such as industry and adversaries, but components of space operations that have traditionally been held across other services and combatant commands and now need to be brought under a unified and focused structure.
One key challenge identified by the strategy is the relative speed of advances in space capabilities, both domestically and by U.S. adversaries. In a domain as novel as space where financial barriers to entry have decreased significantly in recent years, commercial sector innovation often outpaces the speed of traditional government research and development. Gone are the days where breakthroughs at NASA trickled down into household and commercial technologies; instead, innovations in all aspects of the domain — from situational awareness to launch to on-orbit capabilities — are driven by the commercial sector.
This dynamic presents an opportunity for the Defense Department to collaborate with industry to ensure a solid position at the cutting edge of technology and capability development. This spring's SpaceX Crew Dragon launch demonstrates just how successful the U.S. can be when it partners with pioneers in industry to achieve national security objectives in space.
Focused, results-oriented dialogue between industry and government around the future of space operations and space power will be essential to pursuing the lines of effort and achieving the goals laid out by the Defense Space Strategy. The Apollo missions that captured the country's imagination and stunned the world required floor-to-ceiling innovation, deep pockets and a high tolerance for failure.
The challenges of integrating current space activities and tackling costly and technically difficult R&D problems are ones that neither government nor industry alone can overcome. For over a century, the National Defense Industrial Association has stood as the trusted intermediary between public and private entities to facilitate these government-industry partnerships that serve the national interest.
Through forums such as NDIA's Rocky Mountain Chapter, Space Division, and the first-ever Space Warfighting Industry Forum, the association will continue to engage leaders from government, industry and academia in order to quickly put solutions into the hands of warfighters.
As the Defense Department continues to transform space operations from an enabling function to a full component of its warfighting capabilities, close collaboration with industry and academia remain vital to its success.
Looking back at the early victories which enabled U.S. dominance in space through the end of the 20th century, and with forthright analysis of adversaries' capabilities and ambitions, it is clear that the United States will need to marshal all of its industrial and governmental might to prevail.

Retired Air Force Col. Wesley Hallman is senior vice president of strategy and policy at NDIA.

Topics: Space