Air Force Locking on to New Training, Simulation Tech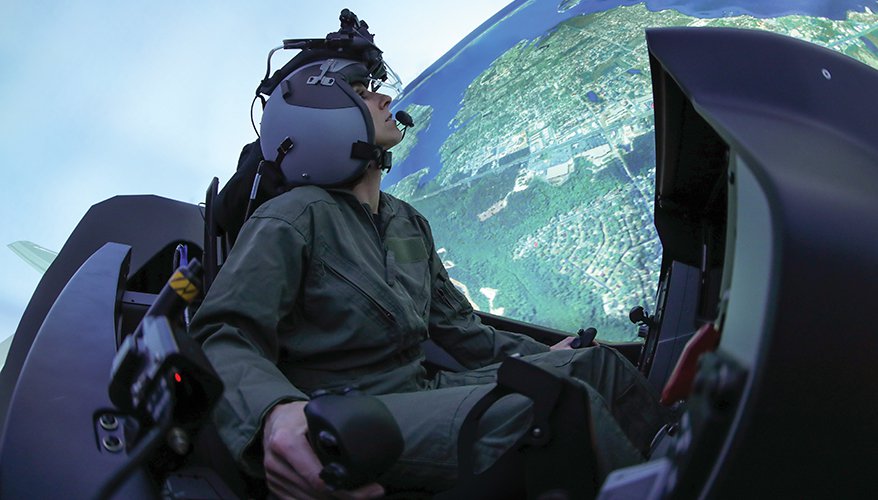 A pilot operates an F-35 flight simulator.
Lockheed Martin photo
The Air Force is pursuing new training capabilities to prepare its warfighters for high-end combat. The service plans to build vast, integrated networks of simulation tools to enable its forces to train together in realistic environments on a scale never seen before.
Department leaders have been banging the drum about the need to bolster preparedness.
"At the highest levels of Air Force it's been very clear that simulators are key to … readiness," said Col. John Kurian, senior materiel leader of the simulators division at the Air Force Life Cycle Management Center.
The service's "2035 Flight Plan" calls for developing a training environment that has the right level of fidelity for the missions that airmen are preparing for, he noted.
It must include "the ability to inter-operate between our own weapons systems, along with other domains — air, the cyber domain, space, and even our coalition partners. And then … from an acquisition perspective, to be able to do all these things at reduced lifecycle costs," he said during the virtual Training and Simulation Industry Symposium, which was hosted by the National Training and Simulation Association. NTSA is an affiliate of the National Defense Industrial Association.
The new Space Force, which falls under the Department of the Air Force, is also looking to improve its training enterprise.
"We really don't have simulators today in which to train our folks," said Maj. Gen. John Shaw, commander of the Combined Force Space Component at U.S. Space Command and the Space Force's Space Operations Command. "We need to develop those and we need better modeling and simulation capabilities where we can actually model a potential conflict and fight, change the variables, conduct war games, and do this at a scale and scope that we have not really done ... at this point."
The systems in use today are essentially offline versions of the command-and-control consoles that operators use to manage satellites, he said during an Air Force Association event.
"They are a very closed system in that regard. If you send a command, then it will kind of show what happens with that command," he explained. "You can put in the systems ... something that might be wrong with the satellite and how the operator can identify that and send commands. What we don't really have a very good ability to do is to do multiple platforms interacting with one another at the speed of war. And that's something we need to evolve to."
Kurian said the Air Force needs to "fix" its simulation enterprise by eliminating stovepipes and segregated mission scenarios and promoting greater networking of technologies.
Assistant Secretary for Acquisition, Technology and Logistics Will Roper has raised the bar, he noted.
"His big challenge for us has been to have the ability to simulate the entire Air Force going to war, really getting at the gaming industry, the multiplayer options that we see out there and pushing us as an organization to partner with small businesses, nontraditional partners, utilizing pitch days, and really pushing the boundaries on innovation, specifically in terms of cloud [computing] and common architectures and even artificial intelligence," Kurian said.
Warfighters and their systems need to have a "digital twin" in the simulation world to achieve that grand vision, he said.
To that end, the Air Force has launched a simulator common architecture requirements and standards, or SCARS, program. In June, L3Harris landed an indefinite-delivery/indefinite-quantity contract worth up to $900 million for the definition, design, delivery, deployment and sustainment of a simulator common architecture across the Air Force's training portfolio.
The SCARS initiative will implement a modular open systems approach, as well as a set of common standards for Air Force simulators, according to a Defense Department announcement. The contract has a 10-year ordering period through June 2030.
Paul Waugh, program executive officer and director for the agile combat support directorate at the Life Cycle Management Center, said SCARS will be a government-owned architecture that helps the Air Force pull in new technology rapidly.
"It's just like we all have an iPhone which allows us to plug in any app that we want. This open architecture is the same way," he said. "That's what we're trying to push at multiple areas across the portfolio."
The service has already broken ground on a Virtual Test and Training Center, or VTTC, at Nellis Air Force Base, Nevada. The $38 million operations facility is scheduled to open in the summer of 2021.
The center is expected to house simulators for a wide range of aircraft, tactical command-and-control, and space and cyber mission capabilities. It is also intended to facilitate live, virtual, constructive training, which involves linking pilots and aircraft on the service's training ranges with ground-based training systems and computer-generated entities.
A key component of the initiative will be the Virtual Battlespace Environment, or VBE.
"The whole intent of this effort is to operate and sustain a persistent virtual battlespace to facilitate high-end advanced training at the VTTC," said Lt. Col. Ricardo Jaime, materiel leader for operational training infrastructure in the simulations division at the Life Cycle Management Center. "We plan to compete that [program] in mid-2022 to award in early 2023."
The Pentagon is also creating a Joint Simulation Environment, or JSE, to help model operational testing of fifth-generation aircraft such as the F-35 joint strike fighter and F-22 Raptor in ways that aren't possible in live environments. Eventually, the service plans to add legacy fourth-gen platforms and future sixth-gen systems into the mix.
Former project manager Humberto Blanco has said the Joint Simulation Environment will be "the best video game ever."
In June, the Air Force awarded Record Steel and Construction a $27 million contract for design and construction of a 51,000 square-foot, single-story JSE facility at Nellis, with an estimated completion date of June 30, 2022.
Meanwhile, the Defense Department earlier this year awarded Northrop Grumman a contract extension for the mobility air force distributed mission operations training program.
Jaime said the technology "allows for multiple geographically separated training simulators to train in formations" and practice tactics, techniques and procedures over the network.
The next follow-on contract award will require an expansion in the number of training locations and aircraft in the network, and allow for a 250 percent increase in user training.
"We are already beginning to work on the strategy for the next contract," he said.
A request for proposals is slated for February 2021, and a contract award is expected in February 2022.
The service has also been working on an acquisition strategy for the combat air forces distributed mission operations program to link fighters and other tactical aircraft. An RFP is tentatively slated for release in the fourth quarter of fiscal year 2022, with a contract award coming in the third quarter of 2023. However, the formal acquisition strategy for that effort has not yet been approved, Jaime noted.
Waugh said his organization is in discussions with the Air Force Research Laboratory about integrating capabilities that emerge from the organization's "Vanguard" science-and-technology programs into the service's training portfolio. One such program is known as Skyborg, which aims to develop new drones equipped with autonomy capabilities to serve as robotic wingmen for manned fighters.
"There's a couple systems out there that are going to use unmanned vehicles, which will eventually come into the realm of being part of the simulation and training," he said.
"We're going to have to tie those vehicles in with our manned platforms to make sure that we know how to operate with them in a joint environment."
The Air Force is also keen on gaming solutions to improve training.
Margaret Merkle, program manager of the "Innovation Cell" in the simulators division at the Life Cycle Management Center, said the near-term objectives are to expand the use of gaming industry tech to meet the Air Force's needs and create a "lightweight simulator ecosystem."
"This seeks to take commodity hardware and software … and build a lightweight simulator," she explained. "These are modular systems and they can have components that can be exchanged. So if technology in the industry changes to use different headsets or different software, these modular sims can adapt to those new technologies."
The Innovation Cell was stood up last year at Roper's direction to scour the commercial marketplace for capabilities that the Air Force could leverage.
The envisioned ecosystem includes "extended reality" — a combination of virtual reality, augmented reality and mixed reality. Commercial gaming systems such as the Microsoft HoloLens, HTC Vive and Oculus Quest have been repurposed in industry to train personnel, she noted. The Air Force wants to adopt that type of capability for its crews.
The simulation and gaming industries have different strengths and weaknesses when it comes to multi-platform and multiplayer capabilities; latency; fidelity; integration with legacy platforms; real-time integration with other systems; scenario flexibility; and distribution, she noted.
"What we're looking to do is merge these [strengths] … for a multipurpose, high-use platform that brings the best of both worlds together," Merkle said.
"We seek to expand our single-player use of these sorts of systems into multiplayer sorts of games," she explained. "We're looking for games or training scenarios that allow multiple crew on a single aircraft to interact. We're also looking for games or training exercises where multiple aircraft in multiple roles can play in the same environment and train together. A great example of this is a tanker and a fighter refueling from that tanker, so those two aircraft would have to interact in the game space."
The Innovation Cell hopes to bring more advanced synthetic entities into its training and simulation scenarios, such as artificial or computer-based objects and players that interact with airmen.
Other technologies being embraced by the commercial sector are on the Air Force's radar.
"We're also looking to take advantage of cloud computing capability, both for storage and computing power, but also for distribution of these applications to users across the network," Merkle said. "We're looking at AI and data analytics to track and analyze how users perform."
Some of these types of technologies are also being considered for Air Combat Command's Rebuilding the Forge, or "Reforge," training initiative to boost fighter pilot readiness.
The Air Force has released a call for white papers for Reforge on the Beta.Sam.gov website.
Meanwhile, the Innovation Cell is planning an industry "pitch day" during the Interservice/Industry Training, Simulation and Education Conference, in Orlando, Florida, Nov. 30-Dec. 4. A call for proposals is slated for September. The best candidates will be invited to make presentations at I/ITSEC and have the opportunity to quickly be put on contract.
By leveraging all of these new technologies, facilities and concepts, the Air Force training community aims to achieve its overarching goal by 2030: the ability to simulate the entire service going to war.
Topics: Training and Simulation