New Policy May Give 'Modest' Boost to Drone Exports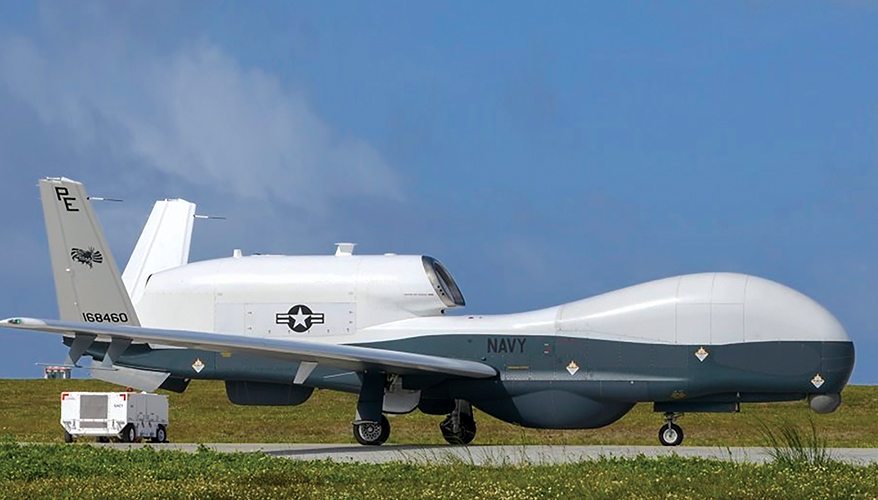 Navy photo
The Trump administration in July announced a policy change intended to make it easier for U.S. drone manufacturers to sell their equipment overseas. However, it will likely only result in a "modest" increase in exports, according to a leading market analyst.
Unmanned aerial vehicles capable of carrying 500-plus kilogram payloads farther than 300 kilometers were previously classified as Category I systems under the Missile Technology Control Regime, meaning they had to overcome a "strong presumption of denial" when U.S. companies sought government approval for international sales.
"These outdated standards … hurt United States industry," the White House said in a statement announcing a policy change.
Large drones that cannot travel faster than 800 kilometers per hour will now be treated as Category II systems, eliminating the presumption of denial.
"That is an important signal … to would-be sellers and would-be buyers," Assistant Secretary of State Christopher Ford said during remarks at the Hudson Institute. "That might have a ripple effect through the demand base."
So, how much of a boost in foreign military sales should we expect for medium-altitude/long-endurance (MALE) and high-altitude/long-endurance (HALE) systems?
"I would describe it as modest," said Steve Zaloga, a global UAV market expert at the Teal Group. "We don't see a big growth" beyond what was already forecasted.
Several factors will constrain sales opportunities including national security and humanitarian concerns.
"It's not only the armed UAVs that are the issue," Zaloga said. "A lot of these things have fairly sophisticated [intelligence, surveillance and reconnaissance] packages with them, and that becomes a sticking point. The U.S. is not necessarily willing to sell very sophisticated ISR platforms to anybody and their brother. It tends to go to closer allies."
Ford noted that a "laundry list" of policy considerations will still apply to proposed arms transfers, which are assessed by the Departments of State and Defense.
"All we are doing is exempting [these systems] from the strong presumption of denial," he said. "There will be no presumption of approval."
The Middle East, Asia-Pacific and Europe are the most sizable overseas MALE UAV markets, with an estimated value in the 2019-2028 timeframe of $11 billion, $5.8 billion and $3.8 billion, respectively, according to Zaloga. The estimated HALE market for those regions is $2.8 billion, $8.2 billion and $1.3 billion, respectively.
"The U.S. has already sold quite a few MQ-1 Predators or MQ-9 Reapers to the European market," he said. "The U.S. already has a very strong foothold there … and most of that [expected] sale has already taken place."
Additionally, a multinational consortium aims to develop a new European MALE Remotely Piloted Aircraft System by 2025. If they succeed, "that's going to shut off a good chunk of the European market for the U.S. because most of the major European countries are committed to that program," Zaloga said.
Some drone buyers in other regions are also looking to manufacture more systems domestically, he noted.
The Middle East could be a lucrative opportunity. However, "the problem is that the U.S. has already burned a couple of the [potential Middle East] clients," Zaloga said. Unable to buy from the United States in recent years, countries turned to China to meet their needs, giving its manufacturers a market foothold.
"What has to be played out over the next few years is how successful the Chinese platforms are," Zaloga said. It's possible that "everybody got very enthusiastic and went and bought a bunch of stuff, and then they find that it doesn't work very well."
If nations sour on Chinese systems, it could lead to a "spurt" of Reaper sales in the Middle East, he said. However, by that time U.S. companies may face serious competition from European sellers.
Meanwhile, the United States is the only major global supplier of the more expensive HALE systems. The largest overseas market is the Asia-Pacific, where demand is growing for long-range surveillance platforms such as the MQ-4 Triton and RQ-4 Global Hawk.
"Countries like South Korea, Japan and Australia are very seriously interested in aircraft like this," Zaloga said.
However, other nations may eventually turn to the Chinese. "I do expect that they will have HALE-type systems in the next few years, and they will be on the export market," he said.
Topics: Robotics and Autonomous Systems