EXCLUSIVE: Q&A with Army Acquisition Chief Bruce Jette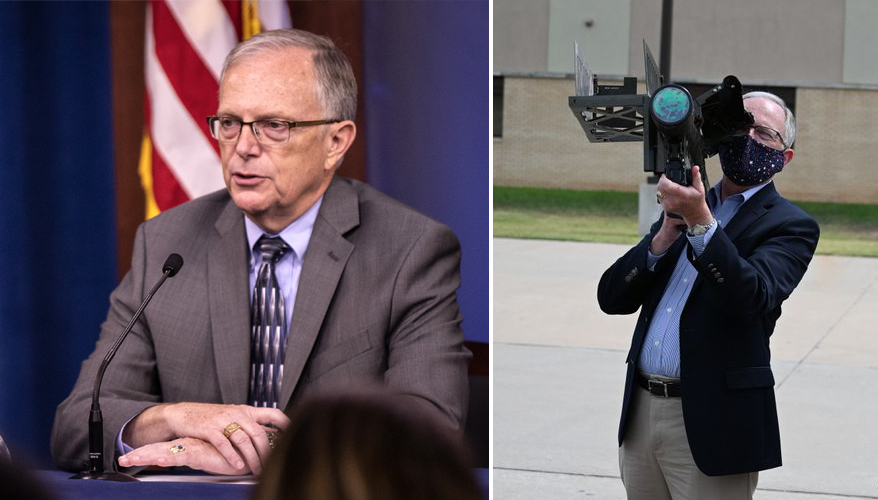 Army photo by Mr. John G. Martinez | Army Air Defense Artillery School
Dr. Bruce Jette leads the Army's office for acquisition, logistics and technology, where he oversees a sprawling portfolio of programs and equipment that includes everything from rifles to combat vehicles. On Aug. 24, Jette spoke with National Defense magazine Senior Editor Yasmin Tadjdeh about how the COVID-19 pandemic is impacting the Army. The following Q&A has been lightly edited for length and clarity.

The Army has been working hard to help the defense industrial base weather the effects of the COVID-19 pandemic. What are some of the steps the service has taken so far to ensure the industry is healthy?
It's been an evolutionary effort. In the very beginning we spent a great deal of time trying to understand the supply chain — supply chain issues and the contractual implications of COVID on them. ...
Let me give industry … some real praise. I've been involved with acquisition since the '80s and I've never seen such a transparent working relationship as I've seen during this COVID event. We normally don't get to see, particularly from the primes, the supply base that they use and their sub-suppliers, and they were totally transparent in providing us direct access to those suppliers and their status.

We then began working on any of the issues that those suppliers had. Undersecretary of Defense for Acquisition and Sustainment [Ellen] Lord worked with local governors and legislation to support people who were being blocked from going to work because of local rules that had been put in place at the very beginning and get the industrial base moving. Then we put in place payment methodologies, so we could get quick payments to people so that we kept our cashflow going. Cashflow is critical to small businesses and ... sustaining good cash flows is critically important to them and that's what we wanted to make sure happened.

Another recognition of what the large primes have done is put hundreds of millions of dollars of their own cash on the table to fill those gaps in payments. As you know, they'll get work done by the subs, the subs will bill them. Then they'll put that together to bill us, and somewhere in there — depending on their agreements with those subs — they will forward payments. Instead what they did was they did everything they could to make sure that the subs got those forward payments. So we've made quite a few efforts to try and put those pieces together. Keep visibility, get the payments out there to the subs, and then facilitate any of the things that the subs had problems with at the individual level.

What are some of the more enduring issues that continue?

[The pandemic] has shown us some of our prior efforts and the potential side effects of them that we didn't see coming. So for example, … we tried to leverage small suppliers because they're often very agile and innovative. The thing we found also is that ... small suppliers are more vulnerable to things like COVID. So if one person in a 12-person company gets COVID, all of a sudden the entire company is isolated and can't come to work. All of a sudden, they become non-suppliers for at least two weeks; and depending on what they're doing, it can be longer than that because you have shut down and start up times. So that was one vulnerability we've had to try and look at and make sure that we have an ability to compensate for it as we use these small innovative companies.

The second piece of it is we will try to work very hard at leveraging the commercial aspects of a company. If a company is a commercial entity and most of their business is in the commercial side inherently, it would be a better price for the government to use the commercial spinoff. The difficulty we've had is, because we tend in those cases to be the smaller user, when the commercial sector dried up because of the COVID effects on the economy we suddenly had trouble with the supplier staying at the rate of production that was necessary to make sure we got what we needed. So we've had to go back and take a look at those contracts as well, and see what we can do to support future efforts.

You mentioned that some small suppliers can be particularly affected by coronavirus exposures and cases. Do you need to build more resiliency into the supply chain or perhaps have more duplicative efforts to ensure that you wouldn't be cut off from a particular component?

Yes. We're taking a look at multiple methodologies by which we can ensure a better, more resilient supply base. One methodology, of course, is to determine whether or not there's a way to reconfigure the small suppliers such that they can get through a COVID exposure. So if one person in the company gets an exposure, the other 12 don't have to stay out because of how they've reorganized their work environment.

A second thing is, do we have alternative suppliers? And normally it takes work, time, money and effort to qualify a second vendor for a given part. So we're looking carefully at those components which are provided by small suppliers, but because of the timing overall would be a problem if they couldn't produce the item. … We want them to be able to have a secondary supplier and go ahead and have qualified secondary vendors. That is a challenging problem because you don't want to split the quantity between two vendors necessarily because now all of a sudden you make neither vendor very economically stable. So you've got to find a good way to make these balances work.

A third one is we're looking at some of the parts which could be provided through advanced manufacturing as a possible alternative. Advanced manufacturing produces parts normally in a slower fashion and usually each part is more expensive, but you don't have the capital investment of a secondary supply source. So it just takes more preparation in producing those parts. And I think eventually we'll have a fairly robust secondary supply source in the advanced manufacturing, which is where we want to go for the possibility of parts replacement as far forward on the battlefield as possible.

Are there any companies within the Army's industrial base that are currently closed because of the pandemic?

There have been 150 closures in the defense industrial base since March 13th. Of these, 126 have reopened. The vast majority of impacts have been resolved. ... We used to do … a 60-page record [daily] of where the status of the subcontractors are, but now we update about weekly. So as of August 6th, 81 out of 548 Army programs currently have COVID-related impacts to their manufacturing and engineering support. Twenty-one of the programs are currently reporting COVID impacts from other testing, fielding and that type of thing. So we do still have effects, but they're not insurmountable. And in fact, I believe we've only got one program that I'm looking at seriously thinking about moving a milestone decision on. Other ones we've been able to compensate for the impacts. … It's an ACAT-3 program, so it's not a really big program.

The Army's top six modernization priorities are long-range precision fires, next-generation combat vehicles, future vertical lift. the network, air-and-missile defense, and soldier lethality. How are those progressing?

I'll give you two quick, good examples. ... BAE produces the PIM (Paladin Integrated Management) chassis. Up at York, [Pennsylvania], they had exposure on the assembly line. A worker decided he didn't want to tell anybody he wasn't feeling well. And so they closed it down for a week to clean it up and get things straight. The result of that was that they missed two vehicles and one of the deliveries. ... It's basically the chassis for the 109 artillery [howitzer] piece. ... They closed down to clean the line, reconfigure the line and go back to production. It only cost them a week of work, but it had an impact on the production for one month and their production is supposed to be eight. They produced six. They turned around and have used the same new configuration. ... Last month they delivered nine. ...

We're encouraging industry, if you missed a delivery sequence, then what you need to do is not just say, "Oh, well." What you need to do is look at how you can recover your delivery sequence. They will, by the end of September, get the other vehicle in we believe, that's the current plan. And so we will be back fully on schedule by 1 October. So that's one of the examples of the type of thing we've been working with industry to accomplish.

Another one is IBCS (Integrated Air-and-Missile Defense Battle Command System). So when I first got here IBCS was on the chopping block because it had been around for a while and it had ... a lot of problems. We locked down the requirements, we ensured the minimum definition of the minimum viable product and the configuration it had to be in, and we went to work trying to produce it. IBCS was just about ready to go into testing and we hit COVID. So the problem we ran into wasn't with the actual product, it was with the test environments because it's in ... tactical operation centers and they're pretty packed in. So now all of a sudden you can't get 6 feet apart. ...

So the difficulty we had was in complying with the COVID rules in a test environment. AFC (Army Futures Command) manages that portion of things and there was a lot of work done to try and reconfigure testing so that we can get back to the testing. And in fact, we've now had a great deal of success with IBCS in its test. So we've been executing the test. It's coming along really well, and we believe that we'll be done with the testing on schedule and, so far, with very good results. And it will put us on schedule to be able to deliver in the timeframe we thought we were going to do.

In a recent Pentagon memo, the Defense Department estimated that contractors will experience $11 billion in cost increases due to supply chain issues related to the pandemic. The Army is asking for about $1.1 billion. Is that the right number or do you think that needs to be adjusted? Additionally, what would happen if Congress does not fund that? Would that affect your top modernization priorities?

The $1.1 billion in claims basically that were filed with the Army over COVID ... were [from] 15 March to 15 June. ... We put what was sent to us by the vendors together, forwarded that up to OSD [the office of the secretary of defense]. OSD then put it together and sent it over to the Hill. … Of the $1.1 billion, there were a set of rules as to how we were supposed to accept or not accept any submissions. A company can always file an adjustment or claim against the government for various effects that occur based upon the contract. If those claims, whether during that period or any other period are valid, then we have to deal with those claims.

COVID is something that is generally outside of a normal set of claims that go into a contract. So, Congress did put some relief in place for making it more reasonable that we could accept some of these claims. We then are following the guidance that we're getting from OSD, which is based on guidance provided by Congress and submitting the claims back up the line. Do I think that there'll need to be adjustment ... for that period? I think not. Could there be additional claims? That's possible.

In either case any of those claims will be treated in accordance with what law said we're allowed to do. If a claim is submitted and it's a valid claim, just like any other one, and we don't have funding for it specifically set aside, then we have to adjust it based on our budget and we can submit unfunded requirements to Congress and make requests. But if they don't fund it, it impacts the program. If they do fund it, then it doesn't. And so we have to work with our legislative committees on the other side of the river.

How is the Army preparing for a future pandemic? Where are areas that need to be fortified to mitigate potential future issues so you don't run into some of the same challenges you had earlier on?

There are a couple of ways to answer this. One way is that we've learned about our testing protocols and methodologies within the Army in general. New recruits, how do we get them in? Are they bringing something along with them, even if it's just the flu? What we're learning from COVID is applicable to other things from the cold to the flu, etc., and we want to keep a very healthy Army. So [we're looking at] the testing protocols and the testing regimens that we are putting in place for arrival in the Army through basic training, transfers out to the force structure, transfers within the force structure, movements to the force structure from one place to another, [and] force structures moving into environments where you can't keep social distancing. … We've re-looked at how we think about safety and health, which has operational implications. We have to be prepared for biological threats on the battlefield, natural ones as well as non-natural ones. So all of these things are lessons that we're gaining. We put a number of additional test equipment in place in units that we had not done in the past. ... The type of test equipment that is used to diagnose someone with COVID today is been pushed down to lower levels in operational units than ever before. And in fact, we now are a year ahead of schedule on our ability to be able to do testing at the lowest levels.

I wanted to pull on one thread that you just mentioned with biological warfare. Are you planning to have more investments in chemical, biological, radiological and nuclear defense equipment?

We're just looking at what type of lessons we can learn from this at this point. And then the Army will be making an assessment as to what can we learn about not just biological warfare, because it's a heinous thought, but it's one we can't ignore. But in general, frankly, if you go back and look at warfare, disease has caused more casualties than has any bullet out there. ... If we can take this, leverage it from a standpoint of being able to reduce our exposure to disease in general, whether natural or manmade, then we've made a significant advancement. And that's our objective here.

Do you have any additional thoughts you want to share?

Our top priority has been the health and safety of the workforce whether uniformed or non-uniformed, government or civilian. That's been the No. 1 priority. We have done all that we can to try and manage the best health and safety for the workforce as well. Through the use of working from home we quickly implemented [Microsoft Office 365] Teams as part of how we do business. And we're continuing to keep people ... [at] the safe distances and all the other practices in place. And frankly, there's an awful lot of that we probably will keep in place simply to decrease the overall spread of colds and flu.

We're doing a great deal to try and ... support the efforts for Operation Warp Speed. The Army is doing the primary bulk of the contracting for that. And we put out a large number of contracts to help produce vaccines in a short amount of time. We're providing support and testing. If you take a look at Operation Warp Speed, ... frankly it looks like an Army team over there. There's an awful lot of Army people to include Gen. [Gustave] Perna and Lt. Gen. Retired [Paul] Ostrowski. ...

I would say the other thing that we've really discerned out of this is there's no such thing as non-essential personnel, all of them are central. We just have to figure out how to properly employ them while keeping them safe.


Topics: Army News