JUST IN: Navy Looking for Better Approaches to Ship Maintenance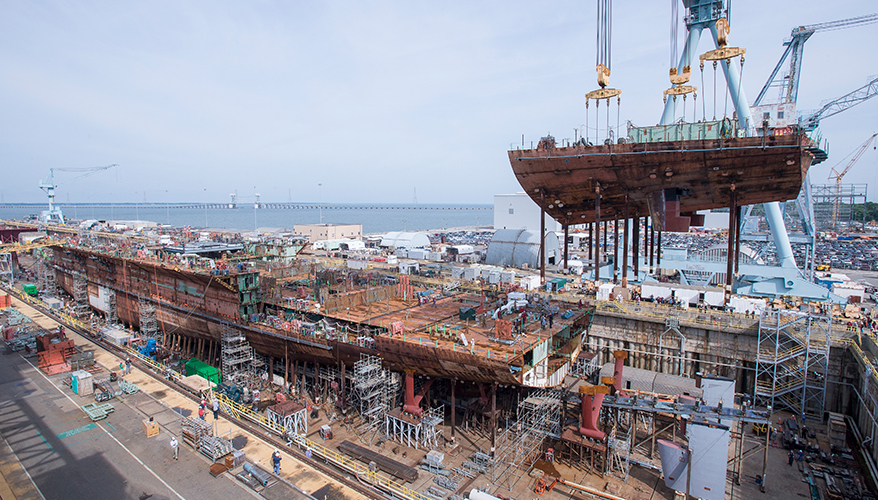 Public Domain
The Navy is hoping to switch up how it takes care of its ships after years of maintenance challenges, according to a service official.
Rear Adm. Eric Hage, commander of the Navy Regional Maintenance Center and director of surface ship maintenance and modernization for Naval Sea Systems Command, said the service is taking a "directed maintenance" approach in which it pushes to anticipate potential problems with ships before they arise.
"It's almost like the mindset of preventative-based … medicine versus corrective medicine," he said Aug. 25 during a Navy League Association webinar. "The alternative is that we have stuff fail while the ship is operating, which is untenable."
The Government Accountability Office turned its attention to the issue in a report released earlier this month titled, "Navy Shipyards: Actions Needed to Address the Main Factors Causing Maintenance Delays for Aircraft Carriers and Submarines." Between fiscal years 2015 and 2019, 75 percent of planned maintenance periods for aircraft carriers and submarines were finished late, according to the report.
Hage suggested developing platforms that are more robust and honing the ability to better predict potential areas of failure. This can be done by taking steps such as reducing the number of navigation and gearing systems, he said.
"It's the thought of simplifying or reducing the diversity of systems," he said. "There's only so much money [available] to sustain, and it makes it worse when you proliferate the amount of things that those finite amount of dollars need to be spread across."
Additionally, platforms are becoming more and more software-intensive, Hage noted. The service needs to ensure that it is able to test products sufficiently.
"We've got to test it from a [hull, mechanical and engineering] perspective, but we've also got to test it from a software perspective," he said. "We've come to realize it's more and more central to how these things operate. ... Are we testing them with full redundancy, with the full regime of testing that we need to?" he asked.
John Rhatigan, chairman of the Marine Machinery Association, said it is also important to examine how much a new piece of equipment will cost to maintain. Platforms need to be more robust and able to handle potential cyber risks as well, he noted.
"We need to find a better way to realize how expensive this equipment is … all the way to its end of life," he said.
Topics: Shipbuilding