DARPA Set to Deliver New Space Capabilities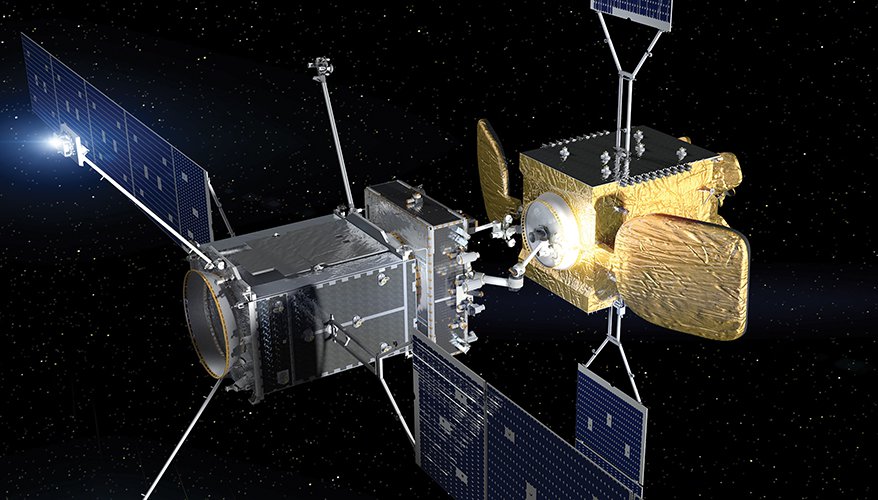 Artist's rendering of a mission extension vehicle servicing a satellite.
SpaceLogistics concept
The roots of the Pentagon's so-called "Department of Mad Scientists" — the Defense Advanced Research Projects Agency — go back to the dawn of the Space Age, shortly after the Soviet Union launched Sputnik in 1957. Some of its first projects included the development of advanced spy satellites.
More than six decades later, DARPA's missions have expanded to computing, material sciences and a host of other advanced technologies, but the agency maintains a firm foothold in the development of new rockets and spacecraft.
DARPA programs again have the potential to revolutionize U.S. space capabilities as the military tries to maintain superiority over China and Russia in the ultimate high ground.
One such effort, known as Blackjack, aims to demonstrate the utility of a mesh network of distributed satellites in low-Earth orbit, or LEO, that can move data directly to warfighters without having to go through a ground dissemination station.
The technology could come in handy in the face of growing threats from Chinese and Russian anti-satellite weapons to high-value U.S. systems in geosynchronous orbit.
"We do start to degrade quickly with individual node losses in space with existing national security space architecture," Blackjack program manager Paul "Rusty" Thomas said in an interview.
A large constellation in LEO could add resiliency.
"This new architecture might have 100-plus satellites to give it shell capability," he said. "If you lose one, the replacement is already up there. … And if you lose two or three, those replacements can come over the horizon over a given [area of operations] within a few minutes."
The three key elements of Blackjack systems will be the commercial buses — the body of the satellite — military payloads on the spacecraft, and an "autonomy engine" or "brain" known as the Pit Boss, Thomas said.
In June, DARPA announced that it awarded a $14 million contract to Blue Canyon Technologies for satellite buses; a $16 million contract to SA Photonics for optical communications payloads; and a $37 million contract to Raytheon for sensor technology. A company called SEAKR Engineering has been tapped to be the prime for the Pit Boss.
"The Pit Boss will have the responsibility to figure out how to move the data through the space mesh network," Thomas said. "Our satellites with optical inter-satellite links will be connected to the ground users using either the tactical links or the commercial data transport layers. And it will be the Pit Boss' job to move the data to the right users at the right time and make sure they're given the tactically relevant data."
The Pit Boss will have multiple layers of autonomy to run the spacecraft itself and to adjust the broader satellite architecture, he noted.
"The constellation is going to know what the commander's intent and intelligence priorities are," he said. "If we lose one or two nodes … the constellation will make the adjustments so that we still continue with the mission."
All of the preliminary design reviews for phase 1 are complete, and critical design reviews are slated for the fall.
Assembly, integration and test activities are planned for next summer with Lockheed Martin as the satellite integrator. The first pair of Blackjack spacecraft are scheduled to launch in late 2021.
"Basically we have the core elements now in place and contracts set so that we can drive to a first full flight hardware set next fall," Thomas said.
Meanwhile, a series of risk reduction efforts will begin in August that will include on-orbit experiments.
"I have multiple satellites going up in the next nine months to show key technology," Thomas said, to include supercomputer processing chips, inter-satellite links, data fusion and radio communication with tactical users.
After the first set of Blackjack spacecraft are up and running, 10 or more additional satellites will go up in 2022 to form a "stub constellation," he said. The effort will assist the Space Development Agency, which plans to create a much larger network of satellites in low-Earth orbit.
"DARPA is going to demonstrate several key technologies with Blackjack that then we will fold in and it will be part of our architecture," Space Development Agency Director Derek Tournear told reporters recently.
Meanwhile, DARPA is pushing ahead with another program called Robotic Servicing of Geosynchronous Satellites, or RSGS. The technology could be a gamechanger for designers and operators of spacecraft.
"Today if what we call a high value asset in GEO had a problem … there's almost nothing that we can do" to fix it, said RSGS program manager Joseph Parrish. "It's actually quite a common scenario to have a spacecraft be completely functional and run out of propellant that it needs to hold its position and its slot in GEO, and therefore have to be retired."
The program aims to tackle that problem by equipping a space vehicle with robotic arms and payloads that could perform a variety of tasks to aid troubled satellites on orbit, to include close-up inspection.
"We can actually look at it with the cameras that are on the end of the robotic arms," he said. "They're able to execute things at almost a microscopic scale. We could get up within a centimeter of the particular location on the client and look at it in great detail."
Additionally, the RSGS technology could move satellites to where they are needed.
"It's not an unusual thing to want to move a spacecraft that may have been hovering over, say, the United States or Europe … to another location so that it covers the Middle East or some other area," Parrish said. "Right now the spacecraft has to use its own precious fuel commodity to do that kind of repositioning. And we could provide that service" instead so that clients' platforms can save their fuel.
Satellites that have reached the end of their service lives could also be moved to a "disposable orbit," he noted.
The vehicle could also adjust critical components when needed.
"We can nudge things, we can pull and tug if perhaps a solar ray or an antenna doesn't deploy when the spacecraft is launched and it turns out that it's just hung up on something," Parrish said. "We can move whatever it's hung up on and allow that device to deploy on the spacecraft to achieve its full potential."
The system could attach items to upgrade existing components or add new capabilities. Such items could include a new sensor or even a "jet pack" capable of flying a satellite.
"We actually can attach a package that stays behind on the client's spacecraft and takes over those propulsion and attitude functions that the propellant would have been used to do," he said. In some cases, that might be easier than a refueling operation.
The capability will be available to service government assets as well as commercial satellites. Once it's launched, the spacecraft would stay in GEO for the rest of its service life — about eight years — and move from one satellite to another that needs servicing.
DARPA is partnering with SpaceLogistics, a subsidiary of Northrop Grumman, on the project. SpaceLogistics will provide the spacecraft bus, propulsion system, attitude control and communications. DARPA will provide the payload, which includes the robot arms and tools as well as the computers and avionics boxes that control the system. The Naval Research Laboratory will perform integration work.
Earlier this year SpaceLogistics demonstrated the potential for on-orbit servicing when it flew a system called the mission extension vehicle, or MEV. In February it rendezvoused with and attached to a client spacecraft and conducted a life-extension effort, Parrish said. That was done as a commercial venture and was not part of the DARPA project.
However, the servicing vehicle wasn't equipped with robotic arms, he noted.
"It's only able to grapple onto the client spacecraft, but it doesn't do any dexterous manipulation," he said. "The addition of the RSGS payload provides a variety of additional capabilities that don't exist on the MEV system."
DARPA signed a commercial agreement with SpaceLogistics in February. The RSGS technology will eventually be transferred to the company, which will own and operate it over the long term.
"We are now in the phase of the program where we are getting the flight hardware," Parrish said. Almost all of it is being delivered this year. Payload integration is slated for next year, and by the end of 2021 the equipment should be ready to go into an environmental test, he said.
Plans call for the system to be launched in 2023 and operational in 2024.
While the RSGS capability is designed to operate in GEO, the technology could be adapted for other orbits, he said.
Additional players could join the on-orbit servicing industry in the coming years.
"SpaceLogistics has a little bit of a head start. They have done the first commercial servicing operation, but there are several other companies that are out there that are looking to enter," Parrish said. "They certainly have the potential to go and do these operations in GEO or perhaps service the new LEO constellation spacecraft that are starting to come online."
The advent of on-orbit servicing could revolutionize the way spacecraft are designed and operated. Developers can move away from "this idea that your spacecraft has to live for 20-plus years without ever being touched, without ever being maintained with no ability to recover from problems," Parrish said. "The way that we do business in space is going to change, and it's going to change in the next few years."
Meanwhile, the agency is looking beyond LEO and GEO at cislunar space, which extends all the way to the Moon. That part of space is of increasing interest to the U.S. military as the United States and other nations such as China increase their activities there.
To help bolster situational awareness in that far-away domain, DARPA is pursuing a leap-ahead in propulsion technology. The Demonstration Rocket for Agile Cislunar Operations program, also known as DRACO, aims to showcase a nuclear thermal propulsion system on orbit.
The system will use a nuclear reactor to heat propellant to extreme temperatures before expelling it through a nozzle to produce thrust, and offers major advantages over conventional propulsion technologies. Nuclear thermal propulsion could provide a thrust-to-weight ratio approximately 10,000 times greater than electric propulsion, and two-to-five times more "specific impulse" — which is essentially propellant efficiency or "gas mileage" — than chemical propulsion, according to Air Force Maj. Nate Greiner, the DRACO program manager.
"For conventional on-orbit propulsion systems, in simple terms, electric propulsion takes an incredibly long time, chemical is much shorter, and nuclear thermal is significantly improved over both," he said in an email.
Phase 1 of the program is expected to last 18 months and consist of two tracks. Track A will entail the baseline design of a nuclear reactor, and culminate in a baseline design review for the propulsion subsystem's reactor.
Track B will entail the design of an operational system spacecraft concept and a demonstration system concept focused on the propulsion subsystem. It will culminate in a technology maturation plan review for the demonstration system, according to a Broad Agency Announcement released in May. Responses were due July 29.
Developing such a capability will be no easy task.
"One key technical challenge is thermal-mechanical-chemical robustness of core components," Greiner said. Another technical challenge stems from DRACO plans to use high-assay low-enriched uranium (HALEU), and there is a lack of data based on legacy experiments for systems that utilize it for fuel, he noted.
While some U.S. military platforms already use nuclear propulsion systems, such as aircraft carriers, creating that type of capability for use in space is a different proposition.
For example, aircraft carriers use high-enriched uranium rather than HALEU, and operate at a significantly lower temperature and in a far less extreme environment, he noted.
Additionally, new spacecraft designs will likely be required to accommodate the nuclear thermal propulsion system because today's spacecraft are designed for static orbits rather than rapid transit between orbits, he said.
The word "nuclear" often conjures fear, partly because of high-profile disasters at nuclear power plants such as Chernobyl. The DRACO program is moving forward with safety in mind.
"The DRACO reactor will be fully assembled on the Earth, but will not be operated at a significant power level on the Earth. As a result, it will not accumulate a high quantity of fission products until reaching a safe orbit in space, beyond the point the reactor could reenter the Earth's atmosphere," Greiner said. "This safe orbit is where the DRACO system will be demonstrated, which eliminates the risk of accidentally exposing … operators or the public to radiation."
The program objective is to conduct an on-orbit demonstration in 2025. After that, "it's up to our partners in the military services to determine integration and timeline of operational systems," he said.
Topics: Space