Flying Cars: Urban Air Mobility Raises Safety Concerns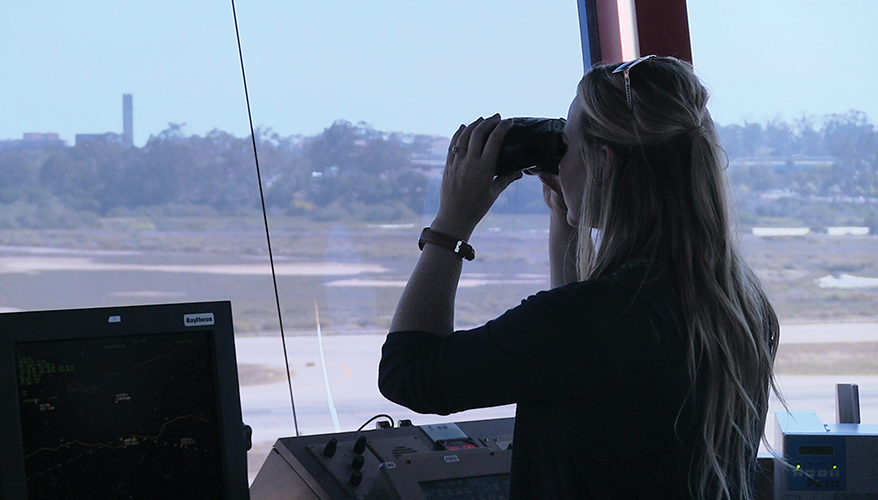 National Air Traffic Controllers Association
This is part two of a two part series on flying cars and the Air Force. Read part one here.
It's a commuter's fantasy to have their vehicle take flight and zoom over others stuck in rush hour traffic. The private sector and government agencies are working to make that flying car scenario possible, but a number of safety issues need to be addressed to make sure passengers don't become casualties, experts say.
The Air Force's acquisition, technology and logistics chief is among those who dream of taking flight to avoid Beltway gridlock.
"It would just be really nice at some point in this job or after it to get to fly somewhere as opposed to driving," Assistant Secretary Will Roper told reporters. Roper is the mastermind behind the service's Agility Prime initiative, which aims to help create a new advanced air mobility industry for both the commercial and defense sectors.
Initially, users might have to go to designated pick-up points similar to taxi stands to catch a ride, but eventually people might have access to them from home, he said. "We just go outside and fly someplace."
Davis Hackenberg, advanced air mobility mission manager at NASA, expects the transportation mode to be a viable option for a wide range of consumers, not just the wealthy, as their usage increases.
"The price point for urban air mobility … should go down to something that is affordable to somebody like me that's a government employee, for instance, a middle-class person," he said during the Agility Prime Launch Week. "To get from an airport to my meeting downtown, or maybe even from home to my meeting downtown, I could actually go spend that 40 or 50 bucks and fly to work."
However, citizens will need to be comfortable with the technology before flying cars become a part of everyday life. Government agencies are trying to work through a number of issues to make that type of transportation safe so riders don't end up in a fiery crash.
"As is true for any new transportation innovation, safety and public acceptance will be key to full development and deployment," Secretary of Transportation Elaine Chao said.
"Legitimate public concerns about safety, security and privacy need to be addressed because without public acceptance, commercialization won't be possible. So safety, which is my top priority, must be a major priority for developers as well."
The Federal Aviation Administration is gaining extensive experience integrating new technologies such as drones and reusable rockets safely into the national airspace, she noted.
The agency is already working closely with a number of companies pursuing advanced air mobility to certify the safety of their vehicles and their operations. It is also teaming with developers and other federal agencies to establish best practices and industry standards for the safe introduction of components including battery systems, automation and controls, Chao said.
Air traffic control, autonomy, cybersecurity and noise mitigation are just some of the issues that experts say need to be addressed. Government agencies such as the FAA and NASA have their work cut out for them.
"There are just dozens of really challenging problems that we're going to have to go after," said Robert Pearce, associate administrator for NASA's aeronautics research mission directorate.
"We will use virtual means and so forth to bring traffic up, bring complex scenarios up … and just show that we can actually do this," he said.
Officials will have to demonstrate that they could handle the airspace operations and address safety issues as they arise, and that the vehicles could perform the necessary flight trajectories, approaches and departures from vertiports, he noted.
Experts must "continue to elevate the maturity and the complexity of our ability to do that," Pearce added.
A number of companies are working on prototypes now. Hackenberg said he expects some advanced air mobility vehicles will be safety certified in 2023.
"When we get those certified vehicles … we start being able to talk about commercial operations, actually moving cargo, actually moving people around," he said.
Automation will be needed to enable widespread usage in cities, he noted.
Once "you get that complexity down and you get the public trust and you know that the vehicles are really something that's accepted by the community, … you're able to move into this higher density" operating environments, he said.
No Bucks, No Buck Rogers
In the classic aerospace film The Right Stuff, astronaut Virgil "Gus" Grissom highlighted the criticality of robust funding for new spacecraft when he told NASA engineers: "No bucks, no Buck Rogers."
Col. Scott McKeever, global mobility lead for the Air Force Warfighter Integration Capability office, put it another way: "Money makes things happen," he said during the Agility Prime program Launch Week event in April. "It's what is the fuel behind aviation."
The service's Agility Prime initiative aims to boost a new industry for electric vertical take-off and landing aircraft, which some officials and other observers refer to as flying cars. The military hopes to acquire the platforms for its missions and facilitate the civilian adoption of the technology to move people and goods around cities and other areas.
The concept is also known as urban air mobility or advanced air mobility.
However, the Air Force isn't planning to bankroll the national effort to create a new mode of transportation. The commercial sector and civilian agencies will have to shoulder much of the burden, experts say.
The Air Force is only spending about $25 million on Agility Prime this fiscal year, according to Assistant Secretary for Acquisition, Technology and Logistics Will Roper. And the department won't be spending significant amounts of money on research and development, he noted.
"We will certainly have this in our '22 budget," he told reporters. "We'll have to either work with Congress on '21 or work internal sources, but … that money is going towards testing, certification and ultimately a bill of sale."
Some firms in the private sector, such as Uber, are gung-ho on the technology. But making the dream of cities full of flying cars a reality will require an entire ecosystem of innovators, suppliers and infrastructure.
"We in the commercial world are really moving quickly and that's especially true in the Silicon Valley," said Mark Moore, Uber's engineering director of aviation and leader of the Uber Elevate initiative. "But honestly, this is bigger than any one company. This is tens of billions of dollars of investment that's required."
The Air Force hopes that the Agility Prime program will encourage venture capitalists and other investors to pump money into the fledgling industry.
"Companies have shared with us privately that they have seen the amount of internal investment they've been given by venture capitalists go up, and they expect that that will continue the further we go through the Agility Prime competition," Roper said. "That's exactly what we intended."
However, some investors might be turned off by aspects of eVTOL development, noted Kirsten Bartok Touw, founder and managing partner at AirFinance and an expert in emerging markets.
"The tough part that this sector has had is that most traditional venture capitalists are not fans of things that are characteristics of our industry," she said. "They don't like hardware. … They don't like capital intensive industries" because they have limited funds, which makes it more challenging to do follow-on investments. They also typically don't have long time horizons, she noted.
Additionally, "strategic" investors such as large aerospace corporations have been hit hard by the COVID-19 pandemic, Touw said.
"These companies now … have become severely cash constrained," she said. "They no longer have the capital to invest. … I'm fearful that this will be a difficulty going forward."
There are also regulatory issues and other risks associated with autonomous vehicle technology that could deter some investors, experts say.
However, market forecasts indicate that the market for urban air mobility — to include ground infrastructure, traffic management, manufacturing and operations — could generate nearly $300 billion in revenue over the next 20 years, with more than $400 billion in economic impact. Additionally, the return on investment ratio could be as high as 5:1, according to Michael Dyment, founder and managing partner at NEXA Capital Partners.
"That's a very, very solid ratio to attract private capital," he said. "It does come back to the fact that urban air mobility is not so expensive to get off the ground, so to speak, that it's unaffordable. The private sector can carry this."
Topics: Air Force News