Flying Cars: Air Force Aims to Turn Science Fiction into Science Fact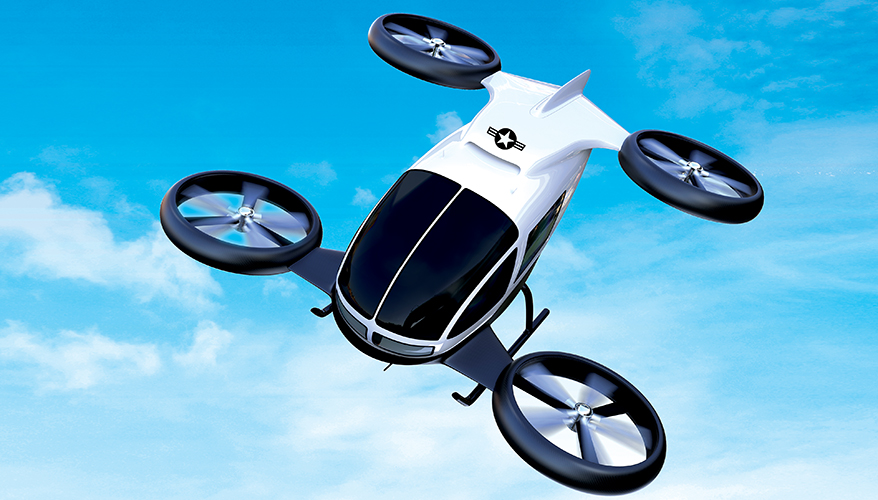 iStock illustration
This is part one of a two part series on flying cars and the Air Force. Read part two here.

From the Jetsons to Blade Runner to James Bond to a multitude of other TV shows and films, popular culture has long been fascinated with the idea of flying cars. Now, the U.S. military is pursuing them — and it wants to take the public along with it.
But can science fiction be turned into science fact? That's the aim of the U.S. Air Force's Agility Prime initiative.
The service is racing to acquire "flying cars" — electric vertical take-off and landing, or eVTOL, platforms — that can carry troops and equipment in ways that offer advantages over today's military aircraft and vehicles. The systems are also referred to as "orbs," advanced air mobility or urban air mobility.
"The vehicles that we're exploring … [have] a lot of propellers that get you up" in the air, Assistant Secretary of the Air Force for Acquisition, Technology and Logistics Will Roper told reporters during Agility Prime Launch Week. "They're vertically oriented and then they transition over to being forward [oriented]. And there are multiple ideas and designs about how to do that."
Most of the designs include tiltrotor or thrust vector control that would enable the platforms to take-off and land vertically like a helicopter but fly more like an airplane, he noted.
The concept may sound similar to the V-22 Osprey tiltrotor aircraft that Air Force Special Operations Command and the Marine Corps currently use. But officials noted there are significant differences between the envisioned orbs and the rotary-wing assets in today's inventory.
The latter are "generally pretty expensive, they're generally pretty loud … and they're a little bit hard to fly," said Brig. Gen. S. Clinton Hinote, deputy director of the Air Force Warfighting Integration Capability office. Officials want new systems that are quieter and smaller, less pricey and easier to pilot.
Key attributes of advanced air mobility vehicles would include: electric/hybrid propulsion and electric power source; manned, remote or autonomous operational capability; vertical take-off and landing; and commercial off-the-shelf. All would hover on rotors, but some may also have wings, according to Col. Nathan Diller, Agility Prime team lead.
The systems would be different than airplanes or automobiles, which require runways or roadways that could be destroyed by enemy fire or might not be available where U.S military forces are operating. They would not be like today's drones because they would carry people, nor would they be like helicopters because they won't be "big, loud and expensive to build," according to a presentation slide.
Roper estimated the price tag at a few hundred thousand dollars to a few million dollars per unit.
The anticipated lower lifecycle cost is a major draw for acquisition officials.
"What I love about these eVTOL vehicles, because they're driven by hybrid and electric automotive technology, they appear to be exceptionally inexpensive to sustain and operate, which is a complete paradigm shift from what the Air Force is accustomed to, where most of the money we spend is operating costs," Roper said.
Their electric propulsion and smaller size could make them quieter and harder to detect. Search-and-rescue missions are one scenario where the technology would be helpful because legacy assets are more vulnerable, officials say.
"It would be very hard to get those helicopters in and out [to recover personnel in enemy territory] because of the defensive technologies that our potential adversaries have," Hinote said. In wargames, "one of the technologies that played really well inside of that story was Agility Prime," he noted.
Such an aircraft would also be useful for special operations missions where low observability is critical, he noted.
Mitigating troops' vulnerability is a major selling point for the Marine Corps, which is also pursuing the technology and is keeping an eye on developments with Agility Prime.
"We are very concerned with the threat right now and putting too many eggs in one basket," said Col. Kevin Murray, director of science and technology and the rapid capabilities office at the Marine Corps War­fighting Laboratory.
Using today's rotary-wing platforms with dozens of Marines "packed in the back of these things, having to carry from ship to shore in a highly contested environment … could be super dangerous and we could get a bunch of people killed," he said. "Disaggregation and having a swarming effect where you're putting three or four Marines [in each orb] but converge upon the objective area simultaneously is of super importance to us right now."
Another potential advantage of the vehicles is that they may be much easier to fly than legacy aircraft, which means more troops would be capable of operating them and require less training. In some cases, pilots might not be needed at all as vendors develop autonomous systems, Roper noted.
Other potential missions for advanced air mobility vehicles besides troop transport include: humanitarian assistance and disaster relief; intelligence, surveillance and reconnaissance; and cargo transport.
Because a key aim of Agility Prime is to work with commercial industry, there are currently no plans to modify the design of the orbs for military use or arm them for strike missions.
"We will not put any military unique requirements on them because the last thing you want to hear as a commercial backer of one of these companies is that the military is coming in and changing a vehicle away from a type that would have domestic use," Roper said. "We want to create a supply chain in the U.S. that is dual commercial and military."
Additionally, the Air Force recognizes that some in the tech sector might feel uncomfortable developing lethal platforms or fear that doing so will hurt their brand.
"You can imagine that a lot of vendors are very focused on moving people around [and] having a good name association," Roper said. "Arming them is not something that they may be interested in."
However, the military has a long history of taking aircraft that were initially used to perform non-lethal missions and giving them a strike capability. Predator drones, which were first deployed as unarmed intelligence, surveillance and reconnaissance assets, are a well-known example.
"If subsequently we think arming [the orbs] makes sense that will be a choice for companies," Roper said. However, "they will not have to put that on the table to be part of Agility Prime for step one."
A unique aspect of the initiative is the extent to which it aims to boost — and piggyback off of — the commercial sector, while working with civilian agencies.
"When we put our market next to the commercial market, we're tapping billions of dollars that we don't have to spend, and now we're pulling them into orbit around our mission as if it was our R&D money," Roper said. Agility Prime will be the first multibillion dollar aviation program where the military won't have to fund much of the research and development, he added.
Officials from across the government spoke at the virtual Agility Prime Launch Week event, and praised the Pentagon for its efforts to foster a new industry for the United States and create wealth and jobs.
"This technology has the potential to make vertical flight more affordable and more widely available," Secretary of Transportation Elaine Chao said. "With the encouragement of the U.S. Air Force and the entire federal government, American companies employing American workers can gain a head start and win a fair share of this lucrative market."
Roper said it's important for the United States to stay ahead of China and other military and economic competitors in this emerging sector.
Officials envision the average Joe zipping around cities in "urban air mobility" vehicles or even traveling from city to city in them. The Federal Aviation Administration is working on regulations and safety issues to make that feasible, and NASA is pushing an advanced air mobility national campaign that includes challenge competitions for innovators. Diller said the Pentagon is working with the FAA and NASA to establish standards for the vehicles.
The Defense Department brings a lot to the table when it comes to assisting commercial companies, officials said, and it could help make the technology more widely available for public use sooner than it would have been otherwise.
"Our value proposition is access to our ranges, access to our safety engineers, and ultimately getting that safety certification, flight hours, and then a bill of sale with a steady customer in the United States Air Force," Roper said. "We're a great bridge market to not just get companies flight hours and build confidence from regulators, certifiers of all types and local and state governments, but to also let companies start getting production scale up, which is important."
How many orbs will the Air Force buy? That remains to be determined.
"It will depend on what missions they're able to do and how well they do them," Roper said.
The Air Force has released a special notice on Beta.SAM.gov laying out three areas of interest, or AOIs, for orbs.
The first is a platform that can carry three to eight personnel, have a range greater than 100 miles; maximum speed greater than 100 mph; and more than 60 minutes endurance.
The second is a vehicle that can carry one to two personnel; has a range greater than 10 miles; a maximum speed greater than 45 mph; and more than 15 minutes endurance.
The third is a cargo aircraft with a payload capacity upwards of 500 pounds; a range of more than 200 miles; a maximum speed greater than 100 mph; and more than 100 minutes endurance.
"We do see it certainly in this early stage as a family of solutions, a family of different capabilities that are out there that we see providing value," Diller said.
The Marine Corps is also pursuing multiple types of systems.
"We're looking for small, medium and large platforms," said Carmine Borrelli, director of unmanned logistics aircraft and ground systems at Marine Corps Headquarters. "We're looking at maybe something like Marine Uber of the future."
The Army is also working to modernize its rotorcraft, but electric vertical take-off and landing systems are not envisioned as a solution for the service's initial future vertical lift initiatives, according to the FVL cross-functional team spearheading the modernization effort for Army Futures Command.
However, Army officials are "familiar with the Air Force efforts and are in contact with the Agility Prime program to monitor the eVTOL technologies," the cross-functional team said in an email. "While it is premature to assess how much the Army can capitalize on the commercial eVTOL air vehicle, we are optimistic about advances in related technology particularly in the areas of batteries, hybrid power, automation, autonomy, advanced manufacturing and opportunity to further strengthen the industrial base for rotary-wing platforms."
Meanwhile, the Air Force plans to use other transaction authority agreements for prototypes to enable rapid contracting processes.
"We will continue to use that vehicle … as well as that initial capabilities offering, which will allow companies of all sizes to go and leverage OTAs," Diller said. The service will also host non-competitive "air races" that could lead to contract awards.
About 50 companies participated in the virtual Agility Prime Launch Week event, demonstrating corporate interest in the initiative.
Innovators are already working on the technology.
During the virtual conference, Sabrewing Aircraft Co. unveiled its Rhaegal system prototype, an unmanned, electric vertical take-off and landing platform that has received funding from a $3.5 million Air Force Small Business Innovative Research contract for testing the aircraft and its equipment.
The Rhaegal-B will have a payload capacity of 5,400 pounds and be able to carry cargo to and from locations without using a runway; and a range of 1,000 nautical miles at altitudes of 22,000 feet at speeds of up to 200 knots. The aircraft uses electric motors to turn fans within ducts that provide lift during takeoff and landing, but uses a main wing to provide lift during cruise flight, according to the company.
During the conference, Mark Moore, Uber's engineering director of aviation and leader of the Uber Elevate initiative, presented a concept video showing the ride-sharing company's vision of a future where a customer orders a ride from an app on her smartphone, gets in an air mobility vehicle on a rooftop vertiport, takes off and soars over the city to her destination.
The company hopes to have a shared air transportation network up and running in 2023 — the same year that the Air Force hopes to be operating orbs.
Roper said a number of companies have reached out to the Air Force touting their technology. "We want to get them out on our ranges with our engineers, our safety and flight professionals and see if they can do flights that meet our mission needs."
The Air Force had been planning to fly systems at the SXSW festival near Austin, but the event was scrapped because of the COVID-19 pandemic.
"We had clearance to fly … at one of our bases, and we were just going to get in the vehicles and fly around and just have a great day exposing the world to eVTOL vehicles and saying that the Jetsons is finally going to be real," Roper said.
Based on market research, the Air Force believes multiple vendors will be able to provide solutions, he noted.
The service is aiming to host the first full-scale flight of several different orbs before the end of the year, and to have systems certified and operational by 2023.
Topics: Air Power