General Atomics Testing Laser Comms Terminals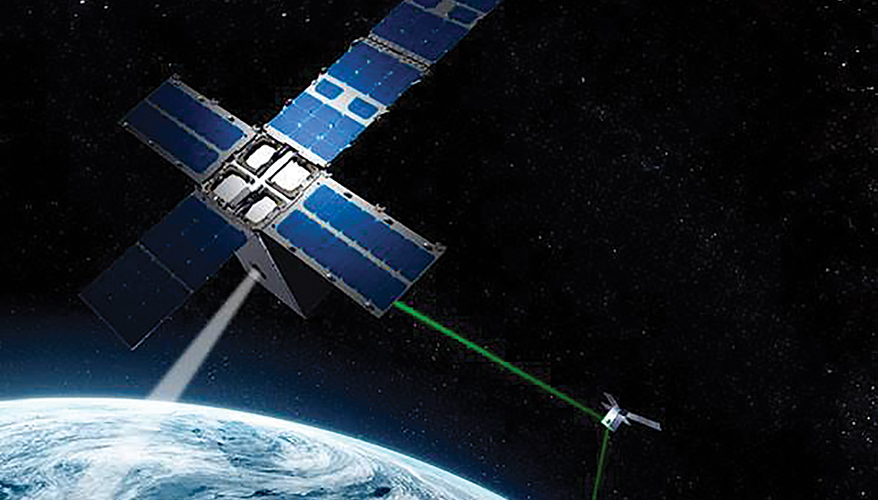 Electromagnetic systems concept
General Atomics illustration
General Atomics Electromagnetic Systems is partnering with the Space Development Agency to test and demonstrate laser communication terminals in low-Earth orbit.
The California-based company announced in June that it will work with the agency to perform a series of experiments for optical intersatellite links using the company's technology.
"The whole idea is to essentially get to higher bandwidth, higher accuracy kinds of communication links so that you can move more information around faster and over very long distances," said Nick Bucci, vice president for missile defense and space systems at General Atomics.
The experiment is slated to launch in March 2021 from Vandenberg Air Force Base, California.
The Space Development Agency wants to build a constellation of tracking and communications satellites in low-Earth orbit and plans to have its first constellation up by 2022, the agency's Director Derek Tournear said.
The first step will be to develop a "Tranche 0" constellation, Tournear told reporters during a press call. "We're soliciting notionally 20 satellites to make up that mesh network."
The agency plans to have that on orbit in the fourth quarter of fiscal year 2022. In a request for proposals issued in May, the SDA called optical intersatellite links "one of the most critical technology required to be demonstrated for Tranche 0."
Using laser communications for high-data rates in space was proposed in 2003 for the Air Force's Transformational Satellite Communications program, which was canceled in 2009 by then-Secretary of Defense Robert Gates.
The SDA was established last year in hopes of wielding a new approach to building space-based capabilities. A major priority for the agency is to create a meshed communications network in low-Earth orbit that will serve as the backbone for all its other proposed systems.
"We started this work on the optical satellite links under [independent research-and-development] efforts," Bucci said."The goal was essentially to enable ... a mesh network of low-Earth orbit satellites, which happens to align very well with what SDA has started to put out in terms of one of their key layers."
The development and integration for those satellites is being conducted at General Atomics Electromagnetic Systems facilities in San Diego, California, and Huntsville, Alabama. The company will also provide mission control from centers in Centennial, Colorado, and Huntsville.
Topics: Space