BREAKING: Air Force to Fly New Skyborg Drones Next Year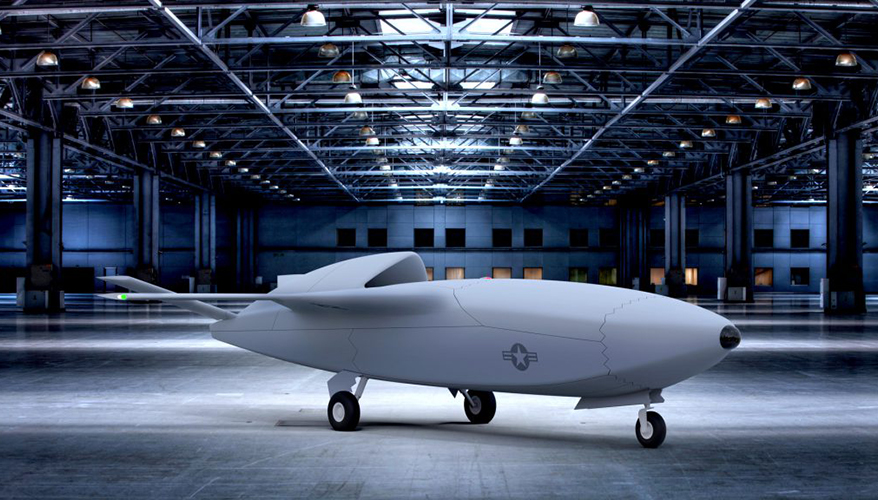 Air Force design concept of an Unmanned Combat Aerial Vehicle
AFRL photo
The Air Force plans to conduct operational experiments in 2021 with new unmanned aerial system prototypes for the Skyborg program, according to officials.

Skyborg is one of the service's top three "Vanguard" science-and-technology initiatives aimed at delivering game-changing capabilities for the future force.

The aim of the effort is to integrate attritable drone technologies with open missions systems to enable manned-unmanned teaming. The project is expected to lay the foundation for building a family of UAS that can adapt and make decisions at machine speeds.

The autonomous platforms are expected to operate as robotic wingmen for manned aircraft, perform dangerous tasks and serve as low-cost force multipliers on the battlefield.

The Air Force announced July 23 that it had awarded indefinite-delivery/indefinite-quantity contracts to Boeing, General Atomics Aeronautical Systems, Kratos Unmanned Aerial Systems and Northrop Grumman Systems that will enable the four companies to compete for up to $400 million in subsequent delivery orders in support of the Skyborg program.

The contractors were down-selected after a competition with 18 participants. However, no funds were obligated at the time of the award; they will come with each individual order. The four companies are about to square off again as the Air Force prepares to make an order for the initial tranche of prototype aircraft.

"Basically we'll look at the four options, what the pricing is, and so forth. There will be a lot that goes into deciding … how many different vehicles we choose, how many we buy from each vendor," Brig. Gen. Dale White, program executive officer for fighters and advanced aircraft at the Air Force Life Cycle Management Center, told reporters July 28 during a teleconference. "There's a lot of variables that are unknown in terms of what we get back from industry on that."

The service wants to buy as many different types of prototypes in the highest quantities it can afford with the pool of money that has been allotted, he added.

It plans to place a delivery order in the next 60 to 90 days and "get the prototypes hopefully in the field by next year for some operational experimentation" with warfighters, White said.

Vendors who didn't survive the recent down-select won't be completely shut out of the Skyborg program.

"We are actively looking at how we use those vendors to increase the vendor pool over time because there's still a significant amount of work to be done getting to a production [system] and an operational vehicle," White said. "We're going to keep the aperture open and we're going to maintain flexibility throughout this process."

The government-mandated open architecture will allow different organizations to come in and add technology to the platforms, noted Brig. Gen. Heather Pringle, commander of the Air Force Research Laboratory.

"We will have that ability technically to add as we need to, and to increase the operational relevance," she told reporters. "As the warfighter develops new ideas that would make it more operationally relevant, we'll be able to pull those pieces in as we conduct the operational experimentation campaign."

AFRL is partnering with the Life Cycle Management Center on the Skyborg initiative and is bringing its own technologies to the table.

"If there are opportunities on the autonomy side or developing the sensors that need to plug and play, or anything else that will help us achieve the operational goals that we have with our partners who are the warfighters. We're open to anybody … that would make that happen," she added.

White said the Air Force envisions about 15 different potential mission sets that the drones could perform.

The results of next year's operational experiments will help shape decisions about production and moving to a program of record.

"We do have some timelines that we're looking at out there for making decisions, which I don't really want to share right now, but we believe we're going to be in a great position probably by the end of next year to be able to really decide which way we want to go with this," White said.

White was asked when the service aims to equip units with a Skyborg system that has initial operational capability or final operational capability.

"We have plans that we think we'll [eventually] be ready to go do those things. But I think in a larger sense we still have to figure out how we bring this program together, put it in the overall corporate system in the Air Force and make sure … we put the Air Force in a position to make a good decision point with when we go into production, how we produce it, what are the other things we have out there that it might partner with or it might complement," he said.
"We're still too early" in the project to say when systems will fielded, he added.
Topics: Air Force News