VIEWPOINT: Trusted Capital Marketplace Protects DoD Supply Chain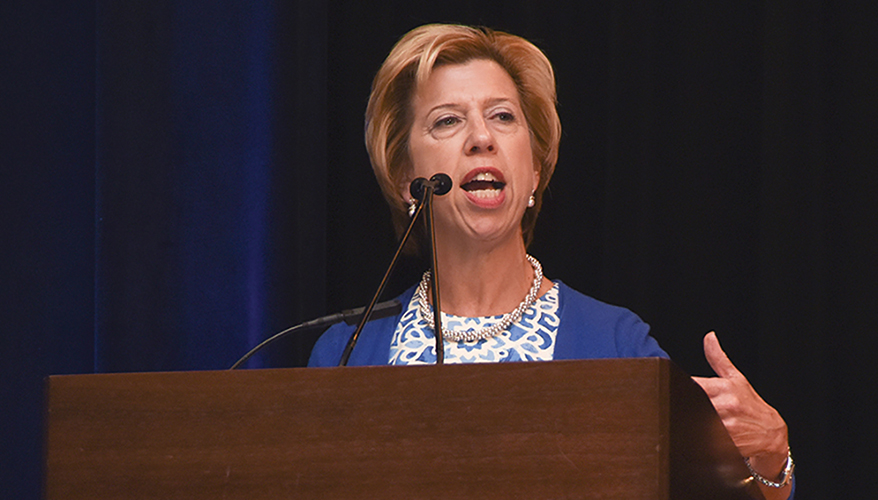 Lord
Defense Dept. photo
America's open investment environment allows the world to invest in our country, promotes the exchange of ideas and grows a dynamic economy.
It also exposes us to economic threats by malign actors. Protecting the U.S. economy and its technological edge is a shared responsibility, requiring a whole-of-nation approach to thwart adversaries.
The Defense Department works intimately with executive-level government leadership, multiple interagency partners and the national security agencies to develop and implement impactful measures to protect critical assets, companies and the U.S. economy writ large.
Understanding our adversaries' motives and tactics, and identifying U.S. companies' vulnerabilities are key to comprehensively addressing supply chain threats and developing solutions to counter them. Foremost among U.S. adversaries' investment targets are foundational, critical and emerging technologies with military or dual-use applications. Such technologies range from hypersonics and unmanned aerial systems to artificial intelligence and semiconductors. They are the lynchpins of the defense industrial base, the compromise of which would imperil national security.
The transfer of such technologies — whether by legal or illegal/illicit means — exponentially advances the military capabilities of rivals and near-peer competitors. For years, China has targeted these technologies.
The Defense Department's office of industrial policy, within Acquisition and Sustainment, works to protect these and other critical assets through its Trusted Capital Marketplace, a funding ecosystem that offers ongoing opportunities for financial institutions and qualifying companies to explore mutually beneficial partnerships in support of national security goals.
Launched in November, the marketplace now already has over 90 participating firms with capital providers representing over $20 billion in assets under management and another $700 million currently under review.
One way in which adversaries gain access to strategic technologies is through investment. Adversarial capital often targets emerging and critical technology companies, where companies require access to rapid funding from capital providers at key development stages. Many startups often become susceptible to strategic funding from adversaries who leverage capital to exploit technology transfer during these nascent stages. Moreover, the U.S. government's commercial investment pool, albeit vast, cannot meet the capital needs of all deserving companies in the supply chain.
Strategic timing of investments is a key tenant of adversarial capital. China is particularly adept at targeting emerging technology companies at key financial inflection points, leveraging unmet financial needs to gain undue influence and access. The most vulnerable stage of startup funding, aptly dubbed the "valley of death," typically occurs twice during the company's lifecycle: first during the prototype period and later during the commercialization period, just before market entry.
The Trusted Capital Marketplace is a public-private partnership established to strengthen the defense supply chain and deny adversarial access through investments. It creates an ecosystem that fosters deal flow between companies building technologies critical to the defense sector and trusted capital providers seeking to expand their national security investment portfolio. Trusted capital helps move the government and industry to the left of adversaries' economic influence by engaging key suppliers and allies with a structure that can facilitate the funding requirements of companies, while accessing the rapid and vast sums of capital from the private sector.
Collaborating with military and academic partners, the Trusted Capital team hosts Trusted Capital Venture Days for qualifying suppliers in key technology focus areas to deliver their pitches and funding needs to trusted capital providers and the defense acquisition community.
The Texas A&M University System hosted the first Trusted Capital Venture Day, which featured unmanned aircraft systems and counter-UAS solutions.
Since academic institutions are key partners, Texas A&M offered important opportunities to leverage their advanced technology assets and networks. The marketplace continues to welcome the opportunity to partner with academia to address such threats to the defense supply chain and national security, especially since adversaries are often targeting academic institutions for access to their important research in foundational technology.
In addition to partnerships with academia, Trusted Capital works with service components to assist their priorities through collaboration with additional capital prospects from the private sector.
In March, Trusted Capital joined Army Futures Command and the Association of the United States Army in co-hosting a Virtual Venture Day featuring companies that received Army awards across a variety of sectors, including internet of things, biotech, micro-electromechanical engineering and machine learning. Trusted capital providers observed company pitches of wireless radio frequency solutions, total immersion extended reality technology, software for 3D datasets and mechanical metamaterials.
Trusted Capital also co-hosted with AFWERX a Virtual Venture Day in lieu of the planned in-person event scheduled during the SXSW Festival in Austin, Texas. The Virtual Venture Day featured Phase II-to-strategic funding companies receiving Small Business Innovation Research awards from across a variety of sectors, including AI, robotics, autonomous aircraft and supply-based logistics.
While venture days typically center on critical technology offerings, the COVID-19 pandemic offers the opportunity to help fund healthcare solutions for high-need U.S. customers. Although China's aggressive economic activities targeting U.S. companies have been known for years, its dominant market share of pharmaceuticals, personal protective equipment and other vital healthcare supplies shows the vulnerability of the U.S. supply chain.
In June, the Trusted Capital team established a department-led event with Special Operations Command and the Joint Artificial Intelligence Center, along with the Department of Energy to identify a wide array of applications for AI and establish a trusted ecosystem for those companies to thrive. Sectors represented at this event will be integrating AI with subcomponents in small maneuver and influence operations. It will also provide the JAIC with an opportunity to view the landscape of AI companies.
In August, the Trusted Capital team will partner with AFWERX and the Air Force Life Cycle Management Center to co-host a dual-use innovation event, which will offer
Trusted Capital opportunities to Phase I SBIR companies transitioning to Phase II. Army Futures Command and AUSA will conduct a hybrid event with Trusted Capital at the association's annual meeting in October.
Qualifying suppliers are companies with technologies and capabilities critical to national security that seek access to secure sources of funding in support of the defense industrial base.
After undergoing a thorough national security screening, qualifying applicants are invited to participate and enjoy the advantages of the marketplace, including: access to defense industrial base demand; pre-screened capital; improved supply chain visibility; and access to the speed and scale of private capital while leveraging extensive business acumen.
Applicant capital providers also undergo national security screening before being invited to participate.
Advantages to capital providers include: access to potential deal flow from a trusted network of suppliers; enhanced visibility into sectors and companies vital to national security; and engagement with companies that have potential partnership opportunities with the Defense Department.
Looking ahead, as the domestic Trusted Capital Marketplace completes its third fiscal quarter of operation, industrial policy leadership and the Trusted Capital team are forging ahead with plans for a Global Trusted Capital Marketplace that will allow non-U.S. participation, providing businesses and investors access to an even wider pool of resources in support of defense priorities. U.S. and allied companies, capital providers and partners have expressed broad enthusiasm and support of this new model, pointing to abundant opportunities for all. Trusted Capital remains a vital component to the national defense strategy in a world of increased global economic and military competition with near-peer and peer adversaries.
Ellen Lord is the undersecretary of defense for acquisition and sustainment.
Topics: Defense Contracting, Defense Department